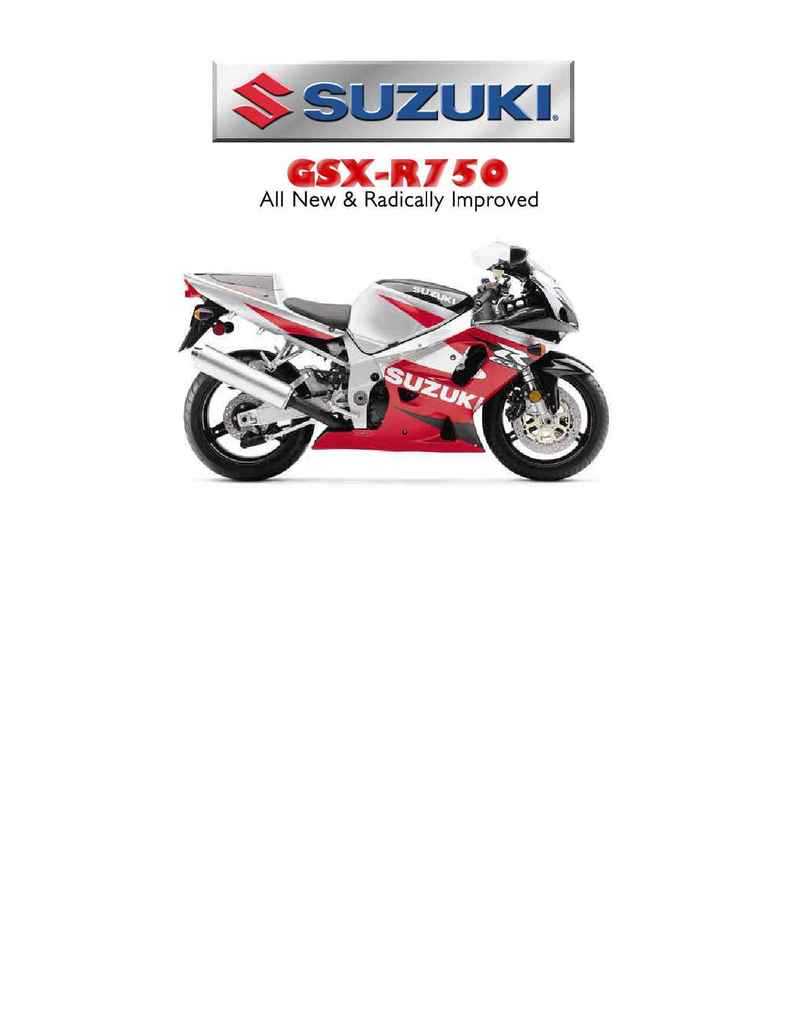 It's nothing less than total domination. Suzuki's
Mat Mladin kicked off this season by winning the
most prestigious race in America: the Daytona 200.
He then rode his GSX-R750 to win Suzuki's second
consecutive AMA Superbike championship. In
Formula USA Unlimited Superbike racing, GSX-
R750 riders not only won the championship, but
routed the competition by taking the top three spots.
GSX-R750 riders continued their rampage in AMA
750cc Supersport racing, winning Suzuki's
incredible fifth consecutive championship.
As if racing victories weren't enough, Cycle
World named the GSX-R750 "Best Superbike of
2000"*, and Motorcyclist named it "Motorcycle of
the Year."**
The GSX-R750 is the prime example of Suzuki's
success with integrated design; the concept that all
components need to be developed as part of a
collaborative effort. For example, the powerplant is
designed as compact as possible, allowing narrower,
more aerodynamic bodywork. This allows for a
more efficient Suzuki Ram Air Direct induction
system, which in turn boosts engine performance.
Each part affects ­ and is affected by ­ the whole.
It's an approach pioneered with the development of
Suzuki's RGV500 Gamma GP bike, and its success
has been spectacular.
One ride on the GSX-R750 and you'll see how
theory translates into adrenaline-pumping reality. Its
rigid twin-spar aluminum alloy frame helps it
respond to your input instantly, crisply,
precisely...anywhere on the track. Its fully
adjustable 43mm inverted forks and state-of-the-art
rear suspension system with an aluminum rear shock
provide smooth performance in a variety of track
conditions. Its maximum banking angle of 54.5
degrees lets you attack the corners with confidence.
Its incredibly light dry weight of 365 pounds puts
you in total control. Its fuel-injected powerplant
responds instantly. And its exceptional low- and
mid-range torque and phenomenal top-end
performance make riding the GSX-R750 as thrilling
as supersport riding was meant to be.
For 2001, you can ride a GSX-R750. Or get beat
* Cycle World magazine, June 2000
** Motorcyclist magazine, September 2000