Suzuki bro gsx 750 Page 2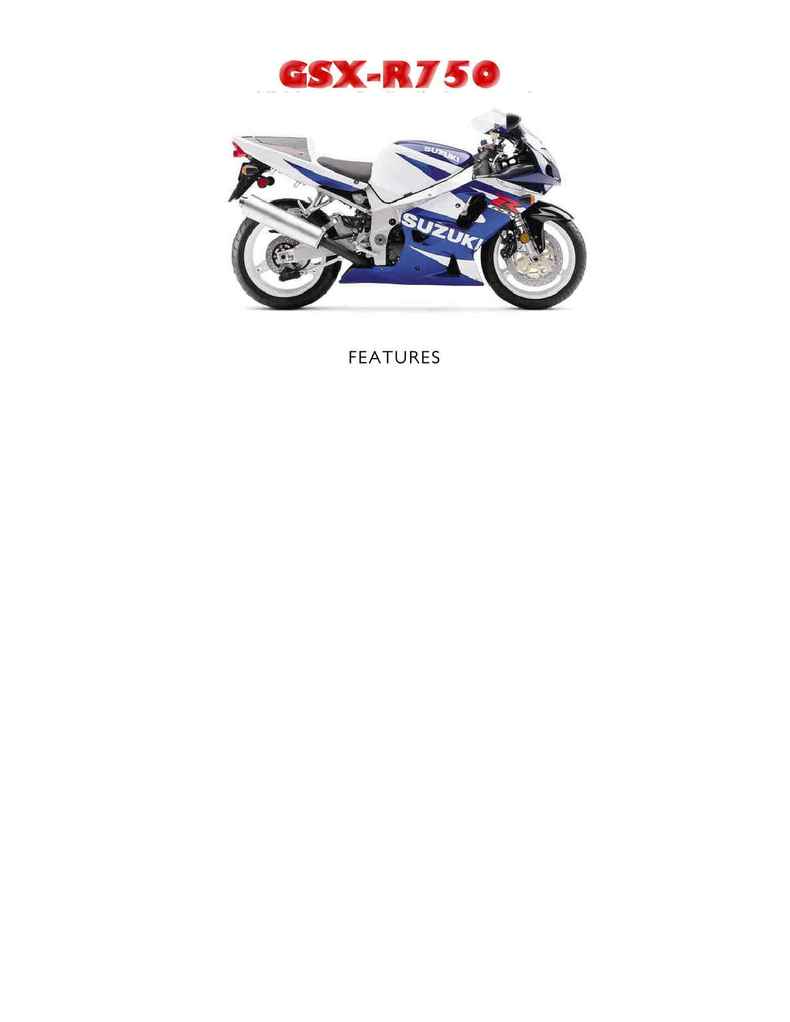 KEY FEATURES
· Best Superbike - Cycle World Magazine
Engine Features:
· Compact & lightweight 4-stroke, 4-cylinder, liquid-cooled engine.
· Cylinder head features narrow 25o included valve angle (12o intake, 13o exhaust), creating a compact combustion chamber, high
compression ratio and a straight intake tract for high power output.
· New generation fuel injection system with 16-bit ECM, high processing speed and detailed fuel/ignition timing maps for fuel
efficiency and smooth throttle response.
· Throttle body design positions the injectors at a steep 60o angle creating an optimum fuel spray pattern for improved fuel
atomization, increased power and sharp throttle response.
· Suzuki Dual Throttle Valve System, maintains more accurate air velocity in the intake tract for smoother low-to-mid rpm throttle
response and improved engine torque.
· Large ram-air intake ducts feed an eight liter airbox and large flat-panel air filter for improved intake air-flow.
· One-piece cylinder block and upper crankcase section form a strong, lightweight structure and eliminate the need for external oil
lines to the cylinder head.
· Durable SCEM-plated cylinders house lightweight forged pistons with low-tension rings to reduce friction.
· Lightweight stainless steel 4-into-2-into-1 exhaust system with bolt-on aluminum muffler.
· High heat capacity radiator and liquid-cooled aluminum oil cooler.
· Close-ratio, six-speed transmission and cable-operated clutch.
· Lightweight magnesium valve cover, magneto cover, drive sprocket cover, clutch cover and starter clutch cover.
Chassis Features:
· Narrow, aerodynamic bodywork with twin headlights, compact taillight, turnsignals and tail-section.
· Compact instrument cluster features a step-motor-driven analog tach. and digital speedometer - also includes LCD odometer-
tripmeters, coolant temp., clock and EFI diagnostics.
· Aluminum frame features a high rigidity-to-weight ratio. Long swingarm and forward weight distribution improve turn-in ability,
rear wheel traction and straight-line tracking.
· Fully adjustable, 43mm cartridge-style inverted front fork.
· Fully adjustable piggy-back shock absorber features an aluminum body and wide 46mm piston for more consistant damping
· Lightweight 4-piston front brake calipers with aluminum-alloy pistons.
· Wide cast aluminum wheels and radial tires.
· 12 month unlimited mileage warranty.