Suzuki bro gsx 600 Page 1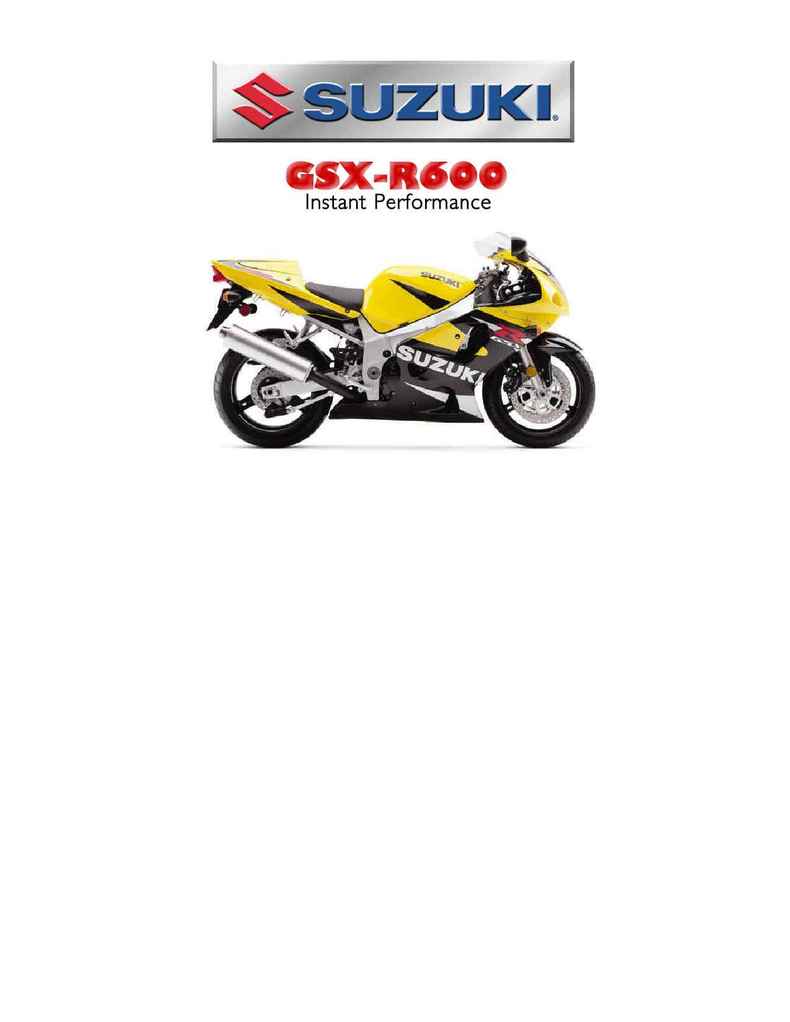 Success breeds success. And there's no better proof
than the incredible, all-new GSX-R600. For 2001, the
same engineers responsible for the most dominating
supersport of its generation ­ the GSX-R750 ­ have
focused on completely redesigning the GSX-R600. The
result is an awesome new 600cc supersport bike that's
lighter and quicker than ever, and ready to blow the
competition right off the track!
The new GSX-R600 was developed using the same
integrated design philosophy as the GSX-R750.
Following this approach, Suzuki's engine, chassis and
suspension engineers collaborated to develop the ideal
combination of chassis rigidity, weight placement and
frame geometry for the new GSX-R600. It has a
narrower engine than the previous model, which in turn
allows the bodywork to be narrower and more
aerodynamic. New, smaller dual-beam headlights and
more compact instruments allowed the reshaping of the
fairing nose for a more effective Suzuki Ram Air Direct
(SRADTM) intake system. The integration of all these
designs results in a new bike that weighs an incredible 24
pounds less, with four percent less aerodynamic drag.
The new engine uses the same basic design as the
GSX-R750, with liquid-cooling, a downdraft Twin Swirl
Combustion Chamber (TSCC®) head with four valves
per cylinder and cylinder bores plated with Suzuki
Composite Electrochemical Material (SCEMTM). It
produces unbelievable power throughout the mid-range
right on up to redline.
The GSX-R600 is the first Suzuki 600cc supersport
bike to take advantage of fuel injection...a revolutionary
new system called Suzuki dual throttle valve (SDTVTM)
fuel injection. The SDTV system uses a breakthrough
design: dual throttle butterfly valves instead of a
conventional fuel injection system's single butterfly
valve. This innovative design combines the advantages of
fuel injection ­ accurate fuel delivery and more efficient
combustion for increased performance ­ with the
seamless throttle response of constant-velocity
carburetors. The result is excellent mid-rpm torque and
crisp throttle response throughout the powerband. What's
more, the system allows the use of relatively large
throttle bodies, a large airbox and the Suzuki Ram Air
Direct intake system for incredible high-rpm
performance.
With a rigid chassis and state-of-the-art suspension
systems front and rear, the GSX-R600 provides crisp
responsiveness in tight chicanes as well as wide-open
sweepers. And the suspension is fully adjustable, so you
can tune it to suit your riding style and a variety of
tracks.
The 2001 GSX-R600. There's never been a quicker
way to the top spot on the podium.