Auburn Citizen springflingpages Page 8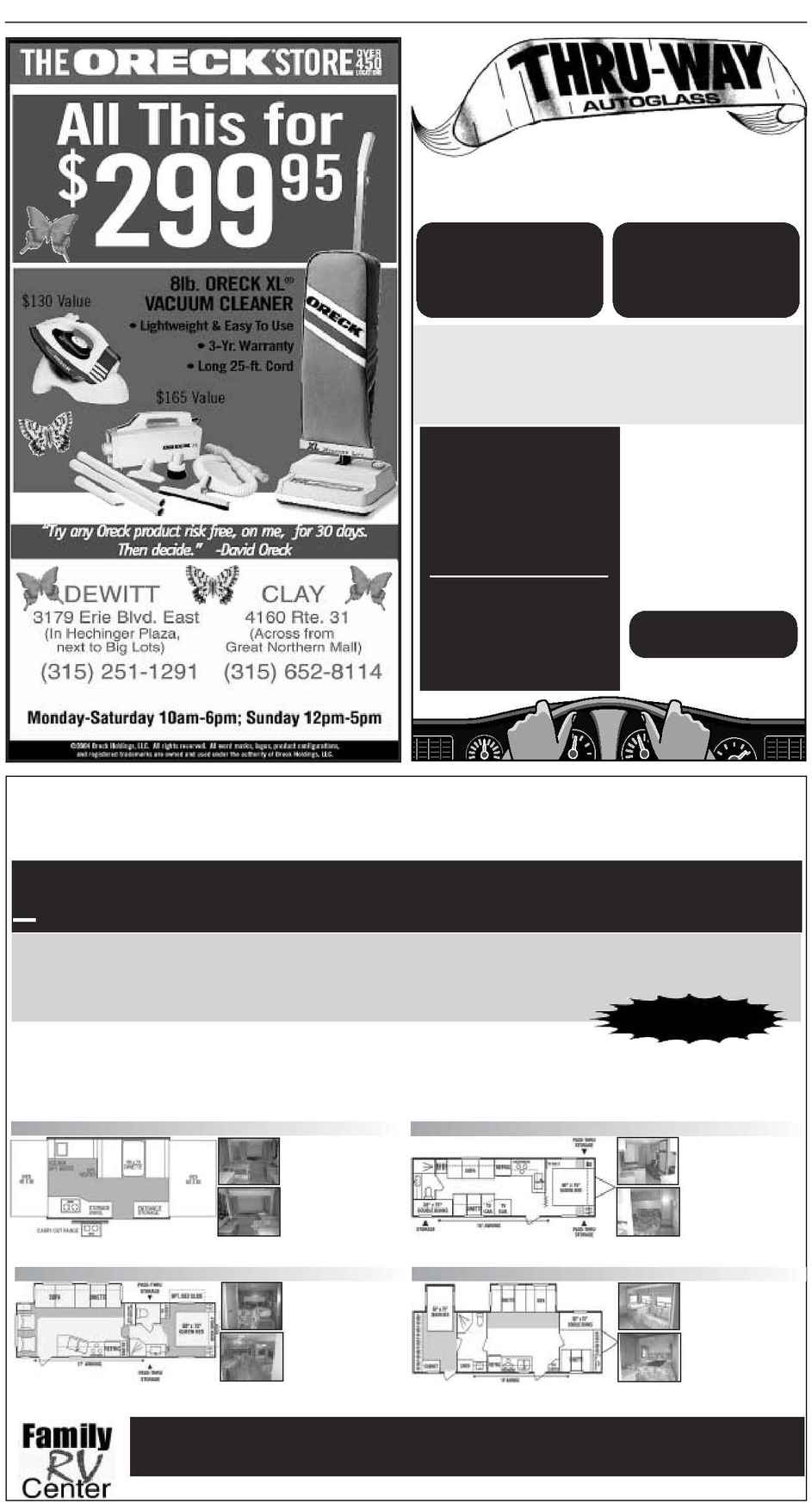 At the Fingerlakes Mall "Home of the Bass Pro Shops" Rt. 5 Auburn, NY
T E N T C A M P E R S · T R A I L E R S · 5 T H W H E E L S
4 Days Only!
Thurs. - Sun. March 30-April 2nd
Refrigerator, Furnace, Awning, Loaded,
Ready to go, Easy to Tow!
Front Queen, Rear bunks, Loaded, Sleep 8,
2 slide outs, Patio doors, Rear Queen,
Front bunks, Free set-up, delivery
FLAGSTAFF LTD TENT CAMPER 206LTD
Rt. 31 Newark, NY · 1-315-331-0800
W E M A K E F A M I L Y C A M P I N G A F F O R D A B L E !
Your last chance to get these out of season discounts and Save Thousands!
S
P E C I A L F I N A N C I N G A V A I L A B L E F O R Q U A L I F I E D B U Y E R S
!
HUGE 1ST TIME BUYER REBATES!!!
Quality brand names such as...
K-Z · FOREST RIVER · SPORTSMAN · DURANGO · COYOTE · JAG · FRONTIER · FLAGSTAFF
All open and clearly sale priced- Save Thousands!!! New Leftover models at below cost. WE NEED TRADES!
Top dollar for yours! WHY WAIT???! Don't miss this opportunity to Save Thousands!
2 slide outs, Full aluminum front, Fiberglass
exterior, Loaded, 5th wheel.
Sponsored by:
· Alarm & Security Systems
Serving Central, NY Since 1957
Open Daily 7:30-5:30 · Sat. 8:00-12:00
446-4881
2814 Erie Boulevard East Syracuse
(between Thompson & Midler)
· Locally Owned & Operated
· Same Day Service for Glass
· Fully Guaranteed
NGA Certified
Master Technicians
The Citizen, Auburn, New York