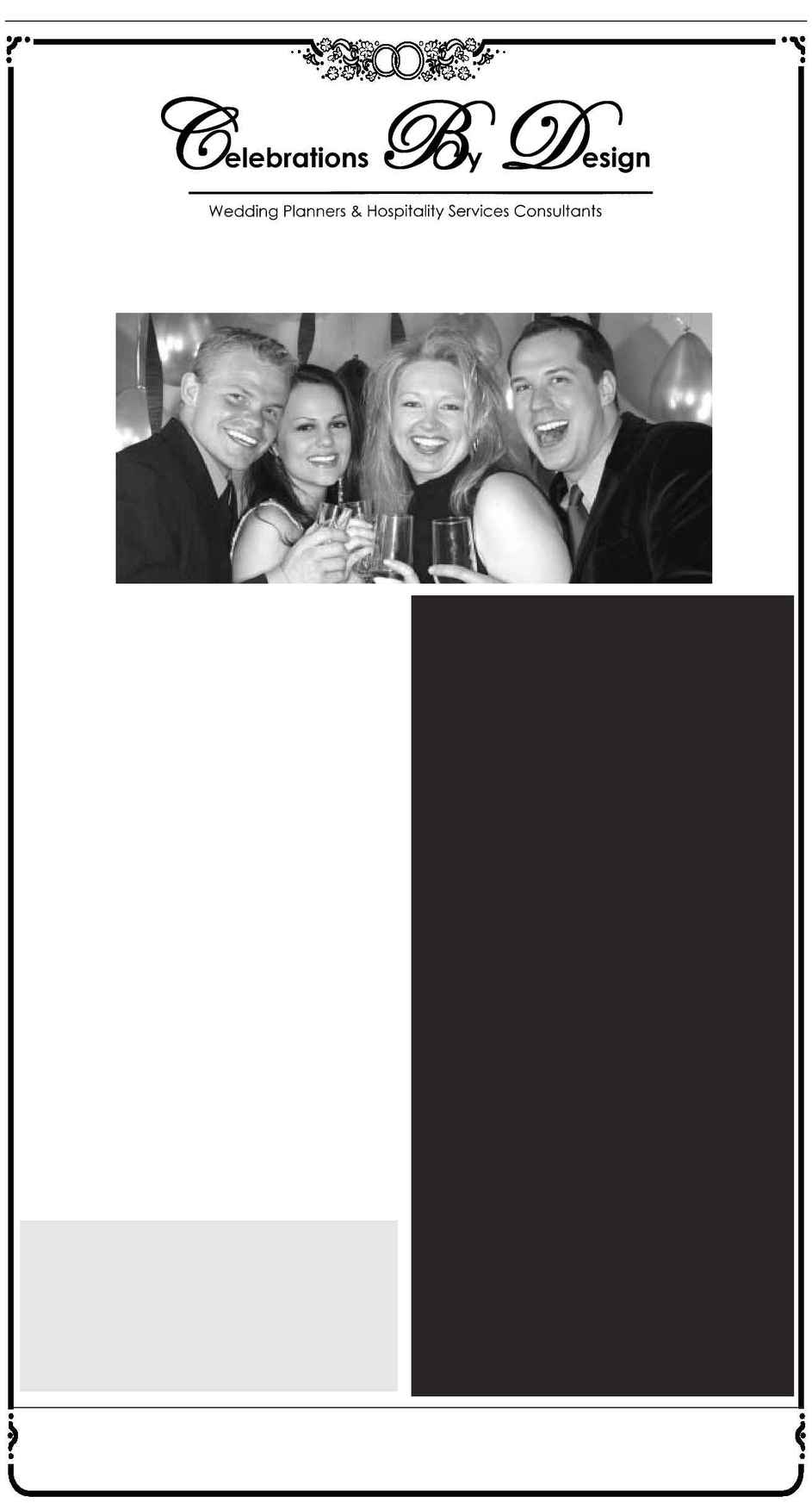 We'll help you plan the "Perfect" Event
Call today 258-5288 · www.celebrations-bydesign.com · Gift certificates available
The Citizen, Auburn, New York
Celebrations By Design LLC
provides services in the following areas:
Weddings & Gala Events Planning
Your wedding is the most important day of your life. Working with
a wedding planner can help you to create a lifetime of wonderful
memories. We are the premier wedding and hospitality services
consulting business in the Finger Lakes region and we provide
superior services at reasonable prices. We do not charge you to briefly
discuss our services with you by phone so please do call us
for information and pricing on any of our planning packages.
Planning Packages
Package # 1 - "The Engagement" - One Day Wedding Coordinator
Package #2 - "Dream Wedding" - "lt's all in the Details."
Package #3 - "Just Dating" - No Commitment: Three Hour Consultation
Package #4 - "No Frills" - Two-Hour Consultation
Package #5 - Party Planning Coordination for Gala/Milestone Events
Package # 6 - Decor Design & Rentals - Prices Negotiable
Package # 7 - Celebrations Global Cuisine - Traveling the Globe
with Knife, Fork & Spoon. Our caterers specialize in adding some-
thing unique and special to your menu that will "wow" your guests.
There are no Pre-set Prices; cost based on client's menu selections.
So, if you have an interest in a fabulous meal prepared in-house,
we are definitely the people to talk to.
· Glazed Corned Beef Brisket · Prime Rib of Beef
· Glazed Pork Chops · Seafood Newburg
· Pan-seared Sea Scallops · Thai-style Shrimp Scampi
· Cajun Crab Cakes · Jamaican Jerked Pork
· Madras Shrimp Curry · Seafood-stuffed Portobello Mushroom
· Crab and Blue Cheese Melt · Chicken Curry Salad
· Smothered Chicken · Veal Parmesan · Seafood Alfredo
Business Promotion, Menu Development, Training
· Copy development, layout, marketing, advertising strategies,
front-of house; back-of-house, banquet services,
HAACP / Sanitation Standards, etc.
~ You heard that the business had closed ~
NOT TRUE
We're still here!
~ You heard that we're really expensive ~
NOT TRUE
Our meals are prepared in-house and our prices are
comparable to similar businesses
~ You heard that we serve lots of "funny" food & our service is "poor" ~
NOT TRUE
· Our service is comparable to that of others based on
what the local labor market supports
· Our menu is eclectic and fun plus we run one of the
cleanest & nicest commercial kitchens in Auburn! There's
nothing on our menu that you won't recognize and there's
something for everyone! Sure we serve Global Cuisine
but think about it -
what's funny about ...
Chicken Marsala, Coconut Crusted Tilapia, Grilled Asian Salmon,
Bistro Crab Salad, French Dip, Sautéed Chicken & Vegetables,
Asian Barbecued Chicken, Maryland Crab Cakes, Sirloin Steak,
French Dip, New York Strip Steak, Tuna & Provolone Melt,
~ You heard that we don't have a bar ~
TRUE - but read on!
· Due to space limitations, we don't have a formal bar
but we DO SERVE a selection of wonderful WINES &
BEER to complement your meals. Our customers are
very satisfied with our Wine & Beer offerings!!
~ You know that it's impossible to find parking downtown ~
NOT TRUE
we pay for you to park in the public parking garage!
~You heard that children are not welcome ~
NOT TRUE
Are you kidding?
· Kids have their own menu; we throw a kids' party every
year!
· As parents, don't we owe it to our children to prepare
them for top-notch work environments by teaching
them how to eat out on tablecloths with real napkins?
Bistro Mahogany Table
130 Genesee Street, Auburn
Proud to be part of our Downtown Renaissance
Fabulous Food · Wonderful Ambience · A Great Place to Eat
Don't take someone else's word!
We invite YOU to come savor the experience!!
We look forward to the privilege of assisting you with your
Gala Events Planning or other Hospitality-Related Business Needs
Spring Dinner Season - April 28, 2006
Serving By Reservation 258-5288
Thursday
(starting July 6)
...6:30
-
8:30pm
Friday & Saturday ....6:30-9:30pm
Sunday Brunch ..........2:30-4:30pm