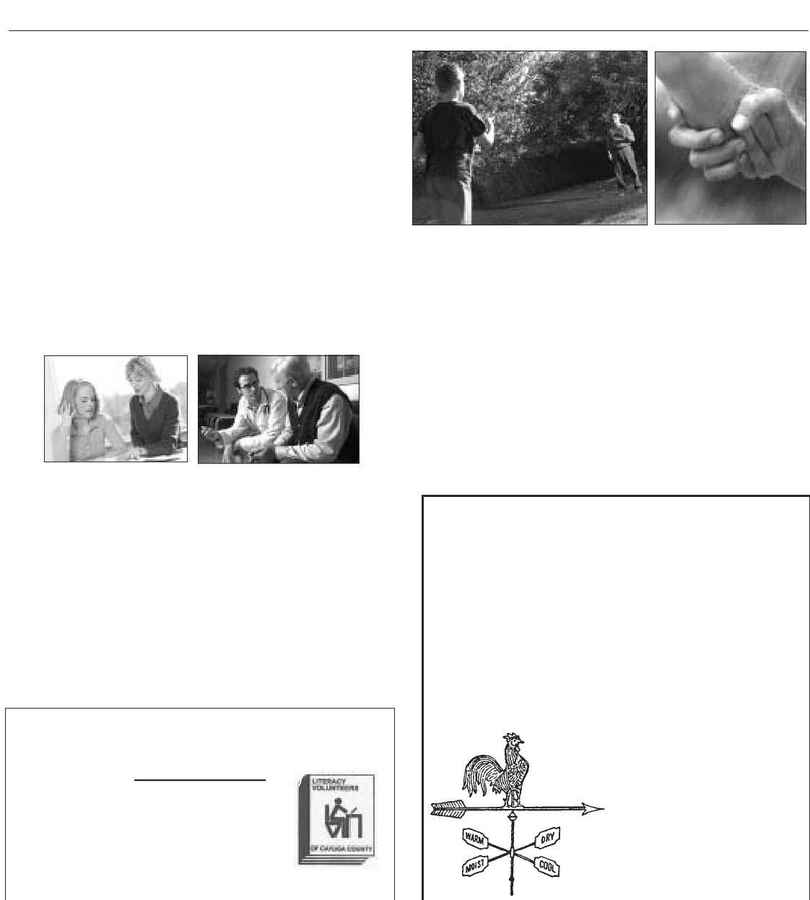 The Citizen. Auburn, New York
People Who Make A Difference
Monday, February 27, 2006
11
Help someone
improve skills
in basic literacy
or English as a
Second Language
The 2000 U.S. Census identified that 14%
of adults in Cayuga County read below the
fifth grade level ­ far below the level needed
to earn a living wage. In addition, over 11,000
adults do not have a high school diploma or
GED.
As a benchmark in practical terms, near-
ly two-thirds (64%) of all jobs today require
literacy skills beyond these levels. According
to Literacy in the Labor Force(1999), unem-
ployment rates among people with very low
literacy skills were four to seven times high-
er then people in the labot force with high lit-
eracy skills.
Literacy Volunteers of Cayuga County
understands the costs of illiteracy in the
world, nation and at home. Our volunteer
tutors have worked for over 40 years to assist
individuals in our area to reach personal lit-
eracy and educational goals on a free, one-
to-one basis. We are intimately aware of the
struggle of each person working to better
his/her life and often that of a family. Sta-
tistics aside, individual accomplishments
will always be personal, progressive and life
changing.
At literacy Volunteers, our tutors teach
Basic Literacy and English as a Second Lan-
guage.
Tutors from Literacy Volunteers
of Cayuga County make a
difference everyday
I have been tutoring Jacky for 2 years and
have had several other Chinese students
before. Without a doubt, Jacky had been my
best pupil. Although he has been in the U.S.
For about 7 years and studied some English
in China, I feel he has progressed a great
deal. He is intelligent, inquisitive, enthusi-
astic and very motivated which makes out
classes so interesting and worthwhile. I look
forward to meeting him each week and wish
he had the opportunity to practice his con-
versation on a daily basis. Unfortunately, his
family & coworkers all speak their native
tongue all the time. He is trying to convince
his wife to learn English but this may have to
wait until their two little ones are older and
enter school. I hope this information on Jacky
and his family demonstrates a positive view
of an immigrant's goals toward happiness in
the U.S.
A letter submitted to Literacy Volunteers
I'm Jacky. I come from a small village in
I've been in the USA about 6 years. Before
moving to Auburn, I lived in Michigan where
I met my wife. We were married in New York
City and had our first baby, Vicky. She has been
visiting her grandmother 6 months in China.
Vicky will be 2 years old in January. Now
we are expecting out second child in Decem-
ber.
Before I went to Literacy Volunteers I
knew some simple sentences and a few words.
Now I can write a little bit, read more and
speak better. In Literacy Volunteers I met
my tutor, May Henderson. She is a very nice
and kind lady and she teaches English patient-
ly. She had helped me a lot and I am grate-
ful.
I work in Auburn and I already have my
Driver's License. I still need to improve my
English.
A letter from Jacky submitted to
Integrity
In.teg.ri.ty\ n 1: an unimpaired condition : soundness
2: adherence to a code of moral, artistic, or other values
3 : the quality or state of being complete or undivided :
completeness
syn see
Heating and Air Conditioning
Third Generation - Third Century