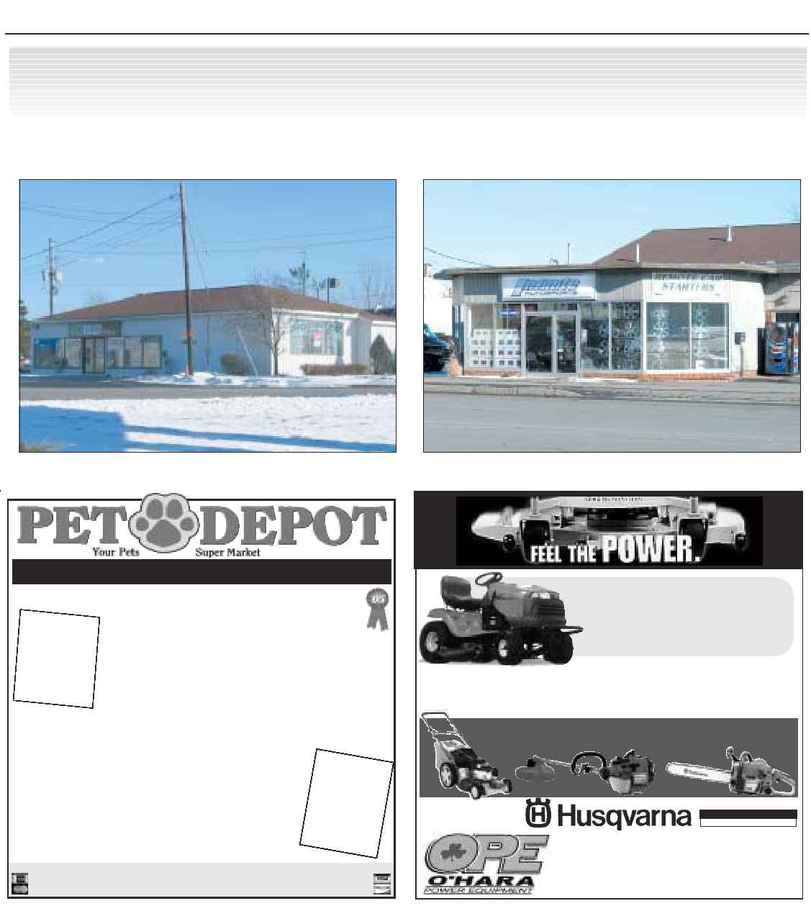 8
Celebrate Spring on Grant Avenue
The Citizen, Auburn, New York
The Citizen, Auburn, New York
Celebrate Spring on Grant Avenue
5
This is a great time to get quality KraftMaid
cabinetry for any room in your home and
get great savings, too! Let our experts help
you combine any of KraftMaid's beautiful
cabinetry styles with smart optional features,
decorative accessories and moldings to
perfectly express your style and fit the way
you live.
KraftMaid delivers the best in
cabinetry. And we deliver
KraftMaid at the best savings
right now, for a limited time!
Enterprises
252-4651
Your Kitchen & Bath Specialist Since 1965
Mutton Hill Rd · (off Grant Ave.) · just East of Auburn
Showroom Hours: Tues.-Fri. Noon to 5 p.m. · Sat. 9 a.m. to noon
· Cabinets
· Counter Tops
· Appliances
· Plumbing
Fixtures
· Marble / Tile / Corian
· Professional
Design
& Installation
Auburn Plaza · 217 Grant Ave · Auburn, NY · 258-0011
Hours: Mon - Fri 10 a.m. - 9 p.m. · Sat 9 a.m. - 9 p.m.· Sun 11 a.m. - 6 p.m.
Grooming: by appointment. Self Wash: Mon, Tues, Fri & Sun 11am - 7pm
Large Scale Full-Line Pet Store
· Independently Owned and Operated·
· Full line of companion pets
· Large variety of pet supplies and
· Large variety of premium pet foods
· Our animals are housed in large petters and
puppies in large rooms - not small
crowded cages.
· Prices that compete with multi-
billion dollar national pet retailers
· Family owned and operated
480 Grant Ave. Rd. · Rt 5 · Auburn, NY
315-282-0620 or 800-413-0620
www.oharapower.com · email: info@oharapower.com
Open: Mon-Fri 9am-6pm · Sat 9am-4pm
15-DAY SATISFACTION GUARANTEE
*Prices, products, promotions,
offers and financing may vary by
dealer. ©2005
See the Long Lasting Heavy Duty
XP Series starting at $1999
available only at O'Hara Power Equipment
Don't forget...We Service What We Sell and Delivery is Free.
Also Check Out Our Full Line of
Walk Behind Mowers, Trimmers & Chainsaws
Lawn Tractors Starting at
19 HP Twin with 42" Mower
XCELERATED AUTO SALES
Quality Pre-owned Vehicles
We Finance · Extended Warranties Available
XCELERATED AUTO SALES
Joe Gagliano, owner
191 Grant Ave. · Auburn, NY
Phone: (315) 374-0739 · Fax 252-9737
217 Grant Ave · Auburn Plaza · Auburn · 252-5458
Monday - Saturday 9-9 · Sunday 12-5
Full Service Post Office: Mon.-Fri. 9-6 · Sat. 9-5
Laura's
Laura's
Swarovski Crystal · Lenox
Precious Moments · Willow Tree · Boyds
Ty · Easter Cards · Candy & more.
Everything to fill their Easter baskets!
Breezy Acres Farm Market
Drive Thru Joes
New Business on Grant Avenue
Go Wireless
Infinite Autosports
New Business on Grant Avenue