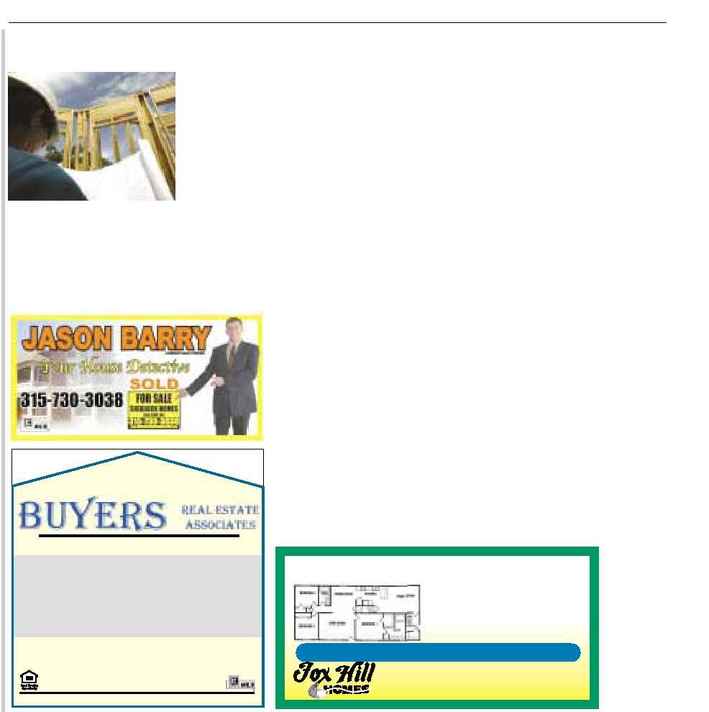 Why choosing the right site
i s c r u c i a l f o r n e w - h o m e
builders
By Charles Scutt
CTW FEATURES
"Buy land, they're not making it any-
more," Mark Twain famously once said.
If you've decided to build a new home
from the ground up, that ground itself
becomes a fairly significant factor in the
process. Once you have a neighborhood in
mind, the actual home site you select can have
a major impact on future value, heating and
cooling costs, taxes, and the overall budg-
et of your new construction project. That
is why it's just as important to pick your
preferred lot as carefully as you would the
area, builder, floorplan and mortgage loan,
say the experts.
"The lot you choose will determine sev-
eral things, such as the quality of view you
will have, your level of privacy, your utility
bills, the price and your home's future resale
value," says Ryan Erisman, author of "Flori-
da for Boomers: A Guide to Real Estate"
(Outskirts Press, 2007), South Daytona,
purchased from
builders or develop-
ers who have already
prepared the land and
improved their lots,
often available within
new-construction sub-
divisions. They also
can be bought from
private sellers, many
of whom of fer raw,
undeveloped land or
a proper ty with an
existing home that
needs to be tor n
down.
president of Dean
Bennett Design and
Construction, Inc., Castle Rock, Colo., says
that the difference between one home site
and another can be more than just the cost
of the raw lot.
"Buyers must think about how they will
live in the area. For example, a site may
have a great view and sizeable acreage, but
does driving 10 miles to the grocery store
work? And what about the style of the house
desired - does it match the location? Are
you looking to build an adobe house in the
middle of a Cape Cod neighborhood?"
"A buyer must also be aware of the fees
for utilities, which can vary drastically from
municipality to municipality," says Bennett.
Most homeowners don't think about it,
says Erisman, "but the lot you choose can
have an effect on your heating and cooling
costs. In most homes, the majority of the
windows are located on the front and rear.
If the home is placed on a lot with an
east/west exposure, more sunlight will
enter the home, increasing your utility bills
in the summer and lowering your heating
costs in the winter. A home with a
north/south orientation will even out those
two extremes."
The buyer of a non-improved lot - one
where the utilities, sewers, water ser vice
and even the streets may not have been
installed around the site - will eventually
pay for all these extras, says Diana Brod-
man Summers, author of "The Home Buyer's
Answer Book" (Sourcebooks, 2008).
"If you are in a city, suburb or township,
you will in many cases have municipal water
and sewer, which can be a significant savings,"
says Dean Graziosi, president, Dean Enter-
prises, LLC, Phoenix. "If there is not water
and sewer on the lot, consider the cost of
drilling a well and a septic/sewer system. Dif-
ferent soil components will be the deter-
mining factor in what kind of system you
should have. Soil that takes in water fast
can have an in-ground unit, while soil that
is not absorbent often requires you to con-
struct an above-ground system, and that
takes up a lot of space and money."
In addition to soil conditions, flood plains
and access issues should be researched
and well-considered before purchasing a
lot, Bennett says.
The land's topography and grade need to
be evaluated thoroughly, as well, Graziosi
says. "You may get a better deal on a hillside
lot, for example," he says. "It is usually not
worth it if you plan on excavating the lot to
be flat. Moving dirt and creating retention
walls gets very expensive."
But perhaps the most essential question
to ask prior to buying a site is a rudimentary
one: Will the lot hold its value?
"You want to make sure you are buying
in a strong resale area or in an area that is
growing," says Graziosi. "Also, be sure it
is growing with homes that are at least the
value of the home you are planning to build
or great. You don't want to have the most
expensive house on your block."
Typically, a buyer can expect to pay up to
25 percent of their total cost of the finished
home for the lot they select, Graziosi says.
Bennett says that it's commonly a bet-
ter value to choose a home site offered by
a particular builder in a given subdivision,
"as the builder likely already has done all the
due diligence on the lot before purchase
and can provide a solid estimate of build-
ing costs, saving the owner a very significant
amount of time and effort in up-front costs."
When you have your heart set on a scat-
tered home site or undeveloped lot, it's
probably a good idea to hire a licensed, pro-
fessional land inspector to look at the lot
and prepare a survey, says
Summers. This expert can
"determine utilities access,
how water r unof f will
affect the land, if it is in
a low spot in the commu-
nity, the quality of the soil
and any impediments to
building."
opt not to build on it for a
set or indefinite period,
be aware of several
responsibilities and lia-
bilities, says Bennett.
These include property taxes you will owe
for each year of ownership, liability insurance
to protect you in case someone is injured on
your lot, lawn maintenance and weed con-
trol, which is usually stipulated by the munic-
ipality, and potential legal costs. "In some
areas, others can lay claim to land if not
built on in a certain amount of time," he
says, which is why it's important to research
and understand your local, county and state
regulations and laws on property owner-
ship.
For those just beginning the site search
process, Graziosi recommends turning to a
trusted Realtor to help you find the ideal
location and available lot. Others, like Sum-
mers, advise hunting on the Internet and
interviewing contractors and building firms
in a chosen area.
"Whatever research method you choose,
the best resources will be your own ears, eyes
and feet," Bennett says. "Drive around,
become familiar with the area, and prepare
to do much of your own homework."
Custom Modular and Sitebuilt Homes
7569 Grant Ave.
Our "ANYTIME" Number
255-1155
Open Weekdays
Sun 12-3
Set On Your Foundation Anywhere In CNY
$
68,900
1,508 square feet
· w w w . F o x H i l l H o m e s . c o m · w w w . F o x H i l l H o m e s . c o m ·
· w w w . F o x H i l l H o m e s . c o m · w w w . F o x H i l l H o m e s . c o m ·
www
.F
o
x
H
illH
omes.com
www
.F
o
x
H
illH
omes.com
Why rent?
Super Low Interest Rate
Super Affordable Homes
Super Upgrades & Convenience
Your Lot, Or Plan, Or Ours!
We specialize in turn-key construction!
Exclusive Buyers Representation
Jack Wellauer, Broker
315-497-3131
www.buyersrealestateassociates.com
jwellauer@scccinternet.com
What you can expect from us as an Exclusive Buyers Agent
Show me all the properties available that meet my needs.
Tell me what's wrong with a property, as well as what's right.
Show me what the property is worth, not just the asking price.
Negotiate a suitable contract on my behalf.
Help line up financing, property inspection, attorney and other services.
Keep my personal and financial business confidential.
8
The Citizen. Auburn, New York
Top Producer `2006"
Lynette Wilson,
Broker
www.Lwilsonrealty.com
e-mail Lwilsonrealty@verizon.net
NEW LISTING
OPEN HOUSE 4/20/08 · 11-12:30PM
N
EW
L
ISTING
OPEN HOUSE
4/20/08 · 1-2:30
108 THROOP AVE
Beautiful cape cod offering hdwd floors, large
living room w/brick fp, formal dining, knotty pine
galley kitchen, 3 bdrms, 1.5 baths, huge finished
rec room in basement, above gr pool & patio all
Only $143,900
Lynette Wilson, #664-0026
41 DELEVAN STREET
Beautiful 3/4 bdrm colonial with huge
3 season sunroom, brand new wall to wall
carpet, vinyl & ceramic flrs, entire home
painted, full caertificate of occupancy, newer
vinyl replacement windows, roof & siding.
On a big corner lot. Only $74,900
Call, Lynette Wilson, #664-0026
2667 FOREST HILL DRIVE
Nice 3 bdrm ranch offering
large family room, eat in
throughout, full bassement
with loads of potential, 2 sheds
Lynette Wilson, Broker, 664-0026
(315) 685-8975 x 212 · 345-9950 (Cell)
www.montafaye.com
E-mail: MontaFaye@MontaFaye.com
ROOM TO ROAM
Circa 1858 brick Italianate with
beautiful staircase,
spacious living & dining rms, den,
eat-in kitchen & screened porch.
2nd floor laundry, 4 bedrooms,
1 1/2 baths. On approx 1 acre in Fleming with large 2 story
barn garage. Many updates. $189,000.
SUMMER'S COMING
Buy now and be on the water
for this long hot summer. This
waterfront Tudor has central
air, 3 bedrms, 2 baths, eat-in
kitchen and 111 ft level frontage on Owasco River.
There's also a 1 bedroom cottage and a large boathouse
formerly a boat livery. Now $239,000.
ABR, CRS, CRB,
GRI, CSP, SRES
Associate Broker
Large 1 bedrm apt "mint condition" inc. utilities, appliances & off-street parking $850. per mo.
Colby Real Estate
"It's All About Trust"
Listings & rental info @ www.colbyrealestate.net
Phil Colby
253-5037
Lic. Broker
Katrina
Rouse
730-7915
Lic.Slsp.
26 Grant
Street,
Auburn
1st floor laundry. Improvements
since 1999: Kitchen, dining room,
furnace, central air, electric
service, plumbing, deck! $79,900
2200 West Genesee Street
Ideal Development site! Building-
1,305 SF with newer rubber roof!
NYS DOT 8,000 +/-cars per day.
Convenient to downtown Auburn.
Location, Location, Location!
REDUCED $199,000
Open Sunday, April 20th · 1-3pm
Bargain
price!!!
$11,100
126 Wall Street
With all city services, and
frontage on both Wall St and
Barber these two lots could be
just what you were looking for!
Call for details
Dir: State Street north to Grant Street
Open House 4/20/08 · Noon-2pm
244 State Street, Auburn ·
$74,900
Easy living! Colonial has 4 bedrooms,
2 full baths, possible in-law quarters.
Full basement, 1 car garage, large back yard,
2 bright and cheery sun porches.
Ann Allan, Lic. Slsp.,
Coldwell Banker All-Bridge
253-4877, 315-689-3926 Ext. 310
HARDWOOD FLOORING
315.427.2476
315.253.4864
Fax 315.253.4566
Installation, sanding, refinishing of hardwood floors.
Installation, sanding, refinishing of hardwood floors.
25 years
of
experience
99.5%
dust free
sanding
Let An Expert Do It!
Hedge Trimming
& Edging
· Mulching
· Snow Plowing
· Light Demolition
· Small Tree Work
· Roto Tilling
· Pressure Washing
· Gutter Cleaning
· Light Paint Work
· Rubbish Removal
· Dump Truck Service
FREE
Estimates
Fully Insured
Commercial &
Residential
Lawn Work
The Citizen. Auburn, New York
9