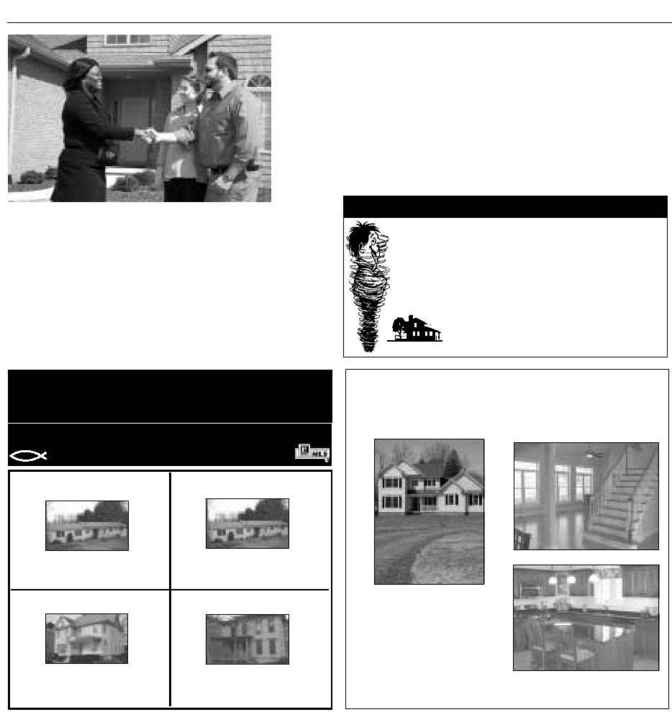 authorize a limited number of modifications
- but only when they are in the best interests
of the loan owner. How could a modifica-
tion benefit a loan owner? As one example,
it might be cheaper to modify a loan than fore-
close, given that a typical foreclosure costs
lenders about $40,000.
The job of the ser vicer is to consider
each modification individually - thus the
need for financial information. You must
provide an accurate discussion of your
finances and why, specifically, a modifica-
tion is necessary. Also, the lender will want
to know if your property is for sale or will be
sold and
whether you
have equity.
may then con-
sider a number
of options
including a rate
reduction, prin-
cipal forgive-
ness, forbear-
ance, a shor t
sale or foreclo-
sure.
points: First,
you might do
best having an
attorney work
with the servicer. Second, look into the cred-
it ramifications associated with any loan
modification. This can be negotiable. Third,
consider selling the property after any pre-
payment penalty period ends.
Q: Where can I find assumable mor t-
A: Long ago there used to be three kinds
of mortgages, those which were freely assum-
able, those that could be assumed with per-
mission of the lender and those that could
not be assumed at all.
Today, it is virtually impossible to find a
freely assumable loan. As examples, FHA
loans originated after December 15, 1989
and VA mortgages started after March 1,
1988 are no longer freely assumable.
The reason lenders no longer make freely
assumable loans is because they worry that
a mortgage may be taken over by someone
less qualified than the original borrower -
someone who will default. As to qualified
assumptions where lender consent is
required, that's OK for lenders because they
can qualify the new borrower, modify the
loan terms and extract additional fees and
changes. Lenders also can say "no" if they're
unhappy with the new borrower's finances
and for other reasons such as a decline in the
value of the underlying property.
Given that we have low interest rates at
this writing, it might be best to skip thoughts
of loan assumptions and move directly to
new financing. There's no sense assuming
many of the loans that have been made in the
past few years because their terms are toxic.
Instead, get new financing with a fixed rate
and better terms.
(c) CTW Features
Need real estate advice? Peter G. Miller, author of "The
Common-Sense Mor tgage," would like to hear from you.
Send your questions to peter@ctwfeatures.com. Due to the vol-
ume received, not all letters may be answered.
New Office Location
72 Walnut Street
Mickey Gower Homes & Real Estate
Mickey Gower, Broker/Owner · soldmg@yahoo.com
Phone: 315-255-1024 Fax: 315-255-1058 Cell: 315-729-0357
"Making All The Right Moves Since 1994"
Gorgeous Sennett ranch on 1.7 acres
A show case!
Dir: Weedsport Sennett Road to Shepherd
Old world charm with hardwood floors &
trim. 4 Bdrms., 1
1
/
2
baths, large yard, 2
car garage.
Dir: North St. to Seymour
2216 sq. ft. of beauty. 4 Bdrms. & 1
1
/
2
baths, 1st floor laundry, eat in kitchen
formal dining room.
Total Remodel & everything new in
2000. Comfortable floor plan, offering
4 Bdrms, 1
1
/
2
baths
40 Green Links Turn, Owasco
In Brookside Trace next to Owasco Country Club
NEW CONSTRUCTION
3 BED, 2.5 BATH-1.67 ACRE LOT
1ST FLOOR MASTER SUITE
Directions: RT. 38A (Owasco Rd.) to
Stryker Ave, Rt. on Hidden Brook Way,
Rt. on Green Links Turn. (3rd house on rt.)
FOR MORE INFO OR A PRIVATE SHOWING
CALL SUSAN AT 315-246-5600
The Citizen. Auburn, New York
3
F o r Pe a c e O f M i n d , C a l l
P O L C O V I C H R E A LT Y
( 3 1 5 ) 2 5 2 - 8 8 3 6
Bill Polcovich, Lic. Broker, 252-8836 · Ron Polcovich, Lic. Slsp., 252-4104
- Locate Your Dream Home
- Monitor Inspections
- Arrange For Financing
- Negotiate Price and Terms
- Walk You Through Closing
RELIEVE STRESS WHEN BUYING A HOME!
We Help You:
NEED A BUYER'S AGENT?