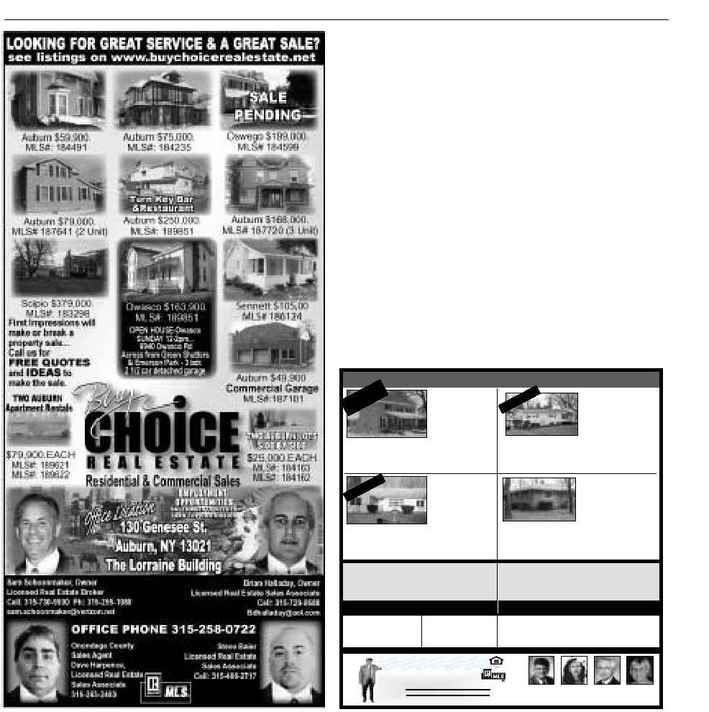 jkahn@realtyusa.com
255-1127 ext.139
253-2508
Let my "CAN DO"
approach work for you!
Jim Kahn
By Peter G. Miller
Q: We have been looking for a new apart-
ment, and every rental manager says they
require a credit check. It will cost us $60
or $70 if we apply for a new place. Is there
anyway around this cost?
A: You might ask landlords if they will
accept a credit report that you obtain for
each adult tenant, those age 18 and above.
Such reports are available without cost from
AnnualCreditReport.com, a site established
under the Fair and Accurate Credit Trans-
actions Act. However, you must obtain the
repor t directly because the landlord or
another party cannot go online and get it
for you. As Frank Dorman with the Feder-
al Trade Commission explains, "only the
person for whom the credit report was cre-
ated can request and obtain a free credit
report - they can get three per year, one
each from the three major credit-reporting
agencies."
Also, according to Craig Watts with Fair
Isaac, developer of the FICO credit scor-
ing system, use of AnnualCreditReport.com
will not reduce or impact your credit score.
If you have weak credit, then you should
tell that to the landlord up front and explain
why. It often happens that poor credit is a by-
product of events that were not your fault (the
company closed your office or you had mas-
sive medical expenses) or events that are not
relevant today - two years ago you lost a job
and could not find another for four months,
but now you're employed.
Q: I asked my lender and they seem very
vague about the possibility of doing a loan
modification. They asked that I submit finan-
cial information first. Do I need to know
anything before I go through the process to
better position myself so that I can qualify
for a modification? For instance, do I want
to show as much income or little income?
A: The odds are good that you are not
in contact with your lender. Instead you are
most likely in touch with the "servicer" who
represents the actual loan owner. The rights
of the servicer to modify a loan are gener-
ally determined by something called the
"pooling and ser vicing" agreement, also
known as a PAS.
What you see as a "loan modification"
the loan owner sees as less income and
reduced value. However, the PAS may well
Buying or Selling a Home?
Marian Anderson
Call Me for Professional,
Knowledgeable Service and
Let My Flexibility Work for You!
252-4848 Ex. 107
730-6159 (cell)
66 South St. Auburn, NY
MAnderson@RealtyUSA.com
220 Genesee St., Auburn
253-5678 · 253-0331
Cheri Emmi Stebbins
Associate Broker
Cell (315) 246-3222
and you will receive prompt, courteous service for any of your real estate needs
cheriemmi@roadrunner.com
Call Me Anytime!
Our reputation speaks for itself!
Owned and operated for over 30 years.
220 Genesee St., Auburn 253-5678 · 253-0331
Dan Emmi, Assoc. Broker,
252-5419 or 730-2808
Voted Best of the Region
#1 Best Business Appearance
#2 Best Community Involvement
Real
Estate
Agent
Guide
Call
Debbie Lennox
at 253-5311
ext. 212 to
advertise on the
Agent Guide!
TOM & PENNY MINNOE
TEAMWORK
LAKE COUNTRY REAL ESTATE, INC.
121 North St., Auburn, NY 13021 · 315-258-9147
237-2815 Tom · Email: timplm@a-znet.com · 237-2814 Penny
Colby Real Estate
Email: pcolby@colbyrealestate.net
253-5037
Want Personal,
Professional Services
Licensed Real Estate Broker at:
Auburn Sherlock Homes Real Estate
IT TAKES MORE THAN A MOUSE
TO SELL YOUR HOUSE!
Yes, the Internet is crucial in effectively
marketing your home, but you also need an
outgoing, experienced professional to seal the deal!
Trust a full-time agent with extensive computer,
marketing AND sales experience!
Chrissy Casler-Derleth, Lic. Slsp. 315-277-0447
www.chrissyderleth.sherlockhomesrealestate.net
"Chrissy + Real Estate = RESULTS"
252-4848 Ex. 111
729-3759 (cell)
66 South St. Auburn, NY
rblair@RealtyUSA.com
Robin Blair
Now Is The Time To
Buy Or Sell A Home!
Give me a call for all of your real estate needs.
252-4848 CELL 730-8974
66 SOUTH ST.
PLEASE VISIT ME AT
www.sueriordan.com
susanriordan64@yahoo.com
Sue Riordan
Give me a call and receive
2
The Citizen. Auburn, New York
When your next home enters the market,
why shouldn't you be the first to know?
Sign up for free new listing alerts
including HUD's and foreclosures at:
www.CNYFindHome.com or
e-mail brian@cnyfindhome.com
Open Houses Sunday March 20th
2:30pm
- 4:30pm
Sennett
$89,500
Pat Picciano, Brkr. 729-5200
12-2pm
Owasco
Reduced to $154,000
Nick Sindoni, Lic. Slsp. 729-6008
God Bless America!
God Bless America!
N
ICK
S
INDONI
729-6008
J
ENNYLEE
T
UROSE
685-1531
J
OYCE
M
C
M
URRAY
255-1577
P
AT
P
ICCIANO
729-5200
Skaneateles
Schools
RANCH
7469 County House Rd.
12-2pm
$152,000
Pat Picciano, Brkr. 729-5200
12-2pm
Reduced to $149,000
Joyce McMurray Lic. Slsp. 255-1577
Cayuga
Skaneateles Lake
4Bdrms, 2 baths 113 ft. lake frontage $950k
Pat Picciano, Brkr. 729-5200
Cayuga Lake
3 Bdrms, seasonal cottage water/sewer 72 ft.
lake frontage $199k
Jennylee Turose Lic. Slsp. 406-7078
Commercial
Income
Vacant Land
4 acres - 295k
6 acres - 150k
2784 sq. ft.
building on
large lot 340k
7 unit, 5 AC, barn, garage, public water/gas.
$325k Call Pat 729-5200
5156 Rt. 38A
6140 Court St. (Rt. 90)
248 S. Hoopes