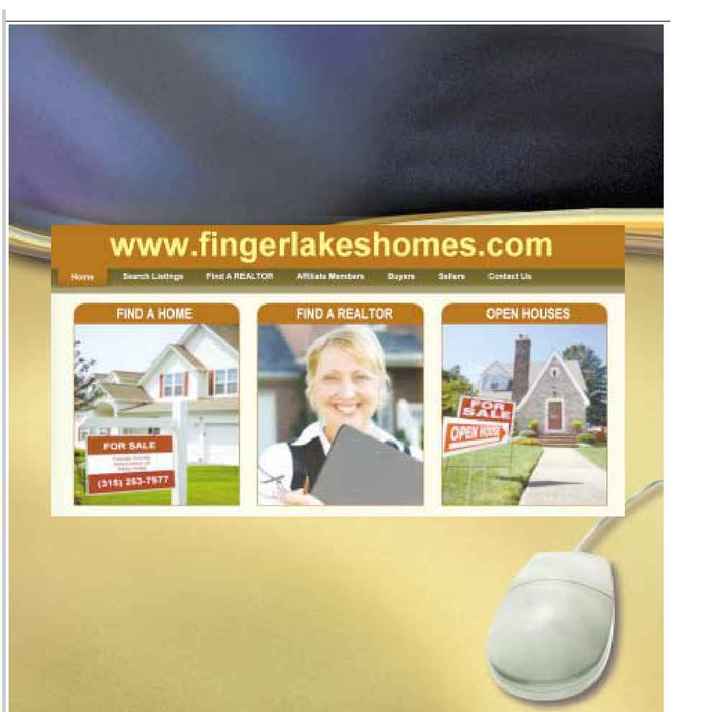 elcome to the Cayuga County
Association of REALTORS
®
W
elcome to the Cayuga County
Association of REALTORS
®
Do all this and more at our new website:
o Search Properties for properties online.
o Search Open Houses in the area.
o Selling your house, or property? Search our directory of REALTORS
®
o Email us: info@fingerlakeshomes.com
The Cayuga County Association Of REALTORS represents brokers, agents, and affiliate
members on properties and real estate services covering Cayuga County and surrounding areas.
W
Take Advantage of Our Low 30 year Conventional Fixed Mortgage Rate!!
*5.625% - 5.655%
*5.625% - 5.655%
Call John Nicandri, The Leader in Lending Today!
* Not applicable to refinances of existing SFSB mortgages
Loan Rate
APR
T h e F i n g e r L a k e s F i n e s t H o m e s
A p r o d u c t o f T h e C i t i z e n
S u n d a y, A p r i l 2 0 , 2 0 0 8
Coming this week!
a new feature of
auburnpub.com
Inside:
Page 4
Page 5
Page 15
Michael DeRosa's Home Showcase
"Trust Michael to sell your property for all it's worth.
His enthusiasm makes ALL the difference!"
RE/MAX Masters
3 Office Locations, 37 Agents
Office: (315) 685-4788 x 216
Mike DeRosa
Licensed Associate Broker
Multi-Million Dollar Producer
(315) 406-SELL
E-Mail: MichaelDeRosa@Verizon.Net
· 5 Bedrooms
· 2.5 Bathrooms
· 2 Car Garage
· 2 Fireplaces
· Central A/C
· Grand Staircase
· French Doors
· Hardwood Floors
· Sun Porch
· Finished Basement
Recreational Site
Classic Center Hall Colonial, Auburn
· 5 Bedrooms
· 1st Floor Laundry
· Dining Room w/ Fireplace
· Pocket Doors, Pine Floors
· Carriage House
Open House Sunday 1-3 April 20th · 136 E. Genesee St., Auburn
Offering Sellers a FREE Market Analysis to Determine their Property Value.
Just Listed
· 72.22 Acres
· 2 Story Barn, 32x60
· 3 Ponds, 1 Camp
· Stone Wall Fireplace
· 200 Yr. Old Pine Floors
· 27 Acres
· 1,300 Ft.
· Wooded Land
· Seneca County
Grant Ave./ Rt. 5
· 7 Acres Site
· Zoned Business,
· 20,000 Cars pass/ day
· Elbridge
· Radiant Heating (Heated Floors)
· Cathedral Ceilings
· Large Eat-In Kitchen
· 1st Floor Laundry Room
· 1st Floor Master Bedroom Suite
Incredible Log Cabin Retreat · Moravia MLS# 189074
220 GENESEE ST.,
AUBURN
253-5678 · 253-0331
ALL LISTINGS CAN BE VIEWED
ON OUR WEBSITE
WWW.EMMISREALTY.COM
OPEN 12-2PM
329 N. Hoopes Ave., Auburn
New price $128,900
Living room w/ fireplace, dining room,
Lorraine Emmi, Broker
730-2808 or 252-5419
OPEN HOUSES SUNDAY, APRIL 20TH
V
OTED
B
EST OF THE
R
EGION
OPEN 12-2PM
74 Elmhurst Circle, Auburn
Immediate occupancy available!
Spacious bedroom, fully equipped kitchen,
Gene Stiver, Lic. Slsp.
515-8123 or 253-0879
OPEN 1-3PM
1541 E. Lake Rd., Skaneateles
New price $309,900
Sensational contemporary on 2.3 acres,
4 bedrooms, 3 baths, lakeviews.
Marie Mentillo, Lic. Slsp.
277-0566 or 253-4896
16
The Citizen. Auburn, New York