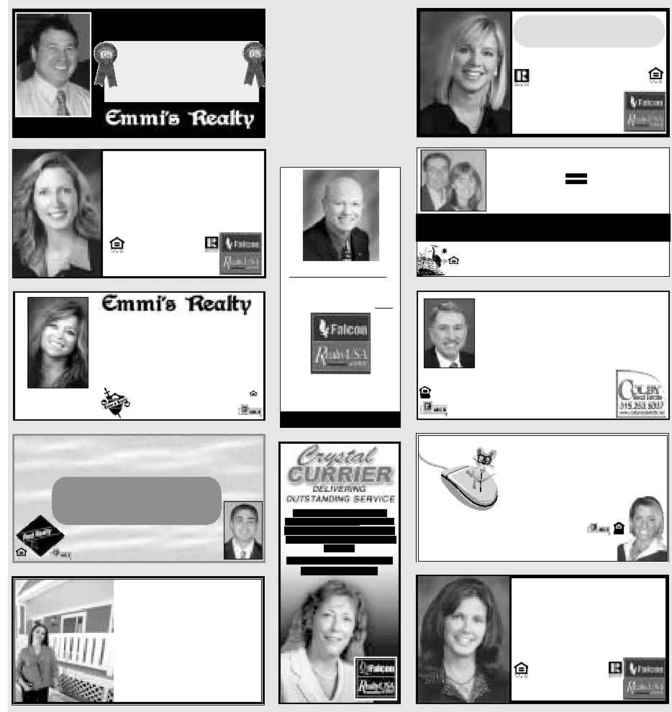 jkahn@realtyusa.com
255-1127 ext.139
253-2508
Let my "CAN DO"
approach work for you!
Jim Kahn
Buying or Selling a Home?
Marian Anderson
Call Me for Professional,
Knowledgeable Service and
Let My Flexibility Work for You!
252-4848 Ex. 107
730-6159 (cell)
66 South St. Auburn, NY
MAnderson@RealtyUSA.com
220 Genesee St., Auburn
253-5678 · 253-0331
Cheri Emmi Stebbins
Associate Broker
Cell (315) 246-3222
and you will receive prompt, courteous service for any of your real estate needs
cheriemmi@roadrunner.com
Call Me Anytime!
Our reputation speaks for itself!
Owned and operated for over 30 years.
220 Genesee St., Auburn 253-5678 · 253-0331
Dan Emmi, Assoc. Broker,
252-5419 or 730-2808
Voted Best of the Region
#1 Best Business Appearance
#2 Best Community Involvement
Real
Estate
Agent
Guide
Call
Debbie Lennox
at 253-5311
ext. 212 to
advertise on the
Agent Guide!
TOM & PENNY MINNOE
TEAMWORK
LAKE COUNTRY REAL ESTATE, INC.
121 North St., Auburn, NY 13021 · 315-258-9147
237-2815 Tom · Email: timplm@a-znet.com · 237-2814 Penny
Colby Real Estate
Email: pcolby@colbyrealestate.net
253-5037
Want Personal,
Professional Services
Licensed Real Estate Broker at:
Auburn Sherlock Homes Real Estate
IT TAKES MORE THAN A MOUSE
TO SELL YOUR HOUSE!
Yes, the Internet is crucial in effectively
marketing your home, but you also need an
outgoing, experienced professional to seal the deal!
Trust a full-time agent with extensive computer,
marketing AND sales experience!
Chrissy Casler-Derleth, Lic. Slsp. 315-277-0447
www.chrissyderleth.sherlockhomesrealestate.net
"Chrissy + Real Estate = RESULTS"
252-4848 Ex. 111
729-3759 (cell)
66 South St. Auburn, NY
rblair@RealtyUSA.com
Robin Blair
Now Is The Time To
Buy Or Sell A Home!
Give me a call for all of your real estate needs.
252-4848 CELL 730-8974
66 SOUTH ST.
PLEASE VISIT ME AT
www.sueriordan.com
susanriordan64@yahoo.com
Sue Riordan
Give me a call and receive
When your next home enters the market,
why shouldn't you be the first to know?
Sign up for free new listing alerts
including HUD's and foreclosures at:
www.CNYFindHome.com or
e-mail brian@cnyfindhome.com