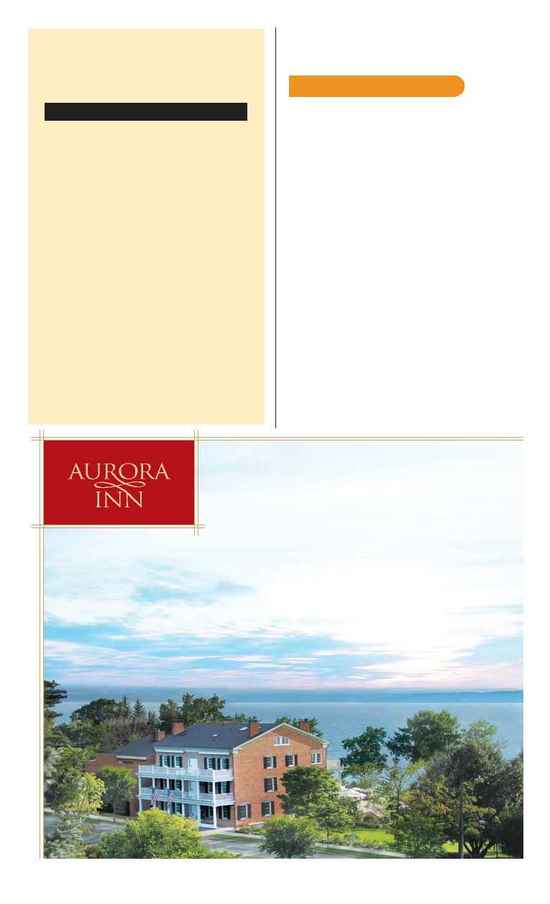 September
3-Oct. 31- As the Crow Flies" -- Schweinfurth
Memorial Art Center, 205 Genesee St., Auburn;
10 a.m.-5 p.m. Tuesdays through Saturdays, 1-5
p.m. Sundays; visual arts series exploring crow
imagery and symbolism; suggested donation $3,
members & children under 12 free; (315) 255-
1553.
21 - Media Outdoor Challenge at Bass Pro Shops,
9am ­ noon, Call 258-2717 for information
24-25 - Sporting Dogs & Ducks Unlimited
Waterfowl Weekend at Bass Pro Shops in
Auburn, call 315/258-2700
24-25 - National Hunting & Fishing Weekend
Celebration at DEC Region 8 in Avon, call 585-
226-5380.
Sept. 29 ­ Oct. 2- Wine Country Circuit Dog
Shows, Sampson State Park, call607-582-6317
25 - The Geriactors -- Morgan Opera House, Rt.
Go Do
F i n g e r L a k e s o f N e w Yo r k
TRAVEL GUIDE FALL/WINTER 2005
&
&
is published each September by Lee
Enterprises and The Citizen and distributed
free throughout the Finger Lakes region.
Offices are at 25 Dill St., Auburn, NY 13021.
Office hours are 8 a.m. to 5 p.m. Monday
through Friday.
Publisher
..................................Rick Emanuel
Contributing editor
.....................Fran LeFort
Advertising director
........ Michael Rifanburg
Creative director
................Lee Cunningham
Advertising: For information on advertising
in our print and Web products contact at
315.253.5311 ext. 210.
Listings: Send press releases and
editorial updates electronically to
citizenads@yahoo.com. Deadline for calendar
submissions for the 2006 edition of the
Traveler is March 1, 2006.
Cover: Great Gully, Aurora, NY by Glenn Gaston
2 Go&Do Fall/Winter Guide 2005
Historic Inn on the Shores of Cayuga Lake
Fine American Fare and Service
Lakeside Meeting & Banquet Room
Crisp White Tents for Lakeside Lawn Weddings
Please call toll free 866.364.8808 or 315.364.8888
Visit us online at www.Aurora-Inn.com
A F
INE
C
OUNTRY
I
NN
&
L
AKEFRONT
R
ESTAURANT
Cayuga County
Continued on page 5...