Suzuki bro tl 1000s Page 2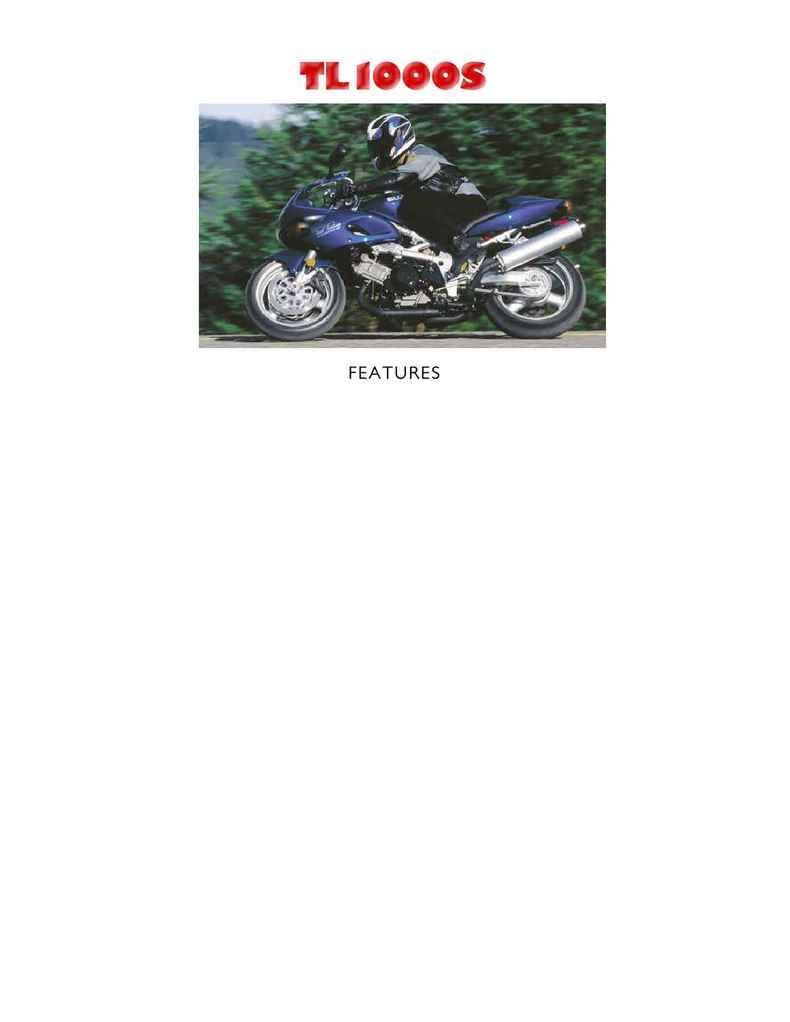 KEY FEATURES
· Powerful 996 cc 90o V-twin, DOHC 8-valve, liquid-cooled engine tuned for strong low & mid-range torque. Engine design is
compact and simple by use of a short-stroke engine design combined with a narrow single-pin crankshaft.
· Electronic fuel injection system fed by ram air intake, provides precise fuel/air mixture under all operating conditions for
maximum acceleration and razor-sharp throttle response. Includes self diagnostic system with LCD readout.
· Semi-gear driven valve system simplifies maintenance and minimizes cam sprocket size and engine height for optimum engine
· Lightweight shim-under-bucket valve system operates large 40 mm intake and 33 mm exhaust valves.
· SCEM (Suzuki Composite Electro-Chemical Material) plated cylinders minimize cylinder size and improve heat dissipation.
· Power-assist clutch amplifies torque for positive clutch engagement and acts as a back-torque limiter for smooth downshifts.
· High efficiency liquid cooling system for optimum engine operating temperature - includes compact liquid cooled oil cooler.
· Lightweight magnesium valve covers, ignition cover, and sound deadening plastic outer clutch cover.
· Smooth shifting 6-speed transmission.
· stainless steel exhaust system with aluminum mufflers is tuned to enhance the engine's torque output.
· Lightweight speedo and tach. with LCD displays, twin operation tripmeter and odometer (similar to GSX-R750). Coolant temp.
display doubles as EFI diagnostic display.
· Digital ignition systeme provides optimum ignition timing with separate maps for each cylinder.
· Aluminum truss frame is lightweight, compact and exceptionally rigid. Bolt-on sub-frame simplifies maintenance.
· Fully adjustable 43 mm inverted front forks with steering damper plus aluminum triple clamps and steering stem.
· Unique rotary damper rear suspension uses separate leverage ratios and linkage for the spring and damper, resulting in a smoother
ride and better traction throughout the range of wheel travel. Damping and preload are fully adjustable.
· Strong and lightweight box-section aluminum swingarm.
· Powerful staggered-diameter 4-piston front brake calipers with 320 mm floating brake rotors.
· Radial tires mounted on lightweight 3-spoke aluminum wheels. Wide 190-size rear tire is mounted on 6" wide rim.
· Uniquely styled half fairing with aerodynamic headlights shows off the impressive frame and engine technology. Cables and
wiring have been carefully routed out of sight.
· Hinged fuel tank (similar to GSX-R750) provides easy access to the airbox and air filter.
· Removable passenger seat cover comes as standard equipment.
· Optional Accessories:
· Gel seat
· Tank cover
· Soft luggage
· Work stand
· Storage cover
· 12 month unlimited mileage warranty.