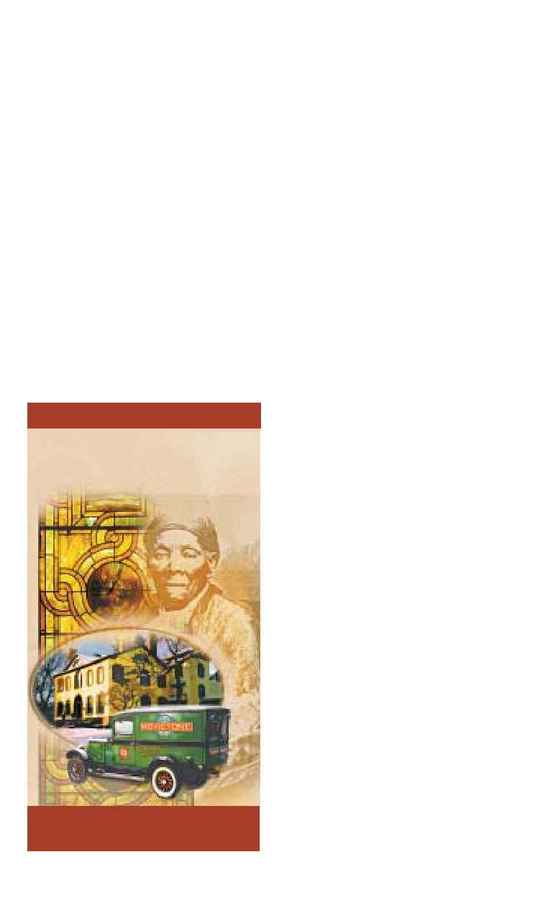 Cayuga County
A
UBURN
13021 A
REA
C
ODE
315
Auburn Players Community Theater
Cayuga Community College 258-8275
Online: community.syracuse.com/cc/auburnplays
One of the nation's oldest and most prestigious
community theaters, the Players offer four produc-
tions per year.
Case Research Lab Museum
203 Genesee St. 253-8051
Open: 12 noon to 5 p.m. Tuesdays through Sundays.
Online: cayuganet.org/cayugamuseum
The site where the first successful system of
Cayuga Museum
203 Genesee St. 253-8051
Open
: 12 noon to 5 p.m. Tuesdays through Sundays.
Online: cayuganet.org/cayugamuseum
Housed in the 1836 Willard Case mansion; fea-
tures exhibits on local figures, events and items.
Fort Hill Cemetery
19 Fort St. 253-8132
Online: cayuganet.org/forthill
Overlooking Auburn, this site was used for burial
mounds by Native Americans as early as 1100 AD.
Remaining earthwork structure is one of the last
fortifications by early Cayuga-Iroquois Indians.
Gateway and chapel designed by 19th century
architect, Julius A. Schweinfurth. Includes burial
sites of William Seward, Harriet Tubman, Myles
Kehoe (who fought at the Battle of Little Big
Horn), and a monument to Indian orator Chief
Logan.
Historic & Cultural Sites Commission of Auburn
131 Genesee St. 258-9820
Online: TourAuburnNY.com
The Commission supports its designated organi-
zations to achieve their missions through collabora-
tive marketing, programming and tourism strategies
and hosts numerous educational programs, exhibits
and events throughout the year, including the
Christmas Holiday Open House, the "Common
Thread" quilt show, lectures and workshops, and
the city-wide, 4th grade program, "Passport to
History".
Kaleidoscope Dance Theatre and NY Institute of
Dance and Education
93 North St. 252-4420
Online
Professional modern dance company and insti-
tute draws from ballet, modern, ethnic and jazz
dance traditions. Fine arts, dance and theatrical
productions presented regionally, nationally and
internationally.
The Merry-Go-Round Playhouse
Route 38A, Emerson Park 255-1785; 800-457-8897
Performances Mon. through Sat. evenings with
select matinees
Online: merry-go-round.com
The Playhouse - "Broadway in the Finger Lakes"
- presents popular musicals from May to September,
attracting 50,000 patrons annually. Located at an
historic carousel building in Emerson Park.
Schweinfurth Memorial Art Center
205 Genesee St. 255-1553
Open: 10 a.m. to 5 p.m. Tuesdays through
Saturdays, 1 to 5 p.m. Sundays.
Online: schweinfurth.org
Explore art with eight galleries in this multi-arts
center. Exhibitions draw on local and national
artists.
Seymour Public Library
176-178 Genesee St. 252-2571
Open: Regular hours are 10 a.m. to 9 p.m. Mondays,
Tuesday and Wednesdays, 10 a.m. to 6 p.m.
Thursdays and Fridays, and 10 a.m. to 4 p.m.
Saturdays.
Online: seymourlibrary.org
Monumental stone building designed by the New
York City firm of Carrere and Hastings (New York
Public Library). National Register of Historic
4 Go&Do Cultural Guide 2006
Our complete guide to area's museums, galleries & theaters
(877)343-0002 or (315)258-9820
www.TourAuburnNY.com
TOLL
FREE
Historic Auburn
Visit the homes of Harriet Tubman and
William Seward. Investigate the birthplace of
sound film and view a complete
Tiffany religious interior in Auburn, New York