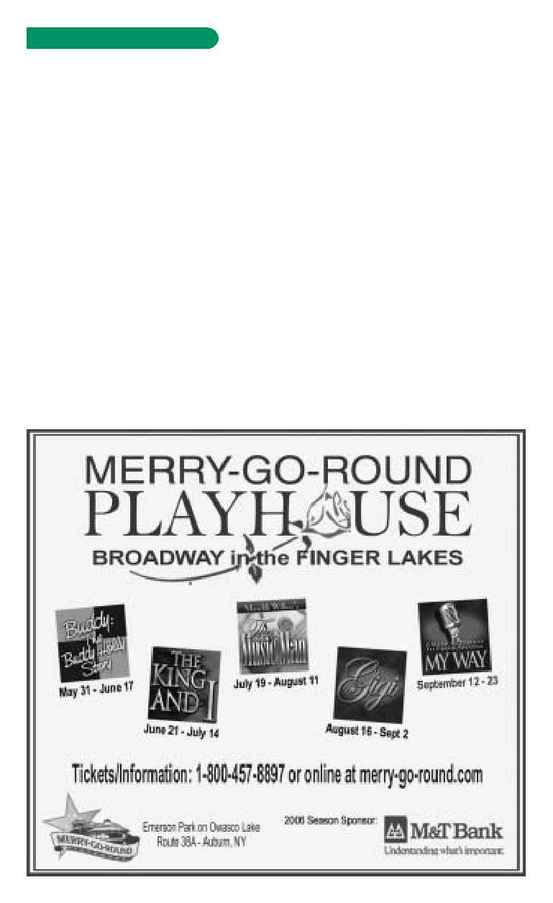 Online: ganondagan.org
Site of 17th century Seneca Village. Marked trails,
reconstructed bark longhouse, events, visitor center
and guides.
The Grind Coffee House
54 W. Main St. 924-9160
Open: 6:30 a.m. to 4 p.m. weekdays; Saturdays; 7
a.m. to 4 p.m., Sundays, 8 a.m. to 4 p.m.
Coffeehouse Cafe and art gallery.
C
LIFTON
S
PRINGS
14432
A
REA
C
ODE
315
Foster Cottage Museum
9 E. Main St. 462-7394
Learn about the Sulphur Cure Therapy that made
this town a turn of the century destination.
G
ENEVA
14456
A
REA
C
ODE
315
Geneva Historical Society/Prouty-Chew House
& Museum
543 S. Main St. 789-5151
Open: 9:30 a.m. to 4:30 p.m. Tuesdays through
Fridays, 1:30 to 4:30 p.m. Saturdays, 1:30 to 4:30
p.m. Sundays, July and August.
1829 Federal-style house located in an historic
district, featuring period rooms, exhibits on
Geneva and Seneca Lake.
Smith Opera House
82 Seneca St. 781-5483 or toll free (866) 355-
5483
Online: thesmith.org
Fully restored century-old theater features live
events and movies on the largest screen in the
Finger Lakes.
M
ANCHESTER
14504
A
REA
C
ODE
315
Hill Cumorah Visitor Center
Route 21 N, off Thruway exit 43 597-5851
Open: Every day. Call for specific hours.
Exhibits, films depicting Mormon history.
Seneca County
I
NTERLAKEN
14847
A
REA
C
ODE
607
Interlaken Historical Society Museum
Main Street (Route 96) 532-4213 or 532-9227
Deere Haven Museum
P.O. Box 14, County Road 141 532-4288
O
VID
14521
A
REA
C
ODE
607
Three Bears Historical Site National Historic
Landmark
South Main St. (Route 414) 869-5222
S
ENECA
F
ALLS
13148
A
REA
C
ODE
315
Elizabeth Cady Stanton House
32 Washington St. 568-2991
Open: By appointment