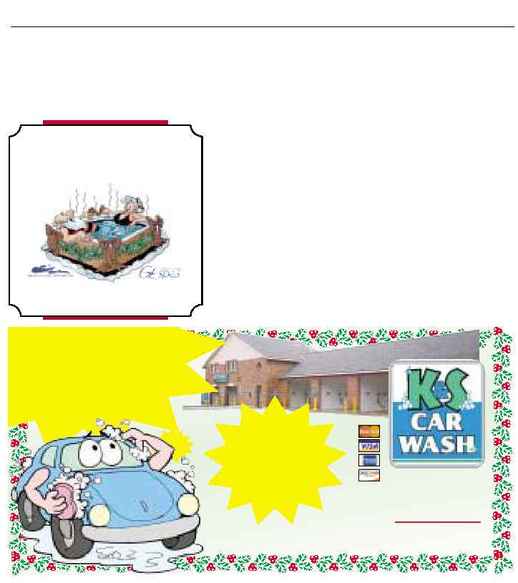 You remember the moment. Close
your eyes. The doorbell rings. Your
mother signs for the mysterious pack-
age in the brown paper. Then she
winks and smiles. It's a gingerbread
house kit -- something you both put
together each year and place on the
mantel. You can't even remember a
Christmas without the memory.
Now it's something you do with
your child. And you hope he passes it
on to his children.
Holiday rituals are usually some-
thing simple, like sharing a special
moment with Grandpa or ordering just
the right treat for Aunt Jane. Just ask
people about their holiday food rituals,
and you'll hear heart-warming stories
you'll want to share with your family.
John Baumann, president of The Swiss
Colony, says each year they hear sto-
ries about rituals that make the holi-
days special. And for a company that's
been delivering special holiday
moments for 80 years, some rituals
have surfaced time and time again.
This year as you consider making
your holidays special for your family
and friends, some of these rituals may
be just the ticket for creating warm
moments to pass on to the next gener-
ation.
1. "My grandmother used to send
us a box of truffles every year. Since
she's passed on, we continue the tradi-
tion in her honor." In some small way,
carrying on the tradition of someone
who is no longer with us helps us
remember the wonderful times spent
with family and friends. As you pass
around the plate with grandma's
favorite holiday treat, sometimes the
memories are so strong that it brings a
smile -- and maybe a happy tear.
2. A special festive food symbolizes
the holidays for many. For some, it's
those little hand-decorated "cakelets"
called petits fours; for others, a red vel-
vet cake, chocolate Yule log or Aunt
Betty's fruitcake. For many, it's not
Christmas -- or Hanukah -- without a
gift of that one special treat. Baumann
remembers a note he received from a
long-time customer who purchases a
Dobosh torte every year for her hus-
band. He waits all year long for his
torte - and won't share it with anyone.
His entire family laughs lovingly as he
disappears into the den to enjoy his
once-a-year holiday treat. But every
year, she orders one just for him.
3. What a wonderful surprise to
receive several smaller treats on differ-
ent days. Some people purchase tow-
ers of gifts and think about the delight-
ful smiles as the recipients open each
little box. But others send multiple
gifts on different days -- cheese,
sausage, butter toffee, nuts, cookies
and more. In these days of instant
messaging, most people still love to
receive mysterious packages -- espe-
cially during the holidays. And isn't it a
wonderful treat to receive something
without strings attached?
4. The next best thing to being
there: sharing a feast across the miles.
Whether a loved one is stationed over-
seas or can't make it home for the
annual get-together, it's still possible to
carry on family rituals across the
miles. Online and catalog shopping
have made it easier than ever to send a
special breakfast basket for Christmas
morning or a snack basket to enjoy
while the missing family member rem-
inisces and watches "It's a Wonderful
Life" every year. It's not the same as
being there - but it comes pretty close.
5. Turn shopping into an opportu-
nity to bond. Every year, one mother
makes it an annual event to get on the
phone with her daughter who lives in
another state, so they can look
through their catalogs together and
plan what to get everyone for pres-
ents. It's an evening they look forward
to all year long. And every gift that's
opened is another moment they enjoy
-- as they watch the joy on the faces of
people who open the gifts they select-
ed together.
6. Spread the joy of happiness to
someone less fortunate than you or to
someone who may not have family
members close by. Whether it's send-
ing old-fashioned butter toffee or fruit-
cake to a local senior center or nursing
home, or dropping a lovely gift basket
filled with many tasty treats, many
families have made charitable giving a
heart-warming holiday tradition. Holi-
days give us an annual opportunity for
bringing loved ones together.
What better time is there to cele-
brate a tradition -- or start one?
Courtesy of ARA Content
M-S 7am-8pm · Sun 7am-7pm
K
EELEY
'
S
P
OOL
C
ENTER
, I
NC
.
330 C
LARK
S
TREET
, A
UBURN
(315) 253-3277
OR
1-866-KEELEYS
Have A Jolly Good Time!
Before we dive into all the festivities, we'd like
to take a moment to acknowledge all of the people
who have made this year go swimmingly well for us.
Merry Christmas!
The Citizen. Auburn, New York
Gift Guide
Sunday, November 18, 2007
3
A Sixpence of Magical Holiday Moments