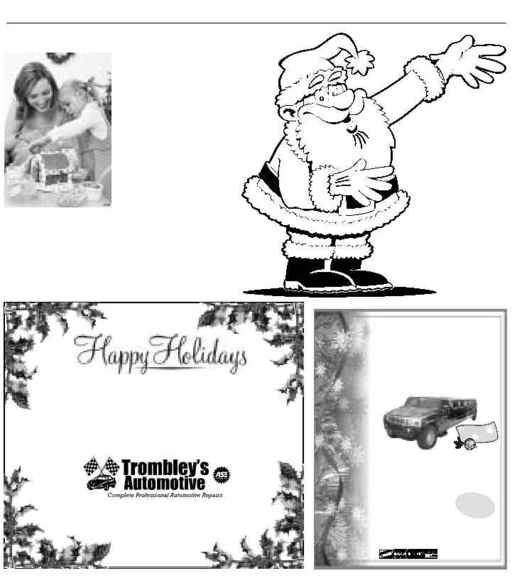 inexpensive holiday frames. At
the end of the season, put them
away until next year.
6. Perfect pillows. Place a few
whimsical pillows on the sofa,
chair, or bed and instantly bright-
en up a room with the holiday
spirit.
7. Unique accessories. Add
holiday-themed toilet paper to
your bathrooms and keep
guests in a festive mood in
ever y room of the house.
8. Festive flower. Purchase
real or silk poinsettias and
place on a hear th, in a win-
dow or near a door for an
instant holiday feeling. "Just
use caution," warns Doyle. "As
a mother, I know real poin-
settias can be poisonous if con-
sumed by children or pets, so
keep them out of reach."
9. Stock up off-season. Avoid
busy holiday lines and park-
ing lots by taking advantage
of preseason or after-Christ-
mas sales to stock up on hol-
iday decor for next year.
10. Set the mood. Holiday
songs always bring a festive mood
to the environment, so play your
favorite CDs or "Sounds of the
Season" on Comcast Digital Cable.
Courtesy of MS
Don't Just Ride...
....Ride In Style
258-2871 · Auburn
Enjoy Your
Holiday Cheer...
But Allow Us To Take
You There and Back
Holiday Gatherings
Wine Trail Tours
Weddings
(avoid DWI)
r
r
s
Gift
C e r tificates
10 E. Garden St.
Auburn, NY 13021
Call for an appt.
(315) 258-8978
Monday- Friday 7:30am-5pm
from Trombley's Automotive
Snow Tires
Winterization
Coolant Flush
Don't be caught in the
snow with bald tires or
a dead engine.
14
Sunday, November 18, 2007
Gift Guide
The Citizen. Auburn, New York
The Citizen. Auburn, New York
Gift Guide
Sunday, November 18, 2007
11
Fingerlakes Mall Coloring Contest Rules
1. Contest open to children 10 and under. Relatives of Fingerlakes Mall employees are not eligible
to win. Relatives of individual store employees ARE eligible.
2. Contestants may use crayons, colored pencils,paint or markers. Adults may assist in complet-
ing the entry form, but not in the coloring.
3. Limit one entry per child. Entries will not be returned.
4. All entries must be received by Fingerlakes Mall Customer Service by 12/15/07 at 10:00 pm.
5. Submissions are considered property of the Fingerlakes Mall and may be displayed in the mall.
6. Decision of the judges is final.
Fingerlakes Mall Coloring Contest Entry Form
Name__________________________________________
Age ___________________________________________
Address ________________________________________
City __________________State ________ Zip _________
Email___________________________________________
Phone ( ) - ______________ - _________________
Drop completed entry form at:Fingerlakes Mall Customer Service Kiosk - located in Food Court
1ST Prize: $75.00 Fingerlakes Mall Gift Card · 2ND Prize: $50.00 Fingerlakes Mall Gift Card · 3RD Prize: $25.00 Fingerlakes Mall Gift Card
Routes 5 & 20 just West of Auburn 315-255-1188
www.fingerlakesmall.com Mon.-Sat. 10AM-9PM · Sun. 10AM-6PM
Fingerlakes Mall Cinema 315-253-FILM (3456)
Continued from pg. 12