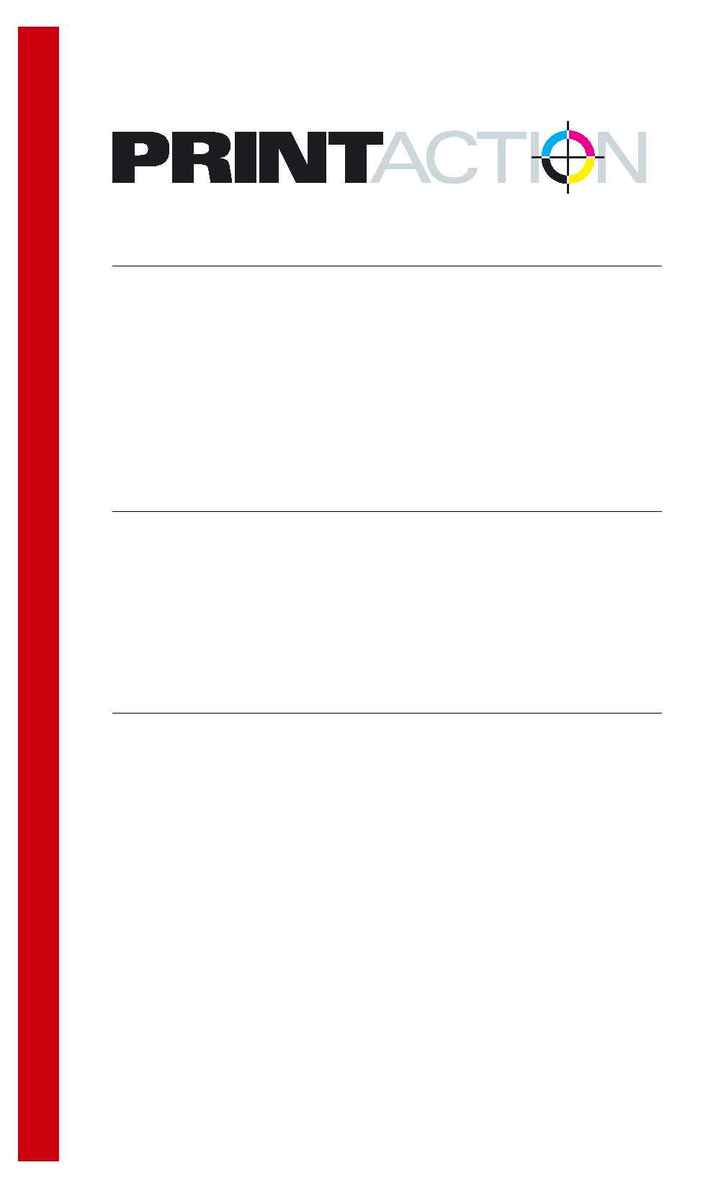 P
r
i
n
t
A
c
t
i
o
n
P
r
o
f
i
l
e
PrintAction's Independent Edge
Established in 1971,PrintAction continues its tradition as the leading
business magazine of the Canadian graphic arts industry.Each month,
PrintAction
through its parent company,Youngblood Publishing delivers
unmatched content about the strategies and aspirations of Canada's
most innovative and technologically sound printing companies.Combining
independently researched news with the most interesting personalities
and applications,PrintAction is the magazine read by the professionals of
Canada's graphic arts industry.
Contributing to Real Graphic Arts
PrintAction
sources editorial contribution from some of North America's
most respected analysts and writers,who together provide an essential
scope for surviving in the graphic arts industry.From premedia to finishing
and from data-centric printing to offset,sales,workflow process,finance
and management strategies... PrintAction provides real-world expertise for
the graphic arts professional and business owner.
Our Monthly, Genuine Concern
PrintAction
delivers monthly departments such as Profile,where we
investigate the motives and moves of an industry innovator.Our
Newsfront
covers only the most important news for our readers,
including equipment installations,personnel appointments,acquisitions
and important trends.The In Print department features stories that take
a deeper look at what is making news in the industry.Our new monthly
Technology Report
targets an important equipment trend to discover
what is new and important.MarketPlace is our classified advertising
forum where real-world business opportunities can be found.Last but
definitely not least,our back-page features the Fine Print department,
where every month a leading graphic arts company opens to the graphic
arts community to show them a unique printing application.
Youngblood Publishing Ltd. ­ Publishers and Producers of Graphic Arts Media
4580 Dufferin Street,Suite 404,Toronto,ON M3H 5Y2
Telephone:416.665.7333 · 800.363.3261 · Fax:416.665.7226
www.printaction.com · email:info@printaction.com