PrintAction 2006mediakit Page 2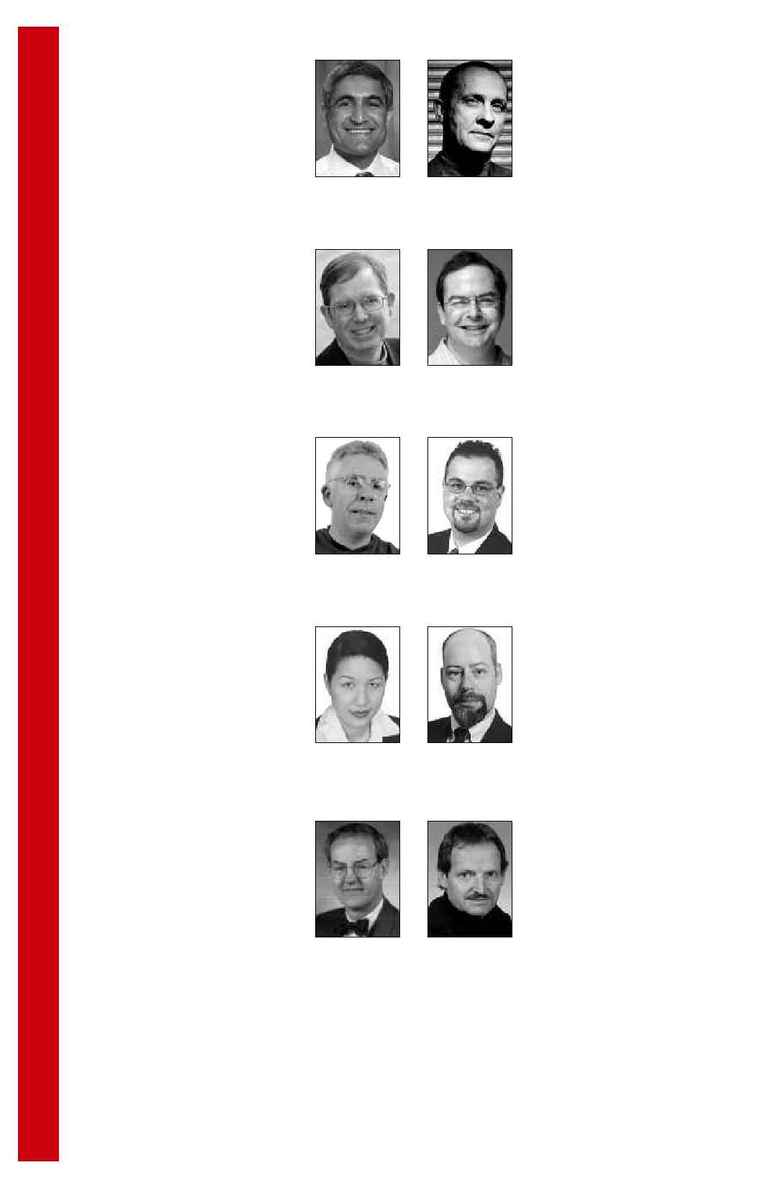 C
o
n
t
r
i
b
u
t
o
r
P
r
o
f
i
l
e
s
JOANNA LIU
Liu is the Manager of Quality Assurance
for Southern Graphics Systems Canada,
which is a world leader in packaging
production.Liu previously worked for
Specialties Graphics,a finishing company,
where she led a campaign to obtain ISO
9000:2000 certification.She graduated
from Ryerson University's Graphic
Communications Management program in 2001.Liu writes
a column around packaging technology and strategy.
joanna.liu@alcoa.com
CLINT BOLTE
Bolte is the Principle of C.Clint Bolte &
Associates.He is best known for pursuing
and reporting on every major technical
event that affects North America's
printing industry.Of late,he has put most
of his focus on mailing and fulfillment,as
well as the strategies and technologies of
postpress.Bolte is an industrial engineer
by trade and has been active in the printing and graphic
communications industry his entire career.
www.clintbolte.com
BOB PENTE
Pente is the Founder and President of
Terminal van Gogh,one of Canada's
leading 1:1 solution providers.Its services,
trademarked as TvG-Powered,are offered
through a Partner Program of printers,
agencies and consulting firms.The TvG
solution works with enterprise
Customer Relationship Management
strategy,focusing on business metrics like customer
retention or cross-selling/up-selling initiatives.
bob@wiredpente.com
JOHN NEGRU
Negru is a faculty member driving printing
and publishing education at a post-
secondary school in the Greater Toronto
Area.He once served as PrintAction
magazine's editor.Negru has closely
followed the growth of desktop publishing
since the advent of personal computers,
and he has a strong sense for the leaders
within Canada's graphic arts community.Negru contributes
independently researched feature articles.
johnnegru@sympatico.ca
THAD MCILROY
McIlroy is president of Arcadia House and the
creator of www.thefutureofpublishing.com.
He is recognized as one of North America's
strongest independent voices analyzing the
intersection of technology and publishing.
While his message is not always warmly
received,it is always taken as a working
assessment of the marketplace's current
and future state.McIlroy regularly contributes well-researched
thad@arcadiahouse.com
PETER EBNER
Ebner is a sales trainer for the printing
industry and the author of 10 printing-
specific books.He speaks annually at
more than 200 seminars and in-house
training programs.His sales insight is
applied to his Selling Skills column.
His workshops reflect his experience
of selling printing for over 10 years,
as well as the experience of the 70,000 print salespeople
peter@ebnerseminars.com
RICK LITTRELL
Littrell is the Founder and President of MagiComm LLC,
which develops strategic marketing and product plans
utilizing personalized,multi-channel marketing communi-
cation systems.Previously,he was Vice President,North
American Field Operations for Polaroid Graphics
Imaging LLC.Prior to that,he was Senior Worldwide
Product Line Manager for Computer-to-Plate Output
Systems for Agfa Corporation.
www.magicomm.biz
CHRIS FRASER
Fraser is Director of New Business Development at Toronto-
based Moveable Inc.,which provides a range of communication
production services from web development to printing.Moveable
was founded in 1983 and today the company employs 55 people.
Recent projects include advertising for Smirnoff and Eli Lilly,sales
material for Manulife Financial,promotions for Revlon and Yves
St-Laurent,CD packaging for BMG Music,and annual reports for
Bank of Montreal,Andres Wines,Hydro One and Imax.
chris@moveable.com
JOHN LEONARD
Leonard is the Vice President,Sales &
Marketing for SMR Tytrek,a production
organization with roots in the direct mail
and specialty finishing industries dating
back to 1976 and 1929,respectively.Leonard
has a degree in general advertising.Today
SMR Tytrek is one of Canada's premier
specialty mailing services companies,offering
data processing,personalization,lettershop and self-mailer
jleonard@smrtytrek.com
DR. ABHAY SHARMA
Sharma is the Chair of Ryerson's School of
Graphic Communications Management.In
his new column,The Doctor Writes,Sharma
will show his breadth of graphic communi-
cations knowledge around topics like ICC,
Digital Negative Format,and digital photog-
raphy for presses.He will also touch on
stochastic,UV,inline,variable data,colour
monitors,RFID,conductive inks,RIPS,as well as digital printing,
flexography,gravure and,of course,printing education.
sharma@ryerson.ca
BOB DALE
Dale is the President of Pilot Graphic
Management Services,from where he has
become a leading authority on evaluating
process and customized training.He has
more than 30 years experience in esti-
mating production for sheetfed- and web-
printing operations.He now focuses
more on implementing Computer
Integrated Manufacturing processes.Dale writes a regular
column called Process for Profit.
bob.dale@pilot-management.com
ZAC BOLAN
Bolan is moving to work in China's
growing printing industry at the
start of 2006,and will continue to
contribute to PrintAction.He brings
working premedia experience to his
PrintAction
column,The Bleeding
Edge
,as well as in-depth feature
articles.Bolan covers companies
likeApple,Adobe and Quark to translate the new
waves of software and hardware.
zbolan@zbolan.com