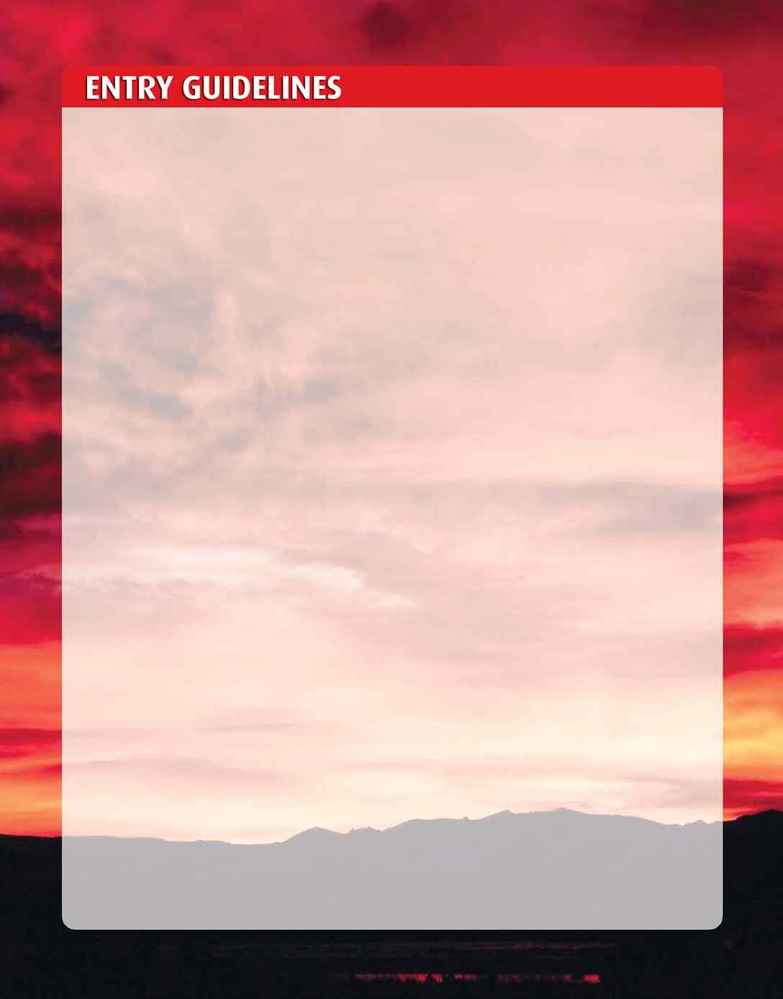 Why Enter?
It is vitally important for the printing industry to lessen
its ecological footprint and to provide leadership in the
manufacturing sector. Environmental programs are also
important for business leverage, and their importance
will only grow in the coming years. The Environmental
Printing Awards encourage companies to strive for excellence
by creating more efficient processes, and companies can then
profile their initiatives to their customers. All winners will be
highlighted in the March 2007 edition of PrintAction magazine.
Entry Eligibility
Entries must reflect projects initiated or produced between
December 1, 2005, and November 30, 2006, according to
the qualifications for each individual category.
Entry Limit
There is no limit on the number of entries per company.
Depending on the category, you may decide to separately
submit definable parts of an ongoing enterprise-wide
project. (Please see EPA Categories for more guidance.)
Entry Format
For judging purposes, you must submit four copies of
all materials for each entry. Each entry should include a
complete Entry Form as its cover page to organize its content.
Additional forms can be downloaded from printaction.com/epa.
Beyond the Entry Form, your submission can include up
to five additional 8.5 x 11-inch pages (electronic or print)
describing the submission. Letters of reference are welcome;
each reference will count as a single page. Decide for yourself
how to use these five pages most effectively.
Within the five pages, submissions may include (but are
not limited to) the following: project origins, distinctiveness,
results, current implementation, planned implementation,
environmental benefits and industry reach.
Supporting materials
Supporting materials beyond the five pages will be accepted
only for categories EPA3, EPA4, EPA7, EPA8, EPA9, EPA10, and
EPA11. Materials can include sustainability reports, CDs,
testimonials, or anything that will assist judging. You must
submit four copies of any supporting material.
Printing Project Categories
Categories EPA5 and EPA6 require a physical example of the final
print project. Four physical examples of the project should be
submitted ­ one for each judge. Submissions in this category
should also include up to five 8.5 x 11-inch pages, as in other
categories, but you may not include any other supporting materials.
Entry fee
$75 per entry. Proceeds from the 2nd annual EPAs will be used
to establish an environmentally focused scholarship at graphic
arts schools in Canada. Please attach a cheque or credit card
information with your entry. Payments must be made or post-
marked by the entry deadline and should be made payable to
Youngblood Publishing Limited.
Entry deadline
All entries must be received or postmarked by
5:00 PM (EST) December 15, 2006.
Entry submission
Email* your entries to: enviroawards@printaction.com
For files larger than 8 megabytes, please contact PrintAction
to arrange for FTP access at 416.665.7333, 800.363.3261 or
enviroawards@printaction.com. Files can also be submitted
on CD or DVD media.
Or by regular mail, courier or fax to:
Environmental Printing Awards
4580 Dufferin Street, Suite 404
Toronto, ON M3H 5Y2
Fax: 416.665.7226
Judging
The winning entries will be determined by an independent panel
of judges with both environmental and printing expertise. The
judges may choose to award a Gold, Silver, and Bronze winner
for any category at their discretion.
Queries
Please direct any questions to PrintAction's circulation and
marketing manager, Jo Bouchard, at 416.665.7333 x28
or jo@printaction.com. If you would like to contact PrintAction's
editors, please direct questions to enviroawards@printaction.com.
Sponsorship
To sponsor this year's Environmental Printing Awards
event contact Sara Young, publisher of PrintAction, at
416.665.7333 x31, 800.363.3261 x31 or
sara@printaction.com.