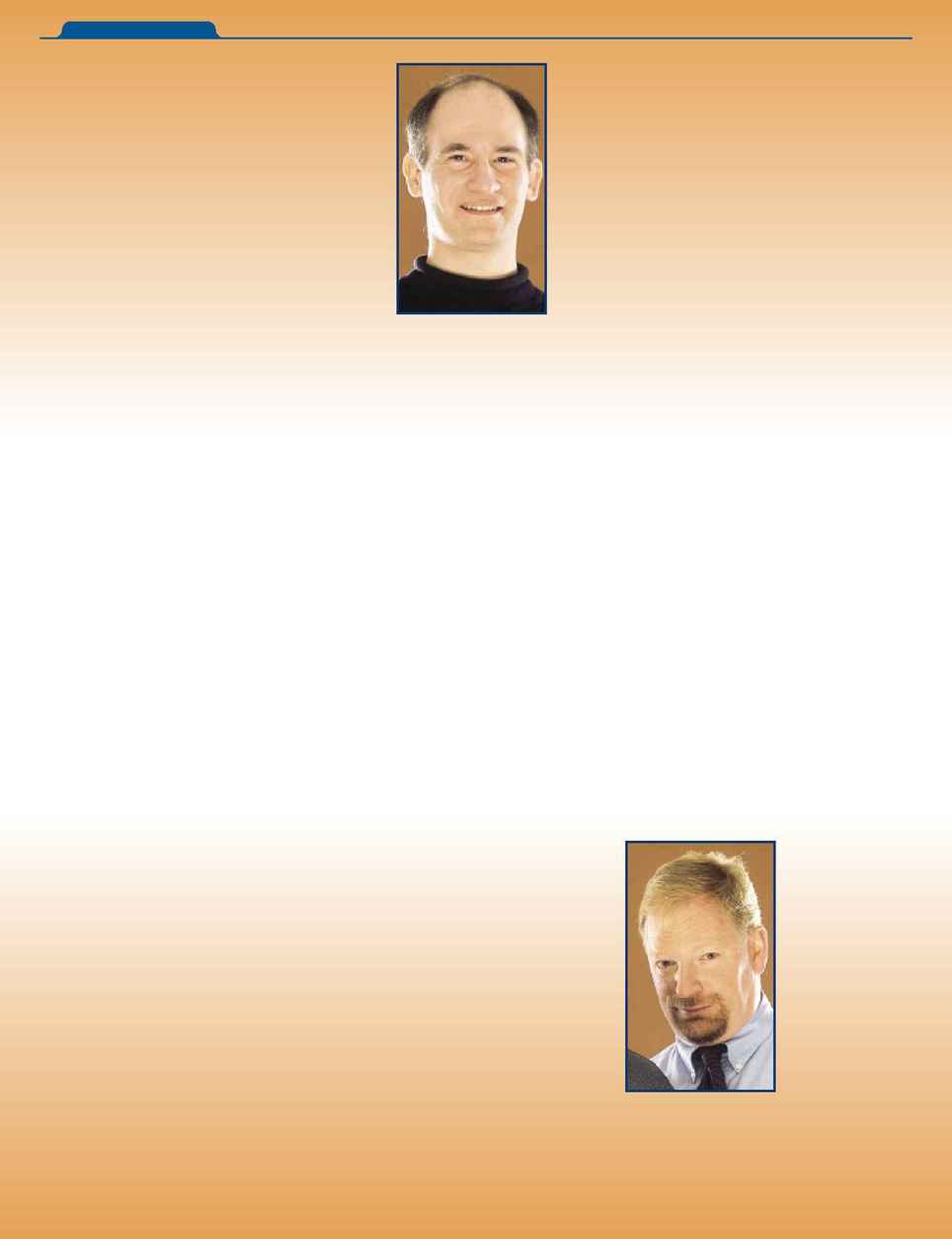 What is going to happen after PDF, because it is
restricted to a certain document size?
Ballantyne (St. Joe): Well, I think that is where XML
comes in. People at first were thinking that XML com-
peted with PDF, but not really. I think they are two
things that get tied into together. They kind of greet
each other, where your XML can be inside the PDF or
it can be something driving the creation of the PDF
that just becomes an output medium to print a page.
Ballantyne (Qbc): It happens that XML is almost an
application- or device-independent file format, so you
don't need Acrobat Reader. You can use whatever you
have. Microsoft Word will interpret it and display it cor-
rectly, and it will display correctly on any device.
Ballantyne (St. Joe): It's formless content and a PDF is
formed content. You can have a structured PDF from
where you can easily rip XML out of, or it can embed
XML in it. But, you are right, PDF is kind of restricted
to its format.
Smyth: Nobody is going to move away from XML any-
time soon, so that you have the maximum flexibility of
keeping content depending on the life-span of that con-
tent. You are able to pull out what you need. If you are
using only PDF, without XML, you are going to have a
lot of difficulty. People are making thousands of dollars
selling software just so others can pull their stuff out of
a PDF.
Ballantyne (St. Joe): Exactly, just like we all know that
LAB colour spaces are the best, because they are con-
trolled and you can kind of go out anywhere from
them, XML is kind of like your neutral colour space for
content.
Smyth: Great analogy.
Ballantyne (St. Joe): Where it can build an HTML file
for a Web page, or a PDF. You can use XML to create a
Quark file.
Are we finally talking about real cross-media?
Ballantyne (St. Joe): It is really the way to go for cross-
media. XML can be two things: this neutral content
space but it can also be like a transport mechanism for
data interchange between two disparate systems. I can
pull in accounting information from a system that has
XML and run it into an asset management system to
populate meta-data fields.
Ballantyne (Qbc): For us, for this industry, it will be
difficult to really move toward this. We are always tied
to our imaging model and that is what really drives
things. Even though file formats and exchange of infor-
mation is evolving, we are still going backward in terms
of our imaging model.
Ballantyne (St. Joe): Because we always think about the
physical page. Even digitally that is just how our minds
work in printing. It's hard to conceive of this neutral
content, it just seems foreign.
Ballantyne (Qbc): And even when we can come up
with this blob of information that has a PDF format, we
decide that form is going to be a piece of printed mate-
rial.
Kew: Quite the point.
Ballantyne (Qbc): But then we have to go back to
Postscript.
Kew: Yeah, everything is Postscript before it can go.
Ballantyne (Qbc): And when did they do that,
Postscript?
Kew: 1986?
Is Microsoft looking at what is going on with PDF?
What will we see out of Longhorn?
Ballantyne (St. Joe): For one, it is a long way off, so there
is a bit of time to figure it out. But it doesn't look to me
like PDF is important to Microsoft at all with Longhorn.
In fact, I think they are trying to do away with it through
this XAML standard that they are trying to come out with,
because it kind of competes with PDF, XML, HTML, SVG
and a couple of others all in one shot.
PRINTACTION ­ February 2004
DAVE
BALLANTYNE
Senior Vice President of IT
and Advanced Technology,
Pi Media/St Joseph Printing
Mondo 2000 was the magazine that
defined cyberpunk well before Wired mag-
azine came onto the scene in 1993 to drag
the culture out into the open. For the next
decade other magazines would try to write
about geeks and their computers, but the
days of brain implants, mutants and com-
puter-assisted anarchy in periodicals had
clearly come with Mondo 2000 and gone
with Wired's more reality-based approach.
Dave Ballantyne, fascinated by the
internet, was an avid reader of Mondo
2000. Not necessarily because he planned
to hack into military installations, but
because technology for media fascinated
him. The thought of tying different media
together is a challenge
he has always wanted to
tackle and, for 15 years
now, he has been mov-
ing closer to that end.
internet account over 10
years ago when nobody
knew what the internet
was," says Ballantyne.
"There were only two
companies in Canada
that you could get an
internet account from at
the time, and the com-
pany that I signed up
with actually sent a
salesperson out to my
office to set me up with
a dial-up account."
then join Partners
Imaging in 1994 and
build its interactive division, surely one of
the first in the printing and prepress
industry. St. Joseph Corporation bought
Partners during the internet boom and
eventually changed the division's name to
Pi Media. Pi Media now runs Canada's
largest e-commerce site (sears.ca), needs
more than six terabytes of online storage
capacity and is one of the
world's leaders in truly
attacking cross-media.
without form or content
divorced from form. So
your form becomes some-
thing else as output and
then your content can
flow into your newspaper
ad, your flyer, your cata-
logue and your Web
page," says Ballantyne,
after a lengthy, scaled
down explanation of how
XML works.
applying XML in real
client programs, most
notably its Sears account.
Ballantyne believes the
recent cross-media hiccup
was in part because PDF
still needed to mature and XML still need-
ed to arrive on the scene. "You had to
have support for XML in a lot of software
to manage the XML, to get the stuff out of
it. All of that has now been written into
InDesign, and Quark 6 has way better
support for it than Quark 5."
Of course, Ballantyne has also been
developing Pi Media's digital asset man-
agement system for years. Potential
clients know the database platform as
Bluechip, and are told software can be
written to make it work for them. In other
words, Pi Media knows databases, which
is a key ingredient to use XML in cross-
media production.
"We can pull content out of Quark
pages and turn it into this kind of tagging
thing," he says. "You pull it out as an XML
file, structured as you want, and then that
flows into our database. Now that content
becomes fields of a database. A price on a
catalogue page for Sears, or whatever,
becomes a field of the database. Now I
can take that on the fly and create a PDF
of that content by pulling it out backward,
using the XML schema tied in with
Distiller to create a PDF."
Ballantyne and his team are currently
working out a way of getting XML to actu-
ally build Quark pages. In other words, the
content actually begins as a database
instead of starting as a Quark file. People
can input content directly into a Web inter-
face that ties directly into a database, or by
allowing them to drag-and-drop Word files
onto a database. Ballantyne says that
would then provide you with a pool of
content that has no form or structure to it.
Manager, Sales and
Product Support,
Heidelberg Digital, Canada
The construction of SGI world headquar-
ters in the mid-1990s was a symbol of the
growth and wealth of the technology
boom, a certain landmark-to-be for
Silicon Valley. Dave Kew remembers sit-
ting across the street, in his temporary
Adobe cubicle at that company's
Mountain View location, watching the hel-
icopters lowering in mature palm trees.
Months earlier, Kew began to organize
what was to become the PDF Printers
Group. Its select members were the tech-
nology gurus from North America's top
12 printing companies. Kew at the time
worked for Transcontinental. Together the
group, representing more than $12 billion
in print, was devising a plan to convince
Adobe to build a PDF with the ingredients
of production prepress.
"We finally arranged a meeting with
John Warnock thinking that he is not
going to show up, but he did because
these were the biggest printers in the
world," says Kew. "He showed up with an
entourage and listened to us for an hour
and a half. We had a list of 20 things on
the board, like trapping and embedding
fonts and he says, `You know what, out of
these 20 what are the top five because
there is no way you're getting all 20 from
me.'"
Warnock assigned the appropriate peo-
ple from Adobe and requested that some-
one from the PDF Printers Group move
into Adobe for three months. Kew was
chosen. "It was interesting trying to get
them to code what you wanted. They
would say `try this' and it would be totally
wrong, so we would try again. Watching
them build this PDF was incredible
because all the departments would share
results about what's going on with PDF.
And it was when they were building
Acrobat."
A little later all of the members of the
PDF Printers Group would head to Key
West, Florida, to look at a new Agfa prod-
uct called Apogee. This was a dream
come true for Agfa, to have the technolo-
gy leaders of North America's 12 top
printers, discussing how
their new system looked,
whether it should be in
one station or several, why
they would do this or want
that.
into the consulting world,
the Committee for Graphic
Arts Technologies
Standards (CGATS) called
Kew because they were
building a new type of
PDF. Kew accepted a posi-
tion with the project,
which would develop
PDF/X-1.
now, the variable PDF," he
says of CGATS. "We
already have the variable
data exchange, the VDX,
done. It is approved. This
is the relaxed version that you put inside
Quark or PDF. But we want to get to the
strict version because people do not want
to send their database to anyone. A strict
version of VDX would be where you pour
the database in and you lock it up,
encrypt it."
The VDX strict version would then just
be dropped into the
workflow, as any other
PDF, but of course at a
much bigger size.
Around five times larger
than a regular PDF. A
relaxed VDX might be
used if the database
should be edited, but
again, Kew asks who is
going to take responsi-
bility for this file, and he
answers that the onus
belongs upstream,
where PDF is beginning
to fall into fashion.
going to see ISP hosting
a lot in the future," says
Kew. "This is where we
are waiting for the soft-
ware and the server that
people will be able to
print to. Right now agencies and clients
don't want to get involved in it because of
the risk. But when people start adopting
this, the good printers are going to say
let's build it together. Let's get some soft-
ware and a server so that you can print to
it and you can see it and we have the
master file and it is all locked."