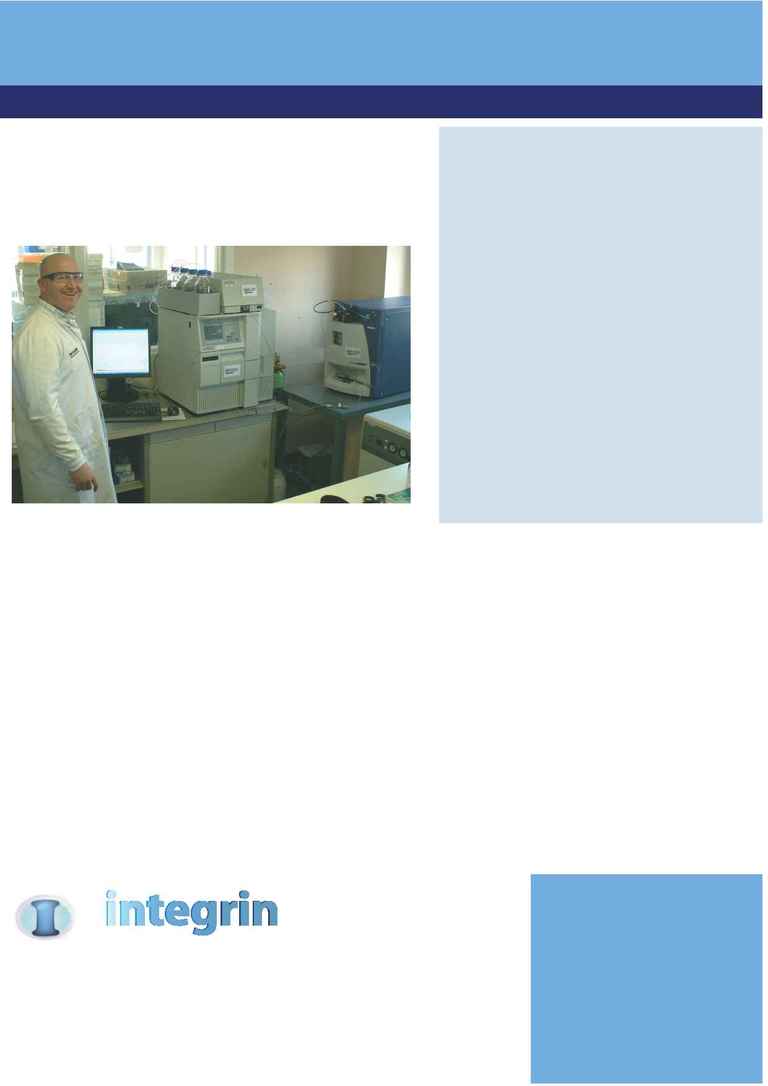 integrin
integrin
integrin
If you have received this newsletter
by post or email, details of your
name and address are held on our
secure mailing list database. If at
any time you would like your details
to be removed from our database,
please contact us and we shall do
so.
Integrin mailing list database is not
passed on to any third parties.
Aquaculture International
integrin advanced biosystems will be hosting
stand D6 at the Aquaculture International 2006
in Glasgow. This will be a good opportunity to
speak to Integrin's staff about seafood safety,
traceability and the total care packages
provided by Integrin.
In addition, we will be holding a seminar on
"Waste Management in the Seafood Industry"
on the 18th of May in association with Seafish
which will be held in the Boisdale Room (1) at
10am at the SECC.
Members from the Valbiomar group, industry
representatives, scientists and regulators will
be present at the meeting to discuss any ques-
tions or concerns you may have in regards to
this important topic
For a free and confidential discussion of your needs, large or small please
speak to one of our seafood safety experts.
Integrin Advanced Biosystems
Marine Resource Centre, Oban
Argyll, PA37 1SE
P: (0) 1631 720 765
E: seafood@integrin.co.uk
Issue 1
Welcome to Integrin's first quarterly newsletter
Integrin Invests In Cutting Edge
Capability
Integrin has just invested over £130K expanding its analytical capabilities supporting its seafood safety
programmes. This expenditure was underpinned by a grant from Argyll and the Isles Enterprise for £35K.
A new fluorescent HPLC system allows Integrin to use the new internationally validated method for PSP
toxins in addition a new LC-MS/MS system will be used to support the testing of DSP toxins. The new
machine will provide a fast and reliable system for analysing the various DSP toxins giving improved quality
of information to customers about their product.
Proudly overseeing these new machines is Dr Michael Williams. Michael brings over 6 years post doctoral
experience using LC-MS/MS in a contract research and pharmaceutical research environment.
It is anticipated that this boost to Integrins analytical capacity and capability will provide its clients with a wider
range of chemical testing whilst offering larger capacity for tests already supported.
For further information please contact Dr Williams on michael.williams@integrin.co.uk or by phone on
01631 720 765.
Dr Michael Williams using the new LC-MS/MS