Suzuki bro mar 800 Page 1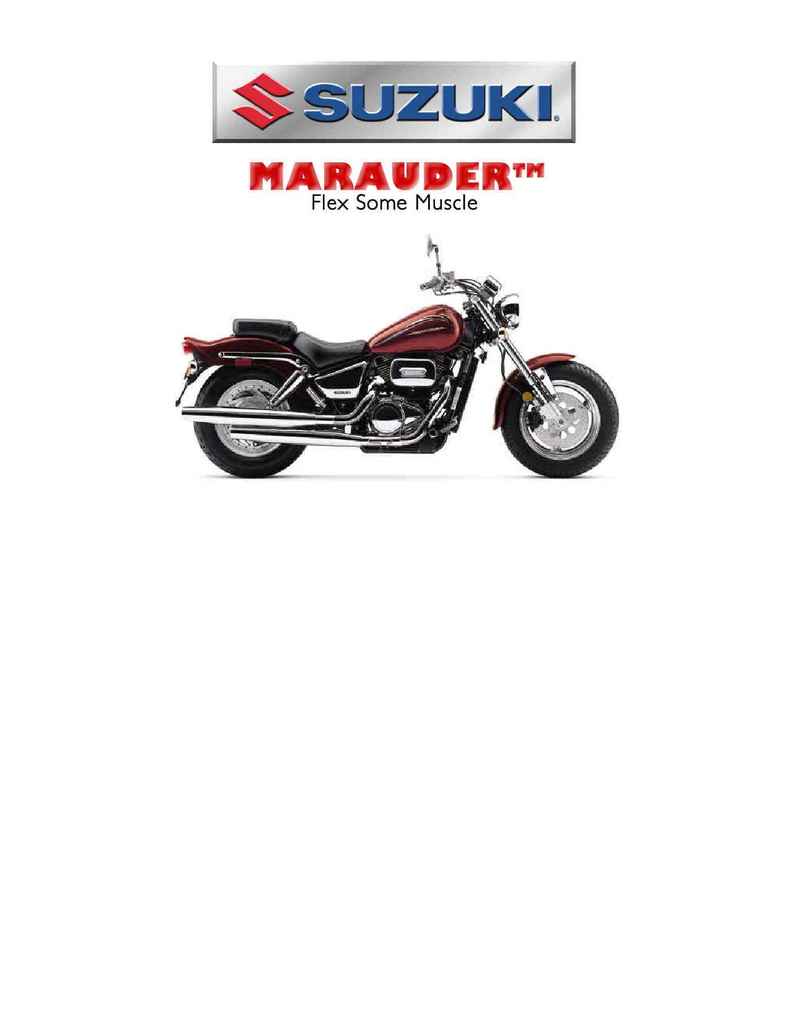 The whole point of owning a custom
motorcycle is to have a bike with its own
distinctive style. That's why Suzuki is
committed to designing cruisers that break the
mold, and there's no better proof of this
philosophy than the 2001 Marauder. Its drag
bike-inspired styling makes it one-of-a-kind.
From its brilliant paint job to its flat bars, from
its contoured seat and rear fender to its drilled
disc brakes, the Marauder 's styling blows away
the cookie-cutter designs of the other guys.
The Marauder backs up its styling statement
with an unbeatable combination of lightweight
agility and torquey engine performance. It has a
low, 27.6-inch seat height and a dry weight of
only 456 pounds, so you can maneuver through
city traffic with confidence. Its technologically-
advanced, inverted forks and dual-shock rear
suspension system provide smooth feedback and
crisp responsiveness. At the same time, its long,
64.8-inch wheelbase helps give it a spacious
seating position. That roominess, along with a
deeply padded and well-contoured saddle, helps
ensure a comfortable ride for you and your
passenger...even when you cruise all day long.
When it comes to engine performance, the
Marauder is built for the long run. Advanced
technology ­ Suzuki's exclusive Twin Swirl
Combustion Chamber head, an overhead
camshaft, four valves per cylinder and liquid
cooling ­ translates directly into strong,
consistent engine performance across the
powerband. Its five-speed transmission lets you
cruise effortlessly around town or on the open
highway, and it has a back-torque limiter for
smooth downshifts. On top of it all, its dual
pipes are tuned to enhance performance, as well
as provide a deep, rumbling exhaust note.
So get on a Marauder. And make a statement