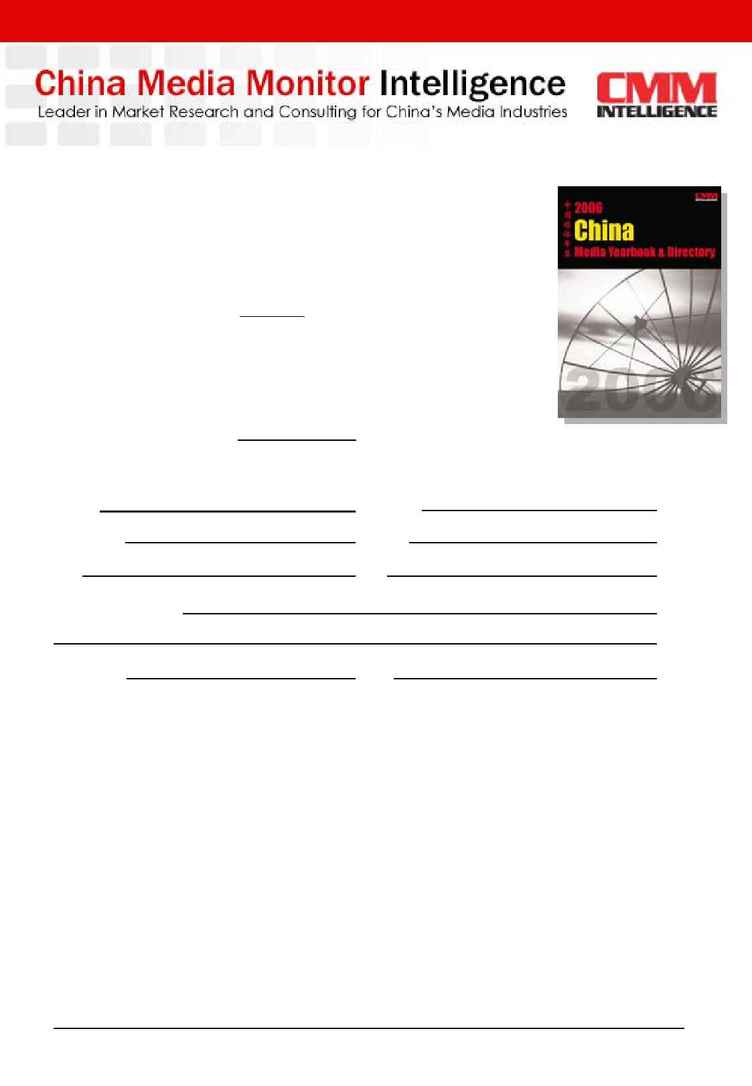 2006
2006
CHINA MEDIA YEARBOOK & DIRECTORY
CHINA MEDIA YEARBOOK & DIRECTORY
Order Form
Order Form
YES! I would like to order
copy / ies of the 2006 China Media
Yearbook & Directory at EUR359 each + p&p*. Delivery directly upon receipt
of payment.
*Post & packaging: China mainland ­ Free; Asia - 25; rest of the world - 45
Total (including p&p) EUR
Name:
Position:
Company:
E-mail:
Tel:
Fax:
Address / Country:
Signature:
Date:
I would like to make payment by:
Cheque
Please make out the cheque to CMM Intelligence Ltd., and send to the address above
Electronic Transfer
Please make payments in EUR / US$ / HK$ to our account:
HSBC, 1 Queens Road Central, Hong Kong
Account Holder: CMM Intelligence Ltd.
Account Number: 500-620208-838
An invoice will be made out to you. Upon receipt of payment, the Yearbook(s) will be sent to the
address you specify above.
I would like to receive more information on CMM Intelligence products & services.
Please FAX your order to: +8610 6407 0564 or for assistance, call us at +8610 6407 0561
A606, Tianhai Plaza, No.107 Dongsi Beidajie, Dong Cheng District, 100007 Beijing, China
Tel: +8610 6407 0561/62, Fax: +8610 6407 0564, info@cmmintelligence.com, www.cmmintelligence.com