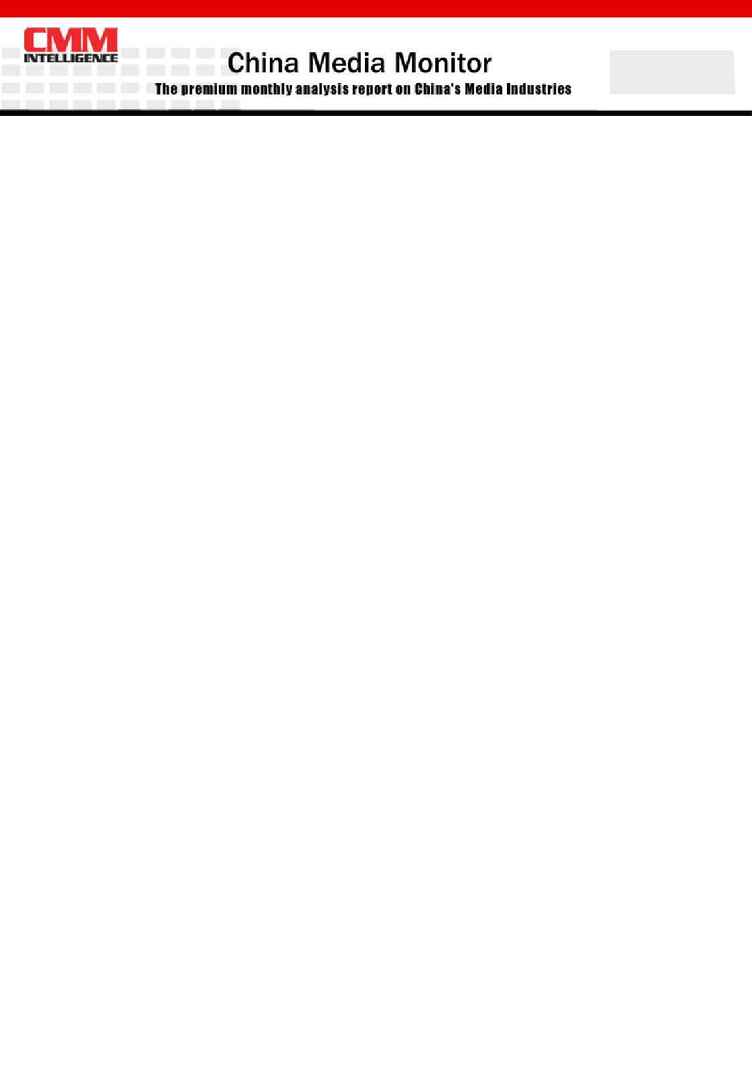 How does your team navigate China's changing Media Industries?
Published by CMM Intelligence since 1997 the monthly English language, CHINA MEDIA MONITOR e-
newsletter is the leading China Media Industry management tool, scanning and monitoring the Chinese media
markets for international decision makers.
The CMM constantly delivers comprehensive analysis and in-depth coverage of China media industry news, latest
media trends and key events.
Keeping you focused within one of the most dynamic, complex and inscrutable business fields in the world, the
CMM pro-actively supports your business and strategies by keeping you updated on the latest developments in
policy & regulations, analysis & forecasts as well as monthly up-dated Media statistics covering all major Chinese
media industry sections.
Enhance your information feed by sub-scribing and enjoy full CMM archive access including all CMM issues
back to 1997.
To view latest CMM headlines, please visit our website at www.cmmintelligence.com. Contact us for your FREE
trial issues at info@cmmintelligence.com
All good publications must evolve to stay on top of their game, so from November 2007 we are happy to
present our updated and enhanced CMM news-letter.
Every month, the new CMM newsletter will bring you all the in-depth reportage you have come to expect
from our products, plus:
What's NEW
"In Focus" - expert analysis from CMM-I's expert consultants
an exclusive interview with an industry insider
expanded editorial with increased coverage of all key sectors
top policy and regulation stories
news reports by industry sector, such as TV, film, print and advertising
industry statistics such as TV ratings and print circulation figures, and
a calendar of the major media-related events coming up in China.
Additionally, we are in the midst of pre-paring a complete website re-launch over the coming months that will allow
for easier archive access and research, as well as for a real time publishing of CMM news items.
CONTENT
PART 1
CHINA MEDIA ANALYSIS
"In Focus"
Interview with China media insider
PART 2
POLICY & REGULATION
Covers the latest news on China's media policy and regulations
PART 3
SECTOR REPORTS
Industry reports, news and analysis by section: TV, Radio, Film, Print, New Media, Advertising
PART 4
UPCOMING EVENTS
Calendar of upcoming events and news on media events
PART 5
STATISTICS
Including TV ratings, media Ad spend and many more by region