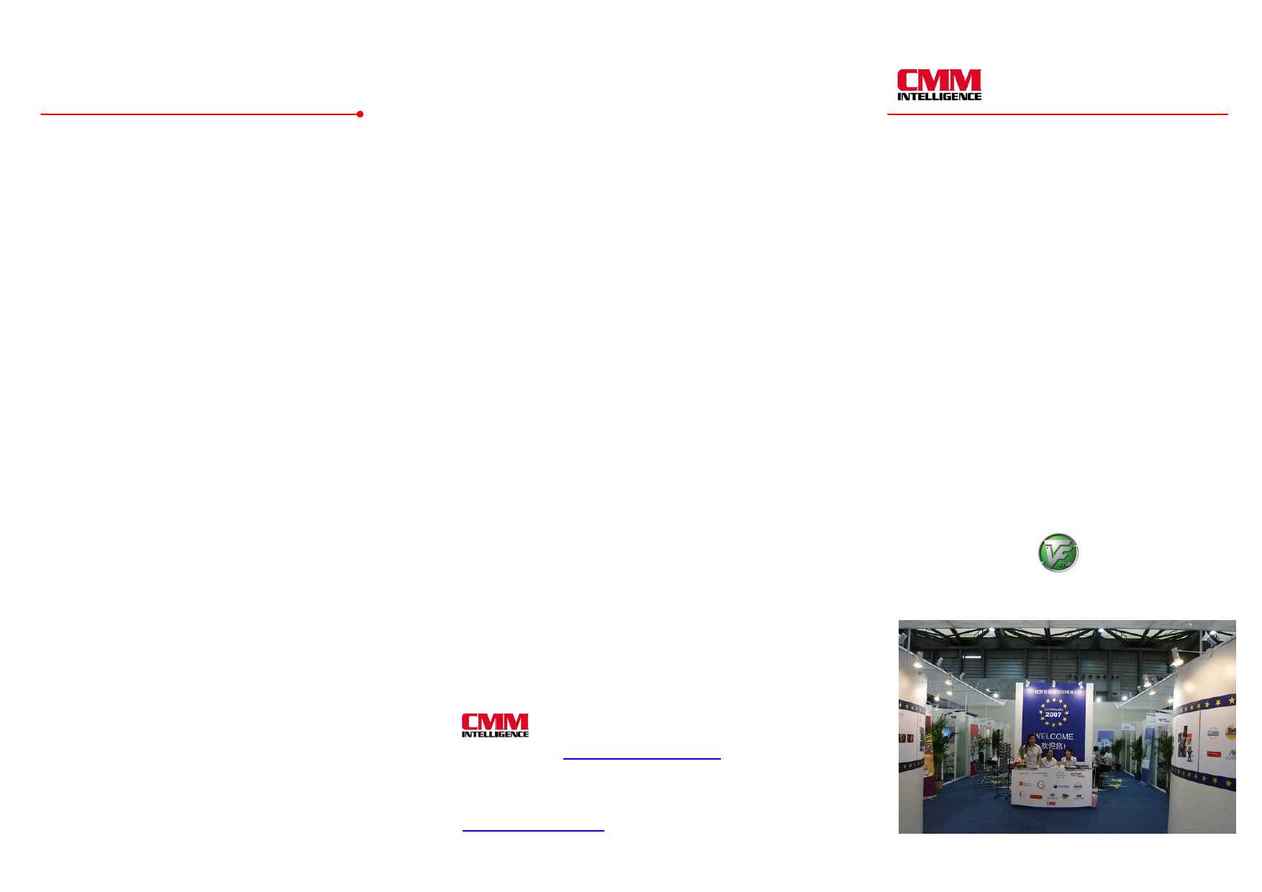 pohlee@cmmintelligence.com

A606 Tianhai Business Plaza, 107 Dongsi Beidajie
Dong Cheng District, 100007 Beijing, CHINA
Tel: +86 10 64070561 l Fax: +86 10 64070564
Enter the World of Chinese Media
Enter the World of Chinese Media
International TV and Film Market
14th Shanghai TV Festival
Leader in Market Research and Consulting for
China's Media Industries
About CMM-I and STVF

CMM-I has been a close partner for the STVF and EU Pavilion
for many years and since 2004 has been exclusive organizer of
the EU Pavilion.
STVF's Market Director Zhang Ming noted:
one of STVF's longest standing partners, it continues to be one
of the most innovative. This new agreement strengthens
Europe's presence on the trading floor and creates new
opportunities for companies to build sustainable trade

About Shanghai TV Festival (STVF)
14th STVF June 9th--13th, 2008

Held since 1986, STVF has become the most influential and
prestigious international TV festival in Asia strengthening the
cooperation and communication of Chinese media industry and
the world. Since 2002, STVF and Shanghai International Film
Festival take place every June, accredited by The State
Administration of Radio, TV and Film, together with Shanghai
Municipal Government, and organized by Shanghai Municipal
Administration of Culture, Radio, Film and TV Administration
and Shanghai Media and Entertainment Group.

Last year's market saw 194 exhibiting TV industry companies
from 16 countries and 500 professional buyers.


About China Media Monitor Intelligence (CMM-I)

Beijing-based, CMM-I is the leading independent market
intelligence resource on the Chinese media industry. Since
1990, CMM-I has been providing proprietary products and
services directly to domestic and international clients as well as
delivers specialized consulting, research and implementation
services for market entry, partner selection/due diligence and
competitive positioning within China's large and diverse media
market.
CMM-I is also the exclusive
Reed Midem China agent
organizers of the world's biggest audiovisual content markets:
MIPTV and MIPCOM; as well as
National Geographic Giant
Screen Films China Distributor
China
Representative for German Films
A
D D I T I O N A L
S
E RV I C E S
prices cover the whole market period

Additional Participant within Standard &
Deluxe Packages ( 250.00)
Additional stand space (price upon request)
Additional DVD player (price upon request)
Interpreter ( 300.00)
Chinese / English (other languages upon request)
Beverage-service ( 120.00)
in booth soft drink service
Shuttle service ( 50.00)


S
H A R E D
B
O OT H
(
O P T I O N A L
)
CMM-I offers individual companies the option to share
a booth within Standard & Deluxe Packages. Compa-
nies will be treated as individual participants within one
booth including common services.
Standard Booth, max. 1 additional company
Deluxe Booth, max. 2 additional companies
Price: 895.00 per additional company in addition to
the regular price of the booth, which includes 1 com-
pany.


A
D D I T I O N A L
P
R O M OT I O N
Advertising in EU Programming Guide 2008
Price: 1 page 4/C 1,500.00

Promotion material support
Translation and if needed print service for business
cards, catalogues, individual flyers, dubbing of promotion
tapes, etc.

Individual event organization
Cocktail reception, screenings, VIP-Dinner, etc.
Support for individual booth dressing on
request