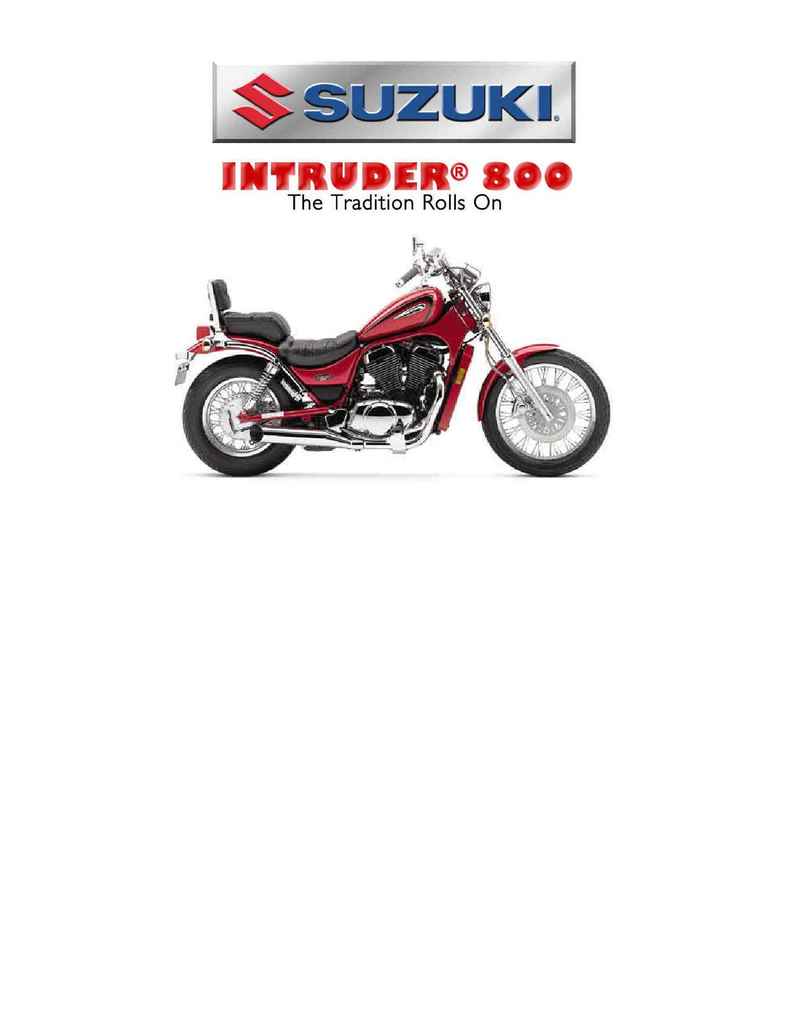 What's more important: style or performance?
At Suzuki, we think you shouldn't have to
choose between the two. That's why the 2001
Intruder 800 is engineered for heart-pounding,
real-world performance, plus all that distinctive
long, lean and low style.
Check it out: V-twin power and lightweight
maneuverability. Wide handlebars. Low
custom-style seat. Rich marble-flake paint. It
all marks the Intruder 800 as the hottest bike in
its class.
This machine's lightweight responsiveness is a
direct result of its lean design. It weighs only
443 pounds and features a low, 27.6-inch seat
height. While it's agile around town, the Intruder
800 is also engineered for maximum comfort on
the open road. It has a long, 61-inch wheelbase
which, along with forward-mounted pegs,
allows ample room for a wide-open riding
position. For smooth operation, it features shaft
drive, rubber engine mounts and staggered
crankpins.
Lots of cruisers have style, but the Intruder
800 also delivers reliability you can count on for
the long run. Advanced Suzuki engineering
gives you liquid cooling, overhead camshafts
operating four valves per cylinder, plus Suzuki's
exclusive Twin Swirl Combustion Chamber
(TSCC®) design for strong torque across the
powerband. It also has computer-controlled
digital ignition for added reliability and proven
performance.
When you're not riding, you'll enjoy just
kicking back and admiring all the special
touches: high-quality chrome... classic 60-spoke
wheels with polished alloy rims... and a profile
that sets it apart from all the others. When it's
time to take on the open road, do it on a
machine that's as easy to live with as it is to
look at. The 2001 Intruder 800.