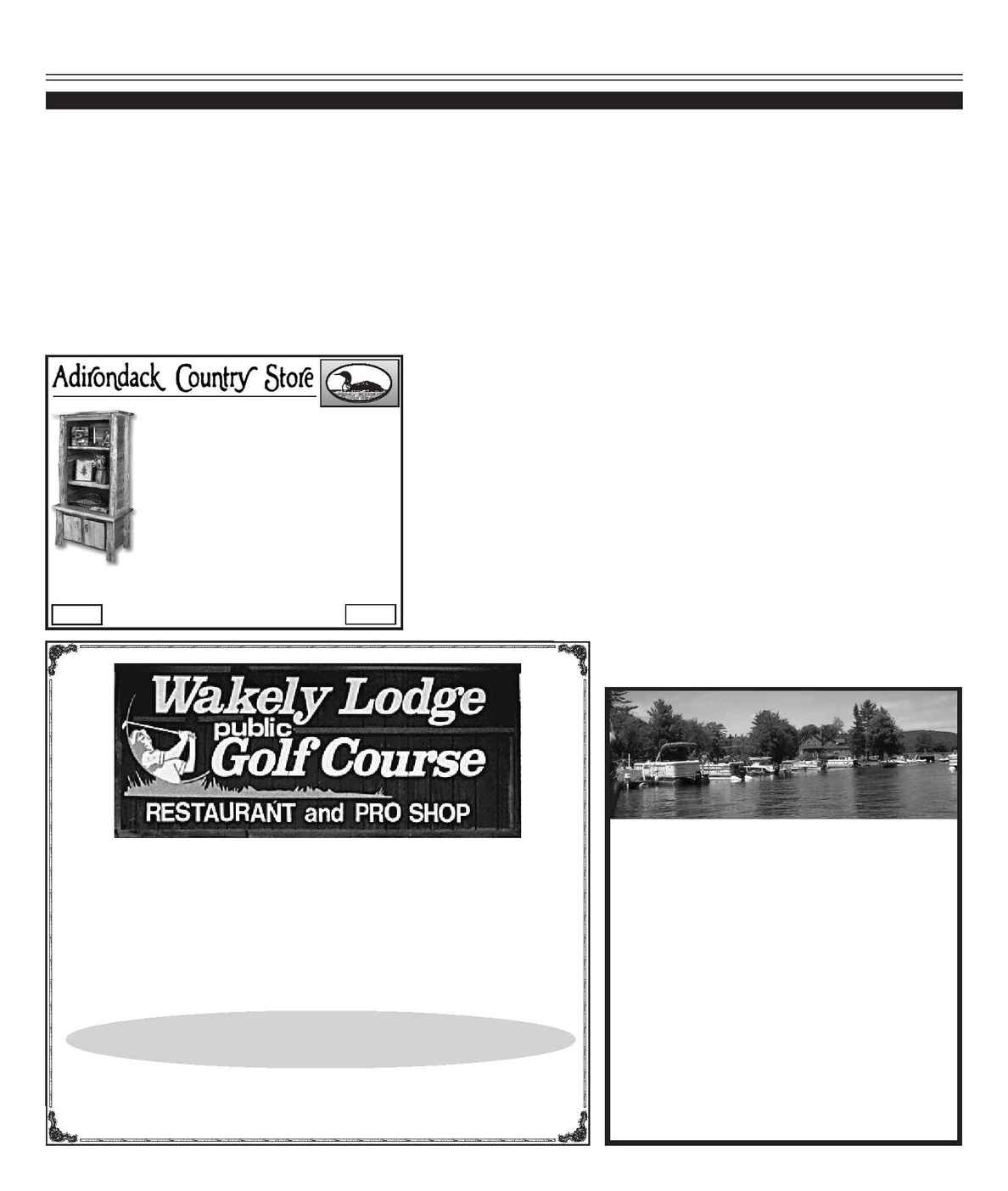 Big Moose Inn
1510 Big Moose Inn
Eagle Bay, NY 13331
(315) 357-2042
www.bigmooseinn.com
Fine dining from Australian cold
water lobster tails, Alaskan king crab,
Black Angus tenderloins, strips and
ribs to Long Island duckling, New
Zealand lamb racks and loins and
tender milk fed veal. Extensive wine
list compliments any menu selection.
Big Moose Station
Eagle Bay, NY 13331
(315) 357-3525
Contemporary cuisine in a fully
restored 1926 train station. Serving
dinner Tuesday-Sunday at 5 p.m.
Unique daily specials, quality wine
list and full line of spirits. Sundays
are for crab lovers. Fine dining in a
casual atmosphere.
Glenmore Bar and Grill
Big Moose Lake
(315) 357-4891
www.glenmorebarandgrill.com
Join us for a casual, laid back din-
ing experience or just drop by for a
cocktail and the munchies. Our menu
has something for everyone. Re-
opened by original owners from the
1970s and 80s, the Muller Family.
Eagle's Nest
5502 Route 28
Eagle Bay, NY 13331
315-357-3898
That place where the soup is
homemade, the bartender remem-
bers you, and you are bound to have
a great time! Serving favorites like
Philly-style cheese steaks, pizzas,
wings, HUGE calzones and a variety
of finger foods. Steaks, fish fry and
prime rib, too. Live entertainment.
Hard Times Cafe
5521 Route 28
Eagle Bay, NY 13331
(315) 357-5199
Traditional American fare with some
The Lanterns
Eagle Bay, 13331
(315) 357-5461
Wide selection of fine, American
cuisine including fresh chicken, steak
and seafood dishes served in a casu-
The Donut Shop
Route 28
Eagle Bay, NY 13331
(315) 369-6421
Homemade doughnuts, subs, bar-
becue, mountain dawgs. Pat and
North Woods Inn
4920 SR 28 Fourth Lake?Old
Forge, NY 13420
(315) 369-6777
www.northwoodsinnresort.com
Enjoy a romantic dinner for two
overlooking a spectacular view of
Fourth Lake or bring the whole family
for a great dining experience. Also
serving from noon to 9 p.m. in the
Tap Room wings, burgers, pizza,
soups, salads, pasta and steaks.
Kids menu and daily specials.
Courtesy House/Alpine Grill
Rt. 30, Hope, MY
518-924-5655
New chef and menu. Tues.-Sat. 4-
Hope Diner
Rt. 30, Hope, NY
Open April-Oct. Thurs. 7:30am-
2pm, Fri. & Sat. 7:30am-7pm, Sun.
7:30am-2pm. Closed Tues. & Wed.
INDIAN LAKE
& BLUE MT. LAKE
Adirondack Mt. Grill
Rt. 30
Indian Lake, NY 12842
518-648-0707
Lunch and dinner, full service bar.
Italian entrees, American favorites,
pizza and more. Open year-round,
Chili Nights at Marty's Tavern
Route 28
Indian Lake, NY 12842
518-648-5832
Mexican cuisine. Dinners come
with vegetarian refried beans and
Mexican rice. All dinners are pre-
pared fresh. 6 draft beers, 6 Mexican
beers, 9 Mexican sodas, premium
tequilas and wines and 100 different
kinds of margaritas. Open year-
round. Reservations suggested.
Club House Restaurant
at Cedar River Golf Course
180 W. Main St., Indian Lake
518-648-5906
Serving breakfast and lunch. Open
7 days 7am-3pm mid-May to mid-Oct.
Indian Lake Restaurant
& Tavern
Route 28 & 30
Indian Lake, NY 12842
518-648-5115
Seats over 80; open year-round.
Restaurant open Sun. 12-8pm (9pm
in summer); Mon., Tues. & Thurs. 11
a.m. to 8 p.m.; Fri. and Sat. 11 a.m.
to 9 p.m. Tavern and liquor store
open year-round except Sundays
(open at noon). Menu includes
homemade soups, bread baked on
the premises and appetizers, sand-
wiches, side dishes and entree sal-
ads. Entrees include pastas, some
Gulf cuisine and many traditional
dishes. Homemade desserts, spe-
Jane & Cathy's Restaurant
Route 28
Indian Lake, NY 12842
518-648-5908
Casual family dining with daily spe-
cials. Located at intersection of state
routes 28 and 30 next to Indian Lake
Market. Opens 6 am daily.
Drake's Inn
POB 237 363 Route 28
Inlet, NY 13360
315-357-5181
Year-round casual dining. Break-
fast, lunch, dinner, alcoholic beverages.
JR Adirondack EZ Mart
236 Route 28
Inlet, NY 13360
315-357-4288
Year-round casual dining.
Breakfast, lunch, treats. Also a Citgo
gas station and general store.
Kirsty's Red Dog Tavern
2862 South Shore Road
Inlet, NY 13360
315-357-5502
Year-round casual dining. Lunch
(summer; winter weekends), dinner
year-round; alcoholic beverages.
Open 7 days at 4pm during season.
Mary's Gift Shop
& White Pine Bakery
152 Rt. 28
Inlet, NY 13360
315-357-5170
Open 7 days during summer.
Moose Caboose
Route 28
Inlet, NY 13360
(315) 357-3200
Daily specials, pizza, wings, finger
foods, ice cream and wraps.
Mulligan's
at the Inlet Golf Course
Route 28,
one mile north of Inlet
(315) 357-4310
Breakfast and lunch served in
Adirondack-style clubhouse or outside
on panoramic deck. 7 a.m.-6 p.m.,
seven days a week. Sunday breakfast

BOAT LAUNCH AND MARINA
FOR SALE

2279 ST. HWY 10, CAROGA LAKE, NY

518-835-6615 HOME · 518-332-4000 CELL

Adirondack Lakefront Commercial/Residential Cedar Home nestled

between the two Caroga Lakes. This includes a Boat Launch, 26

dock spaces, with room for more. Has 500+/- lake front, 1.3 acres

(Three adjoining lots avail.), 2 story home (with In-law apt.) 6

bedrooms, 2 living rooms, 2 kitchens, 2 dining rooms, 3 baths, full

basement. Spectacular deck wraps around the house. This house

was gutted and restored in 1995 with new wiring, plumbing, sheet

rock, windows, roof, floors and 2 new furnaces. House was re-

stained a couple of years ago. The kitchen was expanded and is

knotty pine and mahogany, it's beautiful. Marble walls around

fireplace area looking out at the lake. I've replaced carpet with

hardwood floors thru-out the house. Home inspection done and

have made corrections. No gas or propane sold on either lake (Had

a propane pump station). This is a gold mine waiting to happen.

Keep it as it is and enjoy the lakes, rent the dock space and collect

boat launch money, or develop it into a marina with Bait, gas and

staples. Or Bed and breakfast, antique store or use your

imagination. It is beautiful. Asking $777,000.00

252 N. Main · Northville, New York · 863-6056

(Across From The Grand Union)
OPEN
DAILY

Monday - Saturday 9-5 Sunday 10-5
OPEN ALL YEAR
SINCE
1988
www.adirondackcountrystore.com
New Items
Arriving Daily

Bent Hickory &

Hand Carved Furniture

Pottery · Shirts

Stop In And See Our New Line Of Pine Scented Lotions & Candles

Golf Course Open 7 Days

PRO SHOP · DRIVING RANGE

Club House Lunch Daily

Breakfast Saturday & Sunday 9-11:30am

by Reservation Only

Banquets, Luncheons, Business Meetings, Family Reunions

110 Cedar River Road, Indian Lake

518-648-5011
Please see DINING,
Page 21