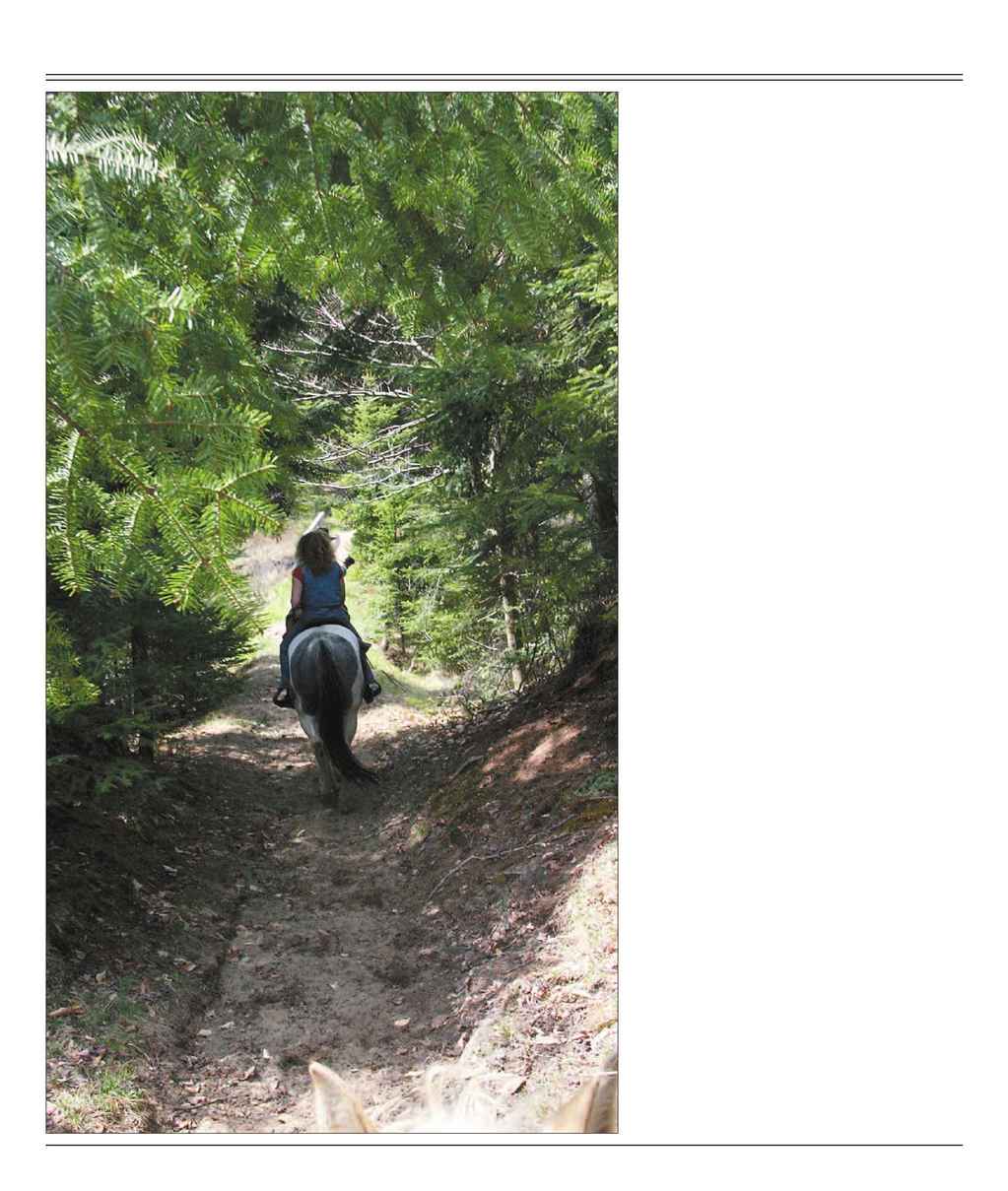 Story by
A. Rock
Photos by
Jerry Waskiewicz
ristine pines and pleasant days beckon everyone
to enjoy a unique experience trail riding horses in
our western Adirondacks. New York State has a
$9 billion equine business because Americans
love horses: Their beauty, strength, personality,
and mystique. Whether you grew up with My
Little Pony, thrilled at Funny Cide, or don't know
the difference between a gelding and a greyhound, come ride at
Flatrock Mountain Ranch in Okara Lakes or at Adirondack
Saddle Tours, Inc. in Eagle Bay, each minutes from Old Forge.
Tom and Tricia Crofut own Flatrock Mountain Ranch, just past
the bridge at McKeever going north on State Route 28. At
Okara Lakes West and Whitewater Challengers is their fine,
secluded riding for young and old, experienced and novice,
along a well-maintained, private meandering trail, away from
the bustle of vehicles and modern distractions.
"We're open Memorial Day through Columbus Day daily at 9
a.m. with the last hour ride out at 5 p.m.," says Tricia, a perky,
devoted woman who has been riding since she was 3. Tricia
grew up in the Old Forge area and spent 10 summers riding and
working at the T and M Equestrian Center nearby.
Now, the Crofut children, ages 3 and 6, also ride. Owning their
own horses and providing special woodland rides has been a
lifelong dream for the Crofuts.
"Horses kept me grounded as a youngster. I just love horses
and I'm glad to offer this opportunity," Tricia explains.
Flatrock Mountain Ranch offers one- and two-hour guided
rides with their well-trained quarter horses, the most trusted and
widely owned breed in the world. A basic lesson is provided as
needed and riders are matched to horses. A special safe and fun
feature for the wee ones is to ride a pony on a mini-trail, with a
guide holding on and walking beside them.
This year, Flatrock Mountain Ranch also offers a unique
combo that beats the best of Mickey D's.
The special is a half-day small group ride, paddle trip and
luncheon. Starting at the North Street bridge by canoe or kayak,
licensed Adirondack guide Scott Locorini of Adirondack
Exposure will provide the expertise and lore. Lunch will be
prepared riverside and a leisurely scenic horse ride highlights
the early afternoon, Tricia says.
Overall, Tom and Tricia Crofut improve things every year and
hope to do better and better to provide unforgettable vacation
moments. They plan to have dog sled rides next winter and
become a four season enterprise.