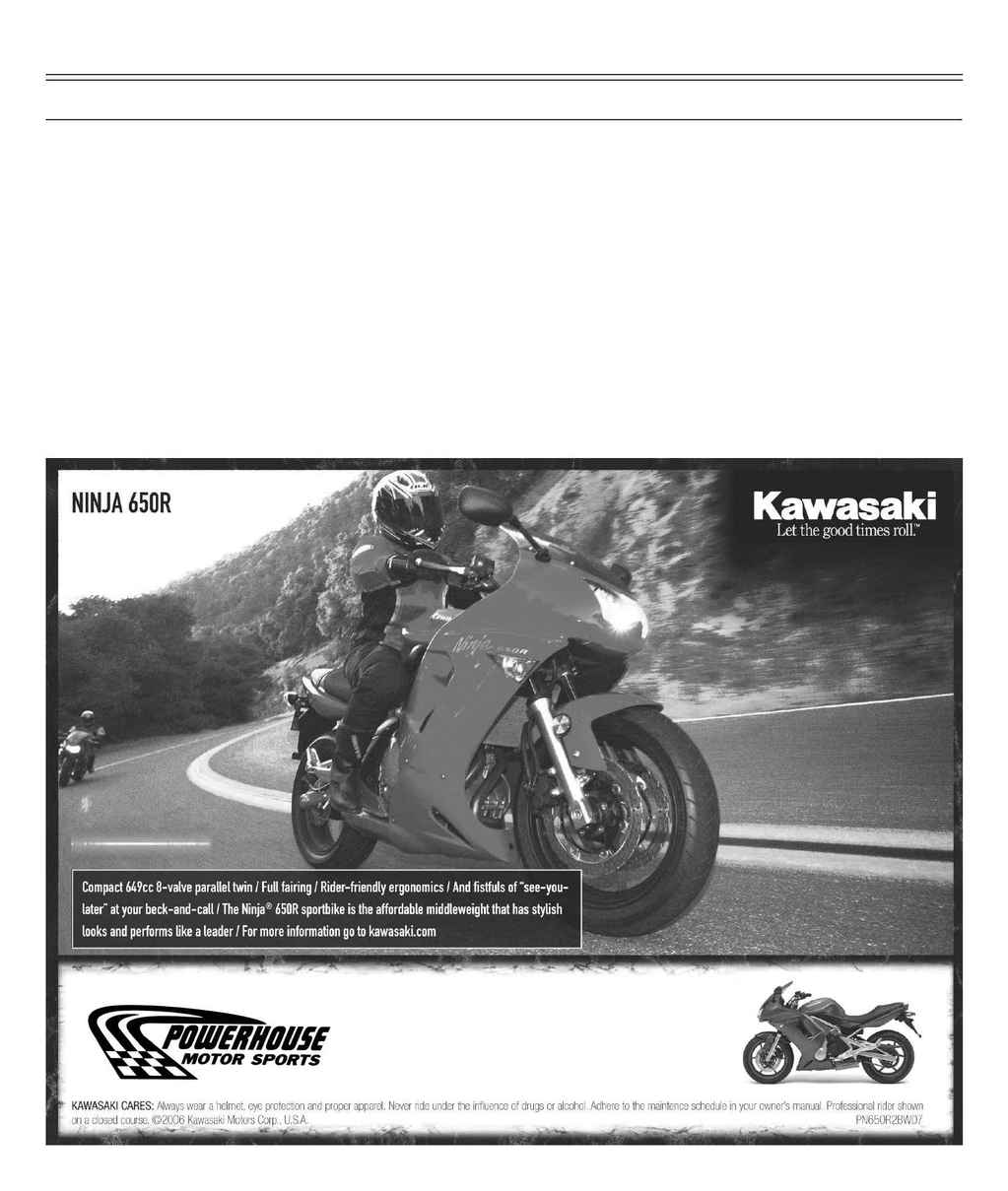 2493 St. Hwy. 30N, Mayfield

661-7787

Come in and see the Ninja 650R in our showroom today

SALES SERVICE ACCESSORIES
do, from finding dinner to just keeping
us company. Photos, artwork, diaries,
and news accounts help tell the story
of the canine companions and workers
of the Adiron-dacks. Lecture begins at
7:30 p.m. in the museum's auditorium.
Free to members; Non-members $4.
AUG. 6-10
Sagamore Great Camp daily tours
feature special ADK Demo instructor
Bill Smith, basket weaving. (315) 354-
5311.
AUG. 6-18
Khoros Performing Arts for Kids,
Noon-3 p.m. at the Old Forge Library.
Patricia Rickard, Artistic Director. (315)
369-6008.
AUG. 7
"A Paradise for Boys and Girls:
Children's Camps in the
Adirondacks," 7:30 p.m., Old Forge
Library. (315) 369-6008.
AUG. 8
Ice Cream Social, Morehouse
Recreation Center, Rt. 8, Morehouse.
Nancy Walker, Adirondack Lakes
Center for the Arts, Blue Mt. Lake. 7:30
p.m. 518-352-7715.
AUG. 9
Slide lecture "The Adirondacks as
Inspiration: Historic and
Contemporary Landscape Painting"
with Sandra Hildreth, 7 p.m. at the Arts
Center/Old Forge. (315) 369-6411.
Twigs Craft Fair, Speculator
Pavilion / Ball Field, Rt. 8/30,
Speculator. 9 a.m.-4 p.m.
Swim Races For All Ages, Long
Thursday Evening on the Lake, St.
Williams on Long Point, Raquette
Lake-Folk trio Peggy Lynn, Dan
Duggan, Dan Berggren. Reservations
315-354-4265.
Music In Byron Park, Indian Lake.
7 p.m. State Fair Four. 518-648-5828.
AUG. 9-12
The 18th Annual Fox Family
Bluegrass Festival at McCauley
Mountain in Old Forge. Where the
deer and the mandolin play and the
best bluegrass bands come from all
over the U.S. and Canada. Four days
of music, children's activities,
musicians' workshops and camping.
Call Mountain Music, (315) 369-6869.
AUG. 10
10th Mountain Division Band
"Mountain Air Quartet", Long Lake.
AUG. 10-11
Book Sale, Town Hall, Long Lake. 9
AUG. 10, 17, 24
Town of Webb Historical
Association auto/walking tour will
begin and end by carpooling from
Hemmer Cottage at the Old Forge
Lakefront to Hollywood Hills Beach
Road. Stories on the tour will include
the early history of Niccolls Point,
deCamp Island (Treasure Island),
Joseph P. Young (developer of
Hollywood Hills), the burning of the
Steamer Clearwater and the hotel
conversion to condominiums. (315)
369-3838.
AUG. 11
Tennis Classic Cocktail Party, 5-7
p.m. at the home of Edward and Betsy
Blodgett, Pine Acres. Benefit catered
affair for participants, Arts Center
members and friends. (315) 369-6411.
50th Birthday Celebration at the
Adirondack Museum In Blue Mountain
Lake ­ Join us for a full day of 1957
themed festivities and family fun with
classic cars, music by award winning
Elvis impersonator, costumed
interpreters, grand birthday cake, 50's
soda fountain, Hula Hoop Frisbee
contests, giveaways and musical
entertainment.
Great Camps Benefit, 4-7 p.m.,
Adirondack Lakes Center for the Arts.
Visit a spectacular camp on Blue
Mountain Lake for hors d'oeuvres,
cocktails and good company.
Town Wide Garage Sale & Flea
Market, Long Lake. 9 a.m.-3 p.m. 518-
Busiest Day of The Year, Raquette
Lake. 10 a.m. Craft Fair, RL school; 10
a.m., Book Sale, Library; 4 p.m.,
Children's Auction, Village Green; 7
p.m., Auction, Village Green.
7th Annual Antique & Classic Boat
Show, Lake Pleasant. 518-548-4521.
Chicken BBQ & Harley Raffle, The
Oxbow Inn, Rt. 8, Piseco. 12 p.m.
BBQ, Raffle at 6 p.m..
Sunsets by the Lake Summer
Concert Series, Arrowhead Lakefront,
Inlet. 7-9 p.m. DELIA with Gwen Tracy.
Rain Location Fern Park. 1-866 GO
INLET.
Bobcats, Speculator Pavilion, Rt.
8/30, Speculator. 7 p.m. Female doo-
wop group.
AUG. 12
Cabin Concert, 2 p.m. at the "Cabin
in the Woods" in Thendara. Dr. Kevin
Moore, Onondaga Community
College. Call (315) 369-6411 for
tickets.
Calendar
from page 8