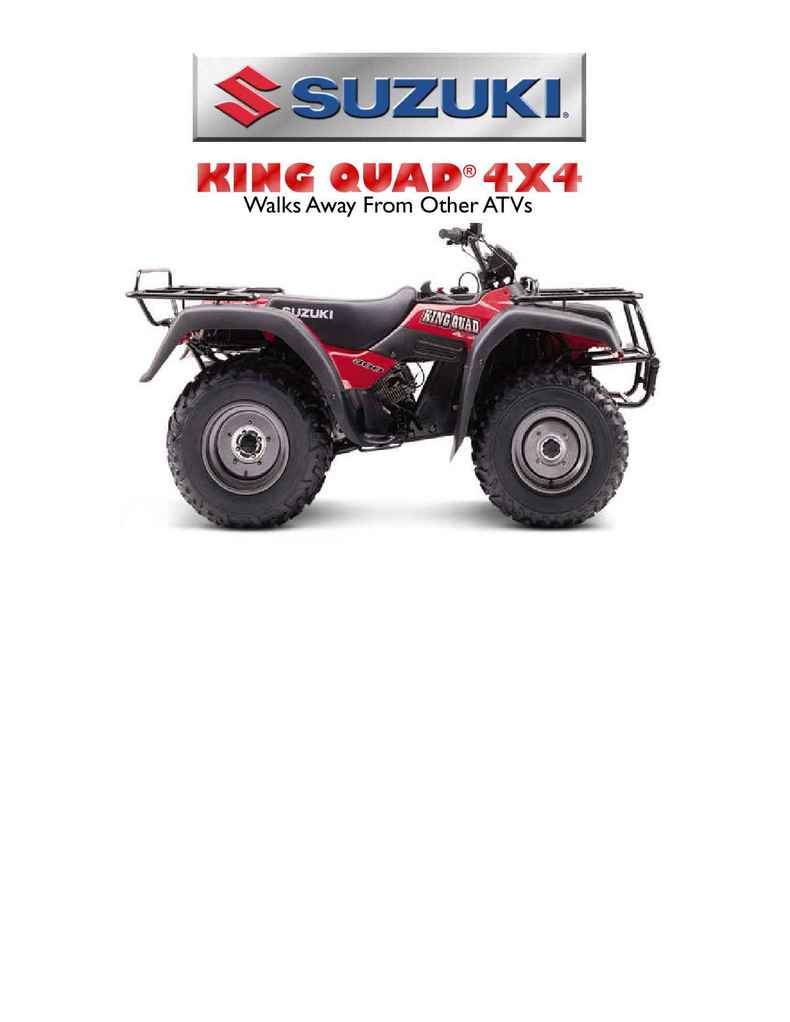 Owning a 2001 King Quad 4X4 is like having two four-
wheelers in one. It's equally at home hard at work or
easing onto the trail for a weekend getaway. With its
incredibly torquey performance and wealth of features, it
has the power to haul a load of lumber in your trailer as
easily as it carries your camping supplies. One of the keys
to King Quad's versatility is its drivetrain...the most
advanced of any ATV on the trail today. It uses a three-
speed sub-transmission with a super-low range that lets
you lock the front differential to transfer power equally to
all four wheels, the most efficient and tractable form of
four-wheel drive possible. That lets you tackle the bear-
down-and-do-it jobs that other ATVs can't handle.
It also has two other sub-transmission ranges that work
in conjunction with the standard 5-speed transmission,
producing even more "high" and "low" combinations. By
using two- and four-wheel drive options, you can actually
choose from 35 forward-drive gear combinations, plus
reverse. That virtually ensures you have an ideal gear for
getting to your favorite fishing spot despite the toughest
conditions, or for towing up to a 900-pound trailer.
For 2001, King Quad 4X4 is more versatile than ever. It
has a new automotive-style electrical accessory terminal
that lets you power anything from a cellular phone to
light-duty camping equipment. And the front bumper has
been redesigned for more convenient winch mounting.
Wherever you ride, you'll appreciate the comfort and
performance of King Quad's double A-arm front
suspension and diagonal swing axle rear suspension. It
allows all four wheels to react to bumps independently
and provide positive responsiveness. That gives you
unmatched comfort combined with the traction you need
even when you've left civilization far behind.
When it comes to high-quality features that make
working more efficient and riding more enjoyable, King
Quad really shines. For long days in the saddle it has a
thickly padded seat. Beefy front and rear racks and a
spacious, accessible storage box let you carry a mountain
of gear.
And large overfenders provide maximum mud
protection. Put it all together and you've got
one tough four-wheeler.
All of which will have you saying
"Long live the King!"