Suzuki bro kingquad Page 3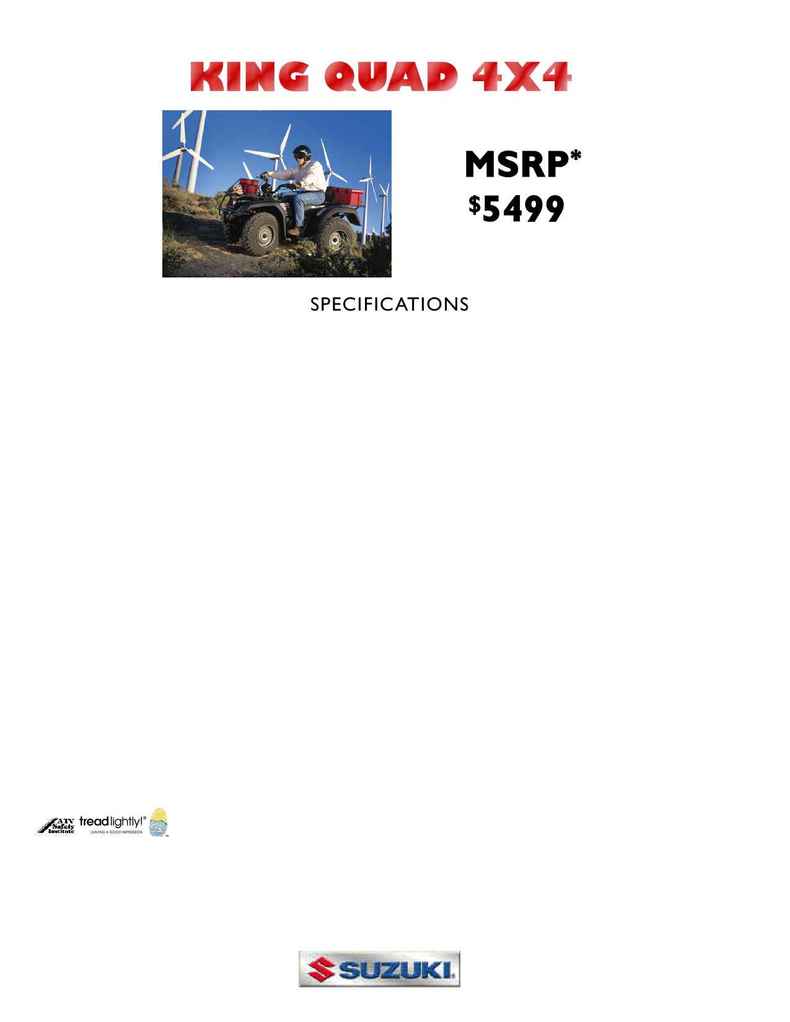 SPECIFICATIONS
280cc, SOHC, four-stroke, single cylinder
5-speed with reverse and 3-speed subtransmission, automatic clutch, 2WD, 4WD,
4WD lock
Independent, double A-arm, oil damped, five preload settings
Independent, diagonal swing axle, oil damped, five preload settings
*Manufacturer's Suggested Retail Prices (MSRP) shown do not include freight/ destination or other dealer charges. To get the most out
of your Suzuki ATV, you need to "ride right." Suzuki highly recommends that all riders get proper training by signing up for a training
course. We'll even pay for it. For safety and training course information, see your local dealer or call the Specialty Vehicle Institute of America at 1-800-852-5344.
The Suzuki ATVs pictured in this section may be used only by those 16 and older. Always keep safety in mind. ATVs can be hazardous to operate. For your safety, always
wear a helmet, eye protection and protective clothing. Always avoid paved surfaces. Never ride on public roads. Never carry passengers or engage in stunt riding. Avoid
excessive speeds. Riding and alcohol or other drugs don't mix. Be extra careful on difficult terrain.
Along with concerned conservationists everywhere, Suzuki urges you to "Tread Lightly" on public and private land. Preserve your future riding opportunities by showing
respect for the environment, local laws and the rights of others when you ride. American Suzuki Motor Corporation makes every effort to present the most current
specifications and product features when printing this literature. Because of our policy of continual improvement, changes may be made in equipment, availability,
specifications and features without notice.