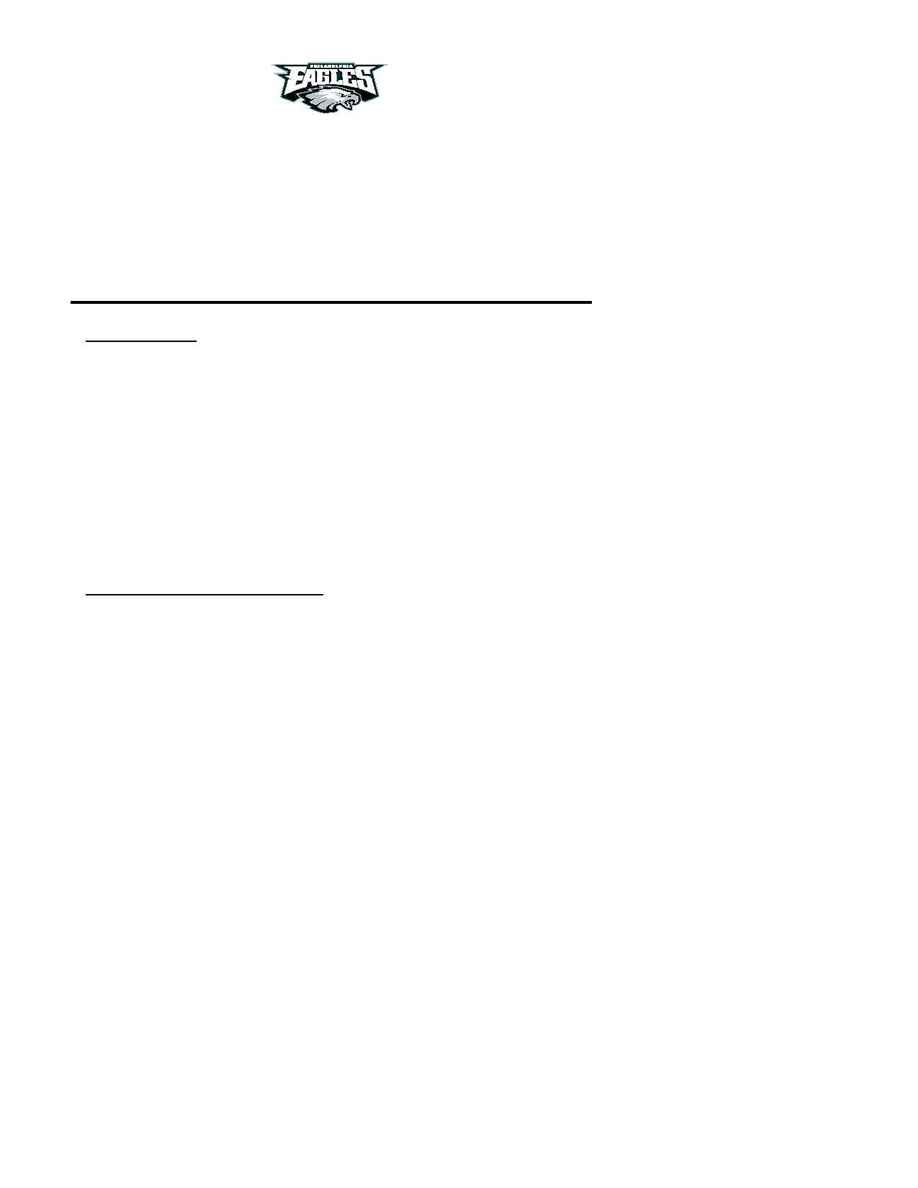 For immediate release
Contact:
Tim McDermott - Eagles - 215-339-5470
Kevin Rudden ­ RazorGator and PrimeSport - 508-249-9584
*** MEDIA ALERT *** MEDIA ALERT ***
EAGLES MAKE GETTING TO GAMES EASIER
Team Announces Partnerships with RazorGator for Ticket Exchange and PrimeSport for Fan
Travel Packages

PHILADELPHIA, PA ­

E
AGLES
F
AN
T
RAVEL
With the popularity of the Eagles' fan base growing and the number of fans looking to
travel with the team expanding, the Philadelphia Eagles announced the launch of Eagles Fan Travel powered by
PrimeSport to provide fans with a trusted travel package to all eight regular season away games. Eagles Fan
Travel powered by PrimeSport offers all-inclusive packages with game tickets, airfare, hotel, and VIP access to the
all-new Eagles Road Show hosted by Dave Spadaro.

Eagles Fan Travel provides a total package with built-in options to meet each fan's needs. Packages are available
for one or two nights and include:
Land or air transportation,
Options for 3-4 star hotels (single or multiple occupancy),
VIP invite to the team's "The Eagles Road Show",
Ground transportation to and from the game,
For more information or to purchase packages, fans can visit EaglesFanTravel.com.
R
AZOR
G
ATOR
F
AN
2F
AN
T
ICKET
E
XCHANGE
For access to home Eagles game tickets, RazorGator.com has
launched the RazorGator Fan2Fan Ticket Exchange for the 2005-2006 Season. The RazorGator Fan2Fan Ticket
Exchange allows season ticket holders who are unable to attend a game the ability to sell tickets to fans who may
otherwise be unable to attend sold-out Eagles games.
The transactions are backed by RazorGator's 100% guarantee. If for any reason a fan does not receive the tickets
he or she confirmed, RazorGator will immediately substitute a comparable or better ticket for the same price or
they will refund the fan's money.

To access the RazorGator Fan2Fan Ticket Exchange , visit www.philadelphiaeagles.razorgator.com.

"Eagles fans are renowned for their passionate support, not only at our home games, but at our away games as well,"
said Eagles senior vice president of business operations Mark Donovan. He continued, "We've partnered with
RazorGator and PrimeSport to provide a service to our fans that creates access to tickets to home games and a `one-
stop shop' for away game trips."
RazorGator is the dominant leader in Hard-to-Get tickets for premier sports and entertainment events worldwide.
PrimeSport is the leader in Hard-to-Get event packages and corporate hospitality for premier events around the
world. In addition to its current partnership, PrimeSport served as the official 2005 Super Bowl travel partner for
the Philadelphia Eagles and not only arranged for tickets, transportation and accommodations for fans, but also
handled all party and travel arrangements for the Philadelphia Eagles players' families, administration and partners.