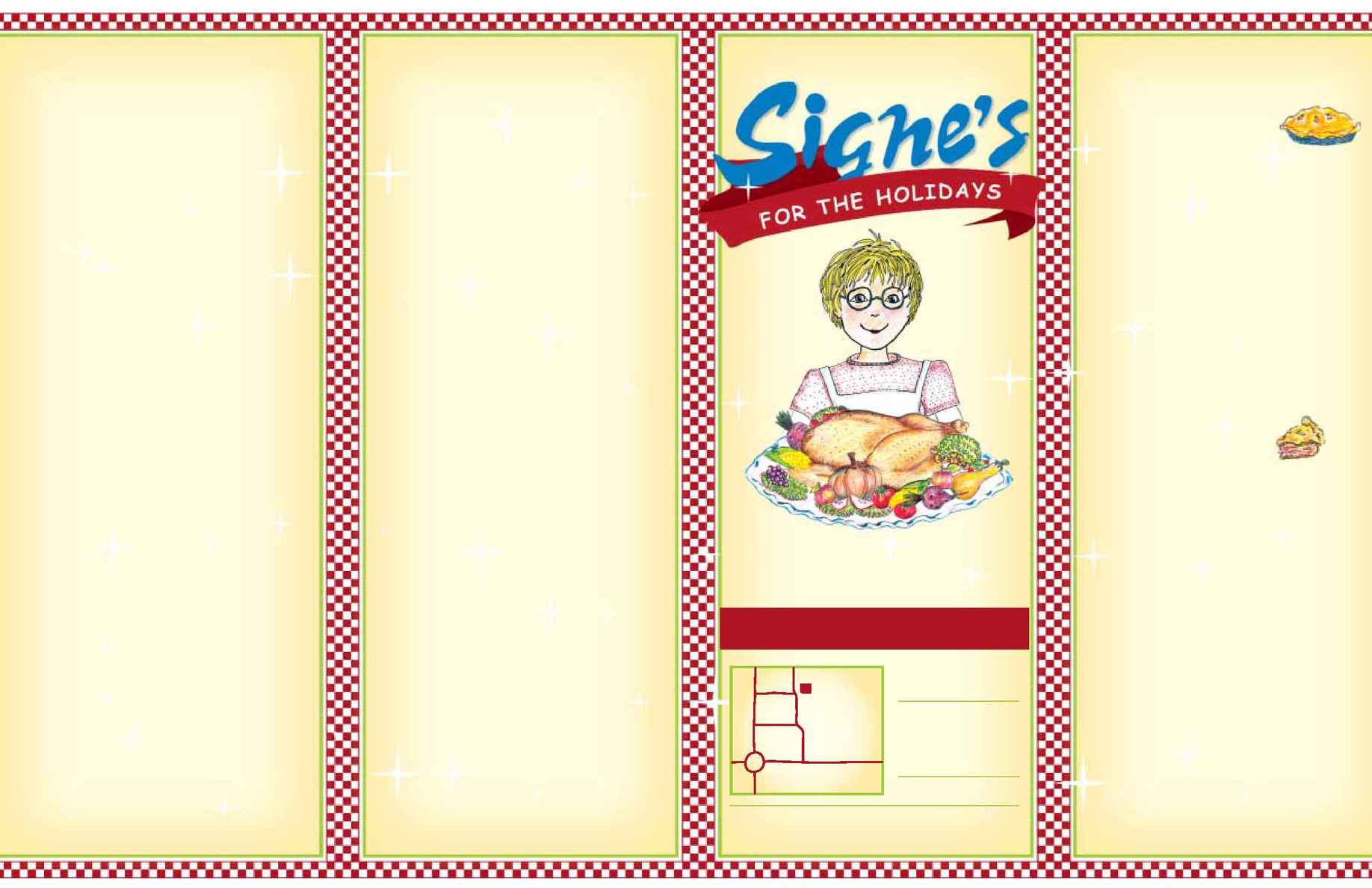 Mon-Fri 8am­4pm
Sat 9am­2pm
Call: (843) 785-9118
Fax: (843) 785-6144
Toll Free:
1-866-807-4463
Palmetto Bay Road
Archer
Road
Arrow Road
Sea Pines Circle
Pope Avenue
Signe's
Signe's
93 Arrow Rd
Hilton Head
Looking ahead to Christmas, we will be open until 12 noon on
Friday, December 24 for Special Order pick-ups.
HEAVEN SENT CAKES
7-inch serves 8-10 / 9-inch serves 14-18
THE ALL-AMERICAN
......15.50 / 24.95
Our fudge dream cake! Fudge chocolate cake filled and covered
with our acclaimed white chocolate frosting, trimmed in baby chips.
JESSICA PINK LEMONADE
......15.50 / 24.95
All time favorite! Old-fashioned butter cake with layers of our
homemade lemon curd and red raspberry jam, iced in a French but-
ter cream topped with raspberry, crowned with fluffy rosettes.
KEYLIME ALMOND
......15.50 / 24.95
A rich almond frangipane cake and old-fashioned white cake, key
lime curd and a smooth French key lime butter cream. Topped
with fluffy rosettes and curd.
"THE MILLENNIUM"
......25.00 / 35.00
The dressiest, snazziest chocolate bonanza cake ever! Two chocolate
layers filled with white chocolate, covered in shiny dark ganache,
piled with chocolate curls, 14K gold streaks and silver deco.
HEAVEN BOUND CHOCOLATE
......15.50 / 24.95
The ultimate in heavy duty chocolate, fudgey all the way through
with baby chocolate chips.
CHOCOLATE ALMOND RASPBERRY
......15.50 / 24.95
A Viennese style torte of frangipane, chocolate and white cake
with rich chocolate and raspberry filling, butter cream icing and
toasted almonds.
CARROT HAZELNUT
......15.50 / 24.95
Our moist cake loaded with raisins, hazelnuts, coconut, pineapple-
laced with apricot and covered in cream cheese frosting and
hazelnut trim.
RASPBERRY CRÈME MICHELLE
......15.50 / 24.95
Dark chocolate cake filled with our truffle cream and raspberry, thick
chocolate cream outside, raspberry atop with a round of rosettes.
FOREVER VALENTINE
......16.50 / 25.95
Chocolate ganache over almond and chocolate layers, raspberry filling.
BANANA'S "FOSTER"
......16.50/25.95
Caramelized bananas fill this rum soaked cake, truly an elegant
dessert. Order ahead.
PIÑA COLADA, COCONUT & PINEAPPLE CREAM
Soft coconut cake, infused with rum and coconut milk and layered
with pineapple--a memory of a different island......16.50 / 25.95
CARAMEL PECAN
......16.50 / 25.95
Toasted pecans, creamy caramel butter-cream fill a soft, nutty cake.
SIGNE'S CHEESE CAKES
PUMPKIN SPICE
......24.95
Creamy, spicy pumpkin in a ginger cookie crust.
BLACK & WHITE
......24.95
Brownie bottom and topped with a pool of chocolate glaze.
OLD-FASHIONED CREAM CHEESE
......24.95
Creamy smooth in a graham cracker crust.
SWEETS TRAYS
Holidays and "Any" days, we make up "Sweets Trays" all year
long for different sized groups and gifts. Arranged with mixed
brownies, lemon squares, cookies, and pound cakes. They're a
hit where ever you take `em.
Small (serves 20)
29.95
Medium (serves 30­40)
45.00
Larger
made-to-order
SIGNE'S POUND CAKES
Our famous pound cakes, shipped all over the country......13.95
Take home a loaf or have a slice here.
SIGNE'S KEYLIME
Sweet and tart, by far the most requested, shipped nationwide.
CHOCOLATE SOUR CREAM
Fudge chocolate, baby chips and sour cream.
Chocolate richness at its best!
PECAN PRALINE
Pralines and toasted pecans in every bite.
THUNDER & LIGHTNING
The lemon "lightning" of this pound cake explodes with
"thunder" of dark chocolate pieces!
VERY CRANBERRY
Loaded with the flavors of Fall, fresh, sun-dried berries mingle
with a touch of anise.
CAPPUCCINO CHIP
Creamy coffee in a rich cake, jolted with dark chocolate chunks.
PUMPKIN AND CANDIED GINGER
Toasted pumpkin seeds, candied ginger, pecans and a touch of
mini chocolate chips.
BABY CAKES 19.95
Three little baby pound cakes baked in little French crates,
packed and heat-sealed in a wooden box. Tied up with a raffia
ribbon bow. Perfect for gift giving.
SIGNE'S CHRISTMAS
YULE LOGS
Two choices this year. Serves 8-12 portions......19.95
RICH CHOCOLATE CREAM
Filled cocoa cake covered with a chocolate ganache glaze little
meringue mushrooms.
ANGELS IN THE SNOW
A lemon cream filled angel food cake rolled into a log drizzled
with Madeira glaze and toasted almonds.
As seen on the Food Network's
Rachael Ray--$40 a Day
THE STOLLENS
Available Dec. 10. Signe has created in the European
tradition, two uniquely different stollens, a perfect
dessert, no matter what the season. This old world
sweet bread has been given a new lease on life!
Wonderful as a gift. They ship all over the country.
SOUTHERN PECAN PRALINE
Chunky with Georgia pecans, home-candied cherries and
praline. This delicious dessert bread is buttery moist and
covered in a dusting of powdered sugar......14.95
TRADITIONAL GERMAN
Our traditional blending of marzipan, almonds, currants
and candied Valencia orange make this classic bread an
impressive breakfast treat......14.95
HEAVEN BOUND PIES
SIGNE'S PERFECT PUMPKIN
Spiced and very creamy......12.95
DEEP DISH APPLE
Double crusted, butter baked Cortland Apples fill this
beauty, your favorite......23.95
MAPLE APPLE CARAMEL CRUMB
Browned butter & Vermont maple syrup give this pie old
fashioned flavor......23.95
CHOCOLATE CHIP PECAN
This is the original Signe's pie, since 1973......14.95
FUDGE "SNICKERS" PIE
Chocolate crust with rich fudge and peanut butter,
caramel, peanuts &chocolate chips, Ooh so satisfying......14.95
NEW! "NUTELLA" BROWNIE PIE
Chocolate brownie, caramel, and hazelnuts in a chocolate
crust. Memories are made of this!......14.95
SIGNE'S KEYLIME PIE
Simply the Island's best!......14.95
SWEET POTATO PECAN
Two great pieflavors in one. Silky smooth sweet potato
under our rich pecan, Southern at its best......14.95
MINCE CRANBERRY APPLE
Three autumn flavors mingle under
a nutty cinnamon crust......14.95
FUDGE RASPBERRY CREAM CHEESE
Fudge chocolate bottom swirled with red raspberry, cream
cheese top laced with truffle cream......15.95
JUST GEORGIA PECAN
The best Georgia pecans, always the best......14.95
DOUBLE CHOCOLATE PECAN FUDGE
Chocolate pieces and Georgia pecans in a chocolate crust
smothered in midnight dark fudge......14.95