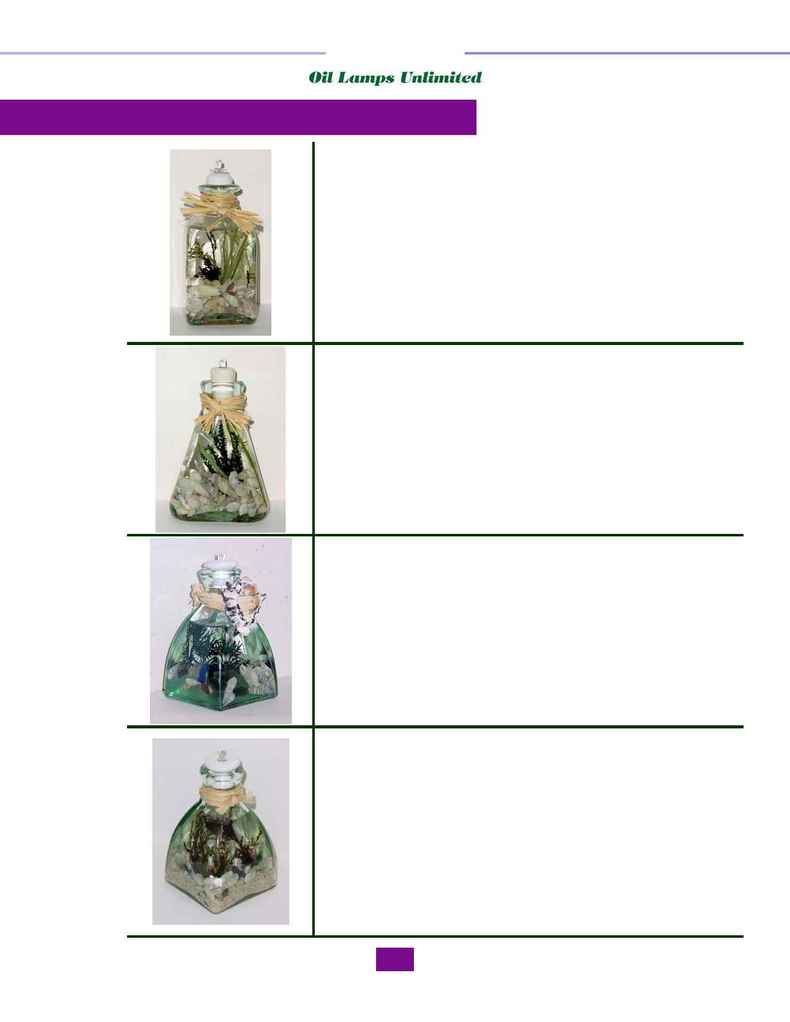 1 866 408 2497
MINI SEASHELLS OIL LAMP
The Mini Seashells of baby auger accented with juniper and
bear grass.

Colors: Natural
Price:
BERMUDA TRIANGLE OIL LAMP

Inspired by its triangular shaped bottle, Bermuda Triangle
beautifully showcases baby auger and natural umbonium
Measurements: 4½"H and 3"W
Burn Time:
Item#: ssbt-nt42
Colors: Natural
DIAMOND OCEANA OIL LAMP

This striking and magnificent Diamond Oceana contains mixed
colored sea glass, umbonium seashells, juniper accent, and
then finished off with raffia and cut vasum seashell.
Measurements: 4¼"H and 2"W
Burn Time:
Item#: ssdo-nt65
Colors: Natural
KAUAI SHORES OIL LAMP
Set the mood, relax and enjoy the shores of Kauai. This
breathtaking oil lamp scene contains mixed seashells, sea glass
and accented with exotic Caluna foliage over a bed of white
sand.
Measurements: 4¼"H and 2"W
Item#: ssks-nt65
Colors: Natural