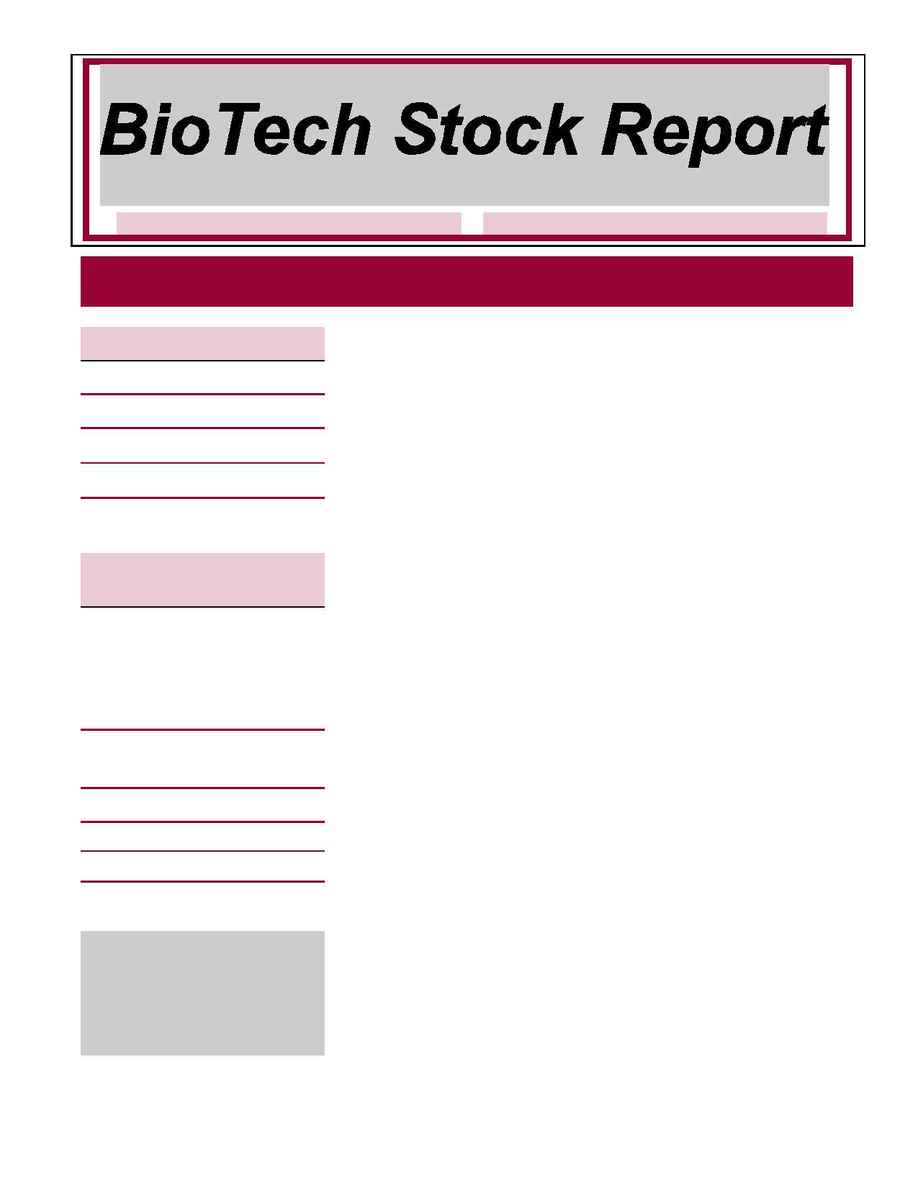 The investment report that gives you the essentials to wisely invest in biotechnology securities.
What's new at ASH
To order visit www.biotechnav.com
or call (503) 649-1355

Concerns or comments :
info@biotechnav.com
Subscriber Messages
*** HOLIDAY GREETINGS ***
Wishing you all the joys of the holiday
season and a prosperous New Year.
Current Issue BSR # 78
& Archives
Effective: December 19, 2003
Login at http://www.biotechnav.com
BioScope
Wong's
ASH can set the stage for updates at
the upcoming ASCO meeting in May
2004.

So, what were the highlights from
this year's ASH meeting? Malignan-
cies such as leukemia, multiple my e-
loma and lymphoma were the main at-
tention getters, as were myelodysplas-
tic syndrome (MDS) and supportive
therapy. For lymphoma, Genentech
(NYSE: DNA) and Biogen-Idec's
(NASDAQ: BIIB) Rituxan was the
main event. Rituxan was the subject of
270 abstracts presented at the meeting.
Of these, approximately 25 were oral
presentations, which are more coveted
than the poster presentations, as the
information is presented to a greater
number of attendees/physicians. The
main Rituxan presentation was the first
public presentation of Rituxan's Phase
III clinical trial for aggressive non-
Hodgkin's lymphoma (NHL), since it
was announced earlier in November
that the Phase III trial was ending
early, as the trial had met its pre-
specified primary efficacy endpoint
early. Study investigators presented
The American Society of Hematol-
earlier in December in San Diego, Cali-
fornia, to discuss new information re-
garding blood-related disorders. ASH
is the premier meeting for hematolo-
gists, so we thought an update on new
treatments would be good. After all,
blood is an essential component of our
bodies. For those who may not know,
the mission of ASH is to further the
understanding, diagnosis, treatment
and prevention of disorders affecting
the blood, bone marrow, and the immu-
nologic, hemostatic and vascular sys-
tems, by promoting research, clinical
care, education, training and advocacy
in hematology. The ASH meeting does
not get the notoriety that the American
Society of Clinical Oncology (ASCO)
meeting gets, but that does not mean
ASH is less important. On the con-
trary, several of the cancers discussed
at ASCO are hematological malignan-
cies and draw considerable attention at
ASCO, so an update here on novel
therapies presented at ASCO last May
can help drive investor interest further.
Likewise, information presented at