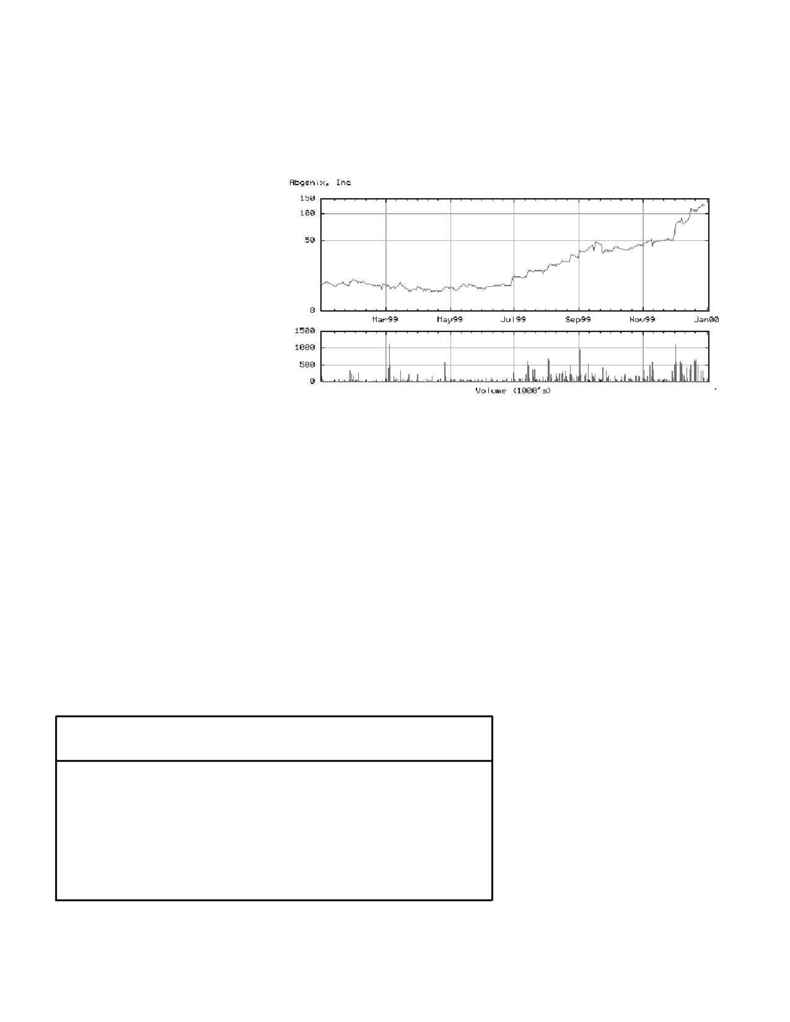 BioTech Sage Report, January 2000
52 Week Trading History
Abgenix Inc.
Product Pipeline
Product
Indication
Status
Graft Versus Host Disease
Overview
Abgenix was formed as a spin
off of Cell Genesys, Inc. The com-
pany develops and intends to com-
mercialize antibody therapeutic
products for the treatment of a vari-
ety of disease conditions, including
transplant-related diseases, inflam-
matory and autoimmune disorders,
cardiovascular disease and cancer.
Abgenix's plan is to commercialize a
powerful new technology capable of
making fully humanized antibodies
in transgenic mice, utilizing it's pat-
ented XenoMouse technology.
Technology

Abgenix's proprietary technol-
ogy, XenoMouse technology is at the
forefront of antibody technology.
The reason for the interest in using
antibodies as drugs is that antibodies
are highly specific. An antibody
binds to one thing and one thing
only. The expectation is that because
of this binding specificity, an anti-
body may have a better safety profile
than traditional small molecule
therapeutics. What has held back the
realization of this potential has been
the making of antibody products that
are accepted by human patients. The
typical approach to making an anti-
body, historically, was to immunize a
wild-type mouse and generate a
mouse antibody. When these first-
generation mouse antibody products
were administered to patients, the
human immune system would see the
mouse antibody as foreign and reject
it, so the drug was ineffective. About
10 years ago, technologies were de-
veloped to try to fool the human im-
mune system: starting with a mouse
antibody and genetically modifying it
to make the antibody more human-
like, resulting in chimeric antibodies,
which are about two-thirds human,
one-third mouse, or humanized anti-
bodies that are about 90 percent hu-
man but still contain 10 percent re-
sidual mouse protein. Abgenix's
technology has allowed the process
to go the next step, by producing a
fully human, 100 percent human an-
tibody. The benefit is the reduced
risk that the therapeutic antibody
product will generate an immune
response in a patient. Since Ab-
genix's antibodies are fully human
when administered to patients, the
human immune system sees them as
human, and they're allowed to per-
sist. Clinical studies have shown
that the Abgenix's antibodies have a
half-life of about three weeks, which
is the same for a natural, fully hu-
man antibody.

Status

On December 22
nounced its acquisition of the 50%
interest of JT America, Inc. and in
the XenoMouse technology. With
this acquisition, which is expected to
close by year-end, Abgenix will pos-
sesses sole ownership of the Xeno-
Mouse technology. This technology
will facilitate the increase in the
number of antibody-based drug can-
didates expected to be developed by
Abgenix and its partners Human Ge-