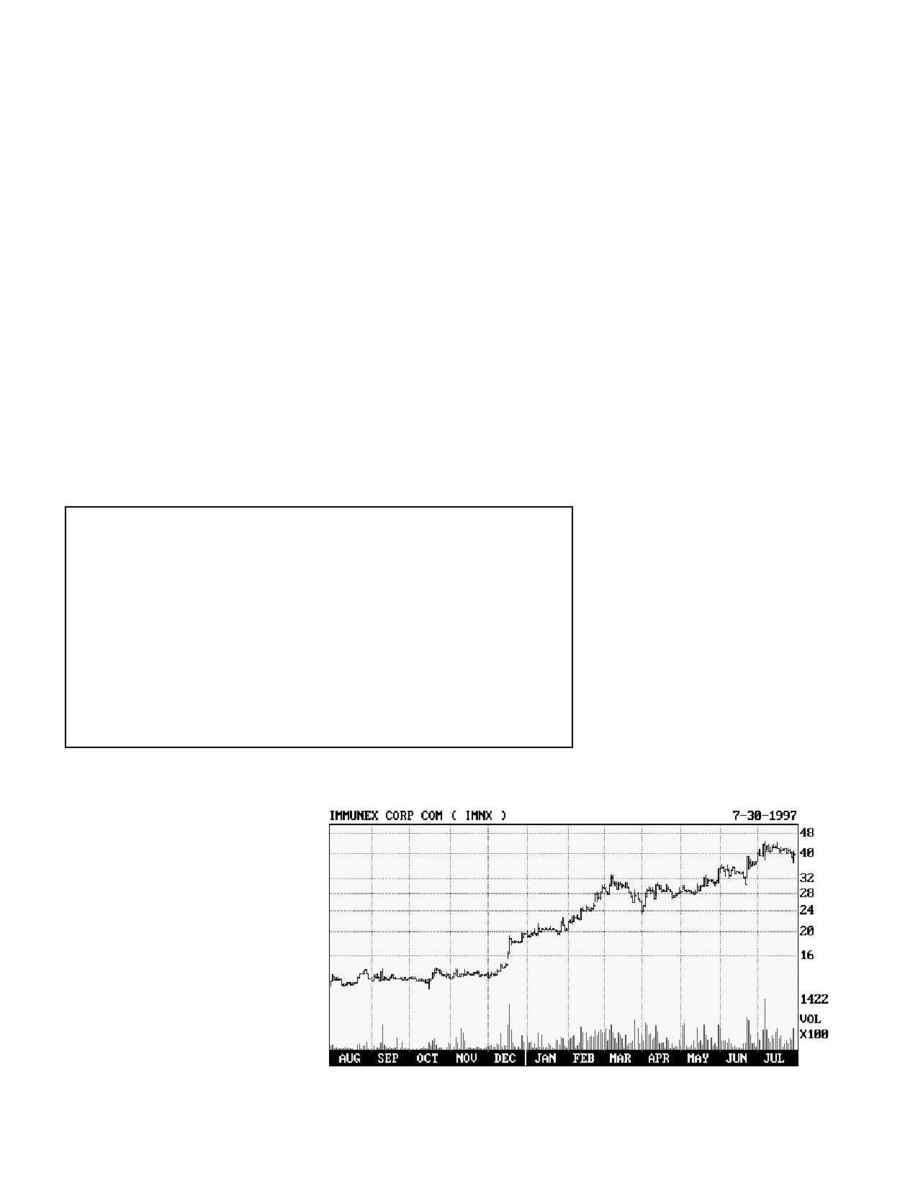 BioTech Navigator, August 1997
52 Week Trading History
In a previous issue, Prostate
Cancer: Killer of Men, (Vol. 1, Issue
3), we highlighted Immunex. Once
again, we put Immunex in the spot-
light. To refresh your memories and
for our new readers, Immunex is a
biopharmaceutical company that dis-
covers and develops, manufactures
and markets innovative therapeutic
products for the treatment of cancer,
infectious diseases and immunological
disorders. Most of Immunex's
biotechnology products are recombi-
nant analogs of cytokines. Cytokines
quarter earnings to be a loss of 22
cents per share compared to a loss of
16 cents per share for the same period
last year. Year to date for 1997 is a
loss of 44 cents per share compared to
a loss of 31 cents for the same period
for 1996.
Immunex said second quarter
sales, general and administration ex-
penses were $19.5 million compared
with $16.7 million last year.
Immunex said total operating
expenses for the quarter were $52.5
million compared with $48.4 million
for the same period in 1996.
Immunex received approval
from Canada's Health Protection
Branch to market the paclitaxel injec-
tion in that country. Paclitaxel is a
chemotherapeutic agent approved to
treat refractory ovarian and refractory
breast cancers. It is marketed under
the Taxol name exclusively by
Bristol-Myers Squibb Co. (BMY).
Paclitaxel will be available in Canada
in 5-mL single dose vials containing
30 milligrams of drug.
The biopharmaceutical com-
pany said it is supplying paclitaxel
under agreements between Hauser
Inc. (HAUS) and American
Cyanamid, a unit of American Home
Products Corp. (AHP) and a major
Immunex major stakeholder. Im-
munex said it plans to announce its
Canadian marketing partner and
launch date for paclitaxel injection
`'shortly.'' The company said it is
pursuing U.S. development of pacli-
taxel.
Immunex Corporation
Overview
Status
are protein messengers that coordi-
nate the functions of immune cells
(white blood cells) and certain other
cells and tissues. Through its re-
search and development, Immunex
has cloned and expressed genes en-
coding cytokine receptors and have
also produced soluble versions of cy-
tokine receptors, that have been
shown to be capable of suppressing
immune responses by binding to and
inactivating cytokines. In addition,
Immunex has also cloned certain en-
zymes responsible for secretion of sol-
uble cytokines and receptors and for
propagating the signals necessary to
Product Pipeline (abbreviated)
Product
Indication
Status
Bone marrow transplant engraftment
Acute nonlymphoctic leukemia, prostate cancer
Breast & ovarian cancers, non-hodgkin's lymphoma Phase ll
Palliative treatment of a variety of tumors
activate cytokine target cells for use as
targets in small molecule drug discov-
ery.