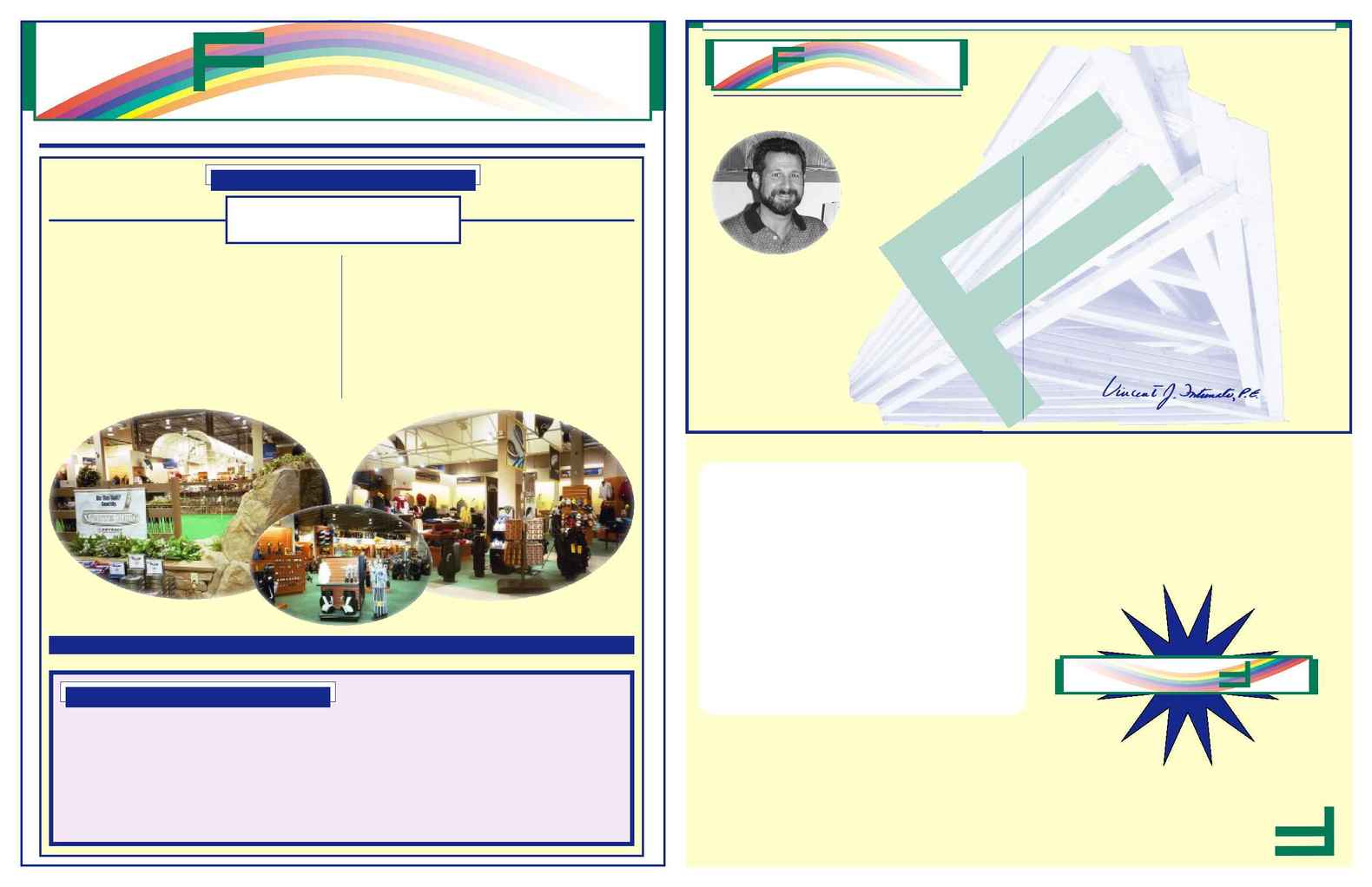 page four
s 99 Old Brickyard Lane s P.O. Box 7294 s Kensington, CT 06037-7294 s tel. (860) 560-8400 s fax. (860) 829-1399
Fortunato Construction Group recently completed a very
contemporary retail facility for Golfer's Clubhouse in
Braintree, Massachusetts. Located within an industrial
park, the 27,000 square foot building offers a unique
shopping experience to its customers.
The interior design includes a raised putting green with
an attractive waterfall and several ranges and trails with
handpainted background murals. Instructional programs
are actually offered on-site in addition to the wide array of
products presented throughout the store. The building
FEATURED PROJECT
Putting green at Golfer's Clubhouse
Golfer's Clubhouse
Braintree, MA
Many departments offering a wide array of
selections for the golf enthusiast
CLIENT TESTIMONIALS
"I have had the pleasure of working with the Fortunato team for a few years now. When you work with them, it's
as if they become a part of your company -- not just from a management standpoint -- but from start to finish. As
an example, they often provide their own cost analysis value engineering even after the project is underway and
pass the savings on to their client. When there is a problem on a project they will work with the design architects,
engineers, suppliers and owners to solve it. If there are any cost savings to be realized, they make sure it goes right
back to the owners. I had the pleasure of recently working with Bob Piazza and Marc Pelletier from Fortunato on
a new Bertucci's in Cherry Hill, New Jersey. This was a complicated union project and I had multiple projects to
manage at the same time. While my time was limited, Bob and Marc left me standing tall with a minor punch list
that met Bertucci's standards all the way. The success of this project really goes to Fortunato's elite team."
Bertucci's
Cherry Hill, NJ
-- Kevin Bakas,
Director of Construction
- Bertucci's
includes more than 6,000 square feet of storage space with
the balance primarily retail area.
Construction, which began in early December, was rap-
idly completed on a fast track basis by the end of February.
Interior architectural design services were provided by
Vinnick Associates of Wethersfield, Connecticut with ad-
ditional architectural design provided by R&K Associates
of Braintree, Massachusetts. Rich Fortunato served as
Project Manager along with Bob Wheeler as Job Superin-
tendent for the Fortunato team.
Message From The President --
Assessing the role of the architect and engineer
We've all been involved in projects
in which the construction documents
leave something to be desired. Some
veterans in the construction industry
think this wasn't always the case.
They'll say, "Back in the old days,
architects and engineers knew how to
produce good documents."
Is it true? Is the architectural profession not producing the level of
quality it once did? Or are they are being asked to do more for less
compensation. Sound familiar?
Most of the architects and engineers we are working with do
produce good construction documentation. CAD technology has
enabled the design profession to create, enhance or modify drawings
quickly and accurately. And most professionals have become very
resourceful about using the latest information and communication
technology available to work efficiently.
The question remains, though, "Are the drawings as good as they
should be?" The key to answering this is understanding the
architect's or engineer's duty. They are held to the standard of
FORTUNATO CONSTRUCTION GROUP
Newsletter of
Vincent J. Fortunato, P.E., President
"ordinary care". It means they are expected to exercise the degree of
skill and diligence which is customarily exercised by others in their
profession. They must keep current with respect to technological
improvements and must guard against defects in the plans and
specifications. They hold themselves out as experts in their field, and
are employed because they are believed to be such experts.
While all of this sets a high standard, it does not imply a guarantee
of a perfect result.
Architects and engineers are responsible for producing designs
which are functionally efficient, aesthetically pleasing, cost-effec-
tive to build and maintain, and comply with building codes and ADA
accessibility requirements. All of this information is translated into
drawings which must be sufficiently complete to form the basis of a
construction contract and enable a builder to construct the project.
Now that I think about it, most of the drawings I see are pretty good!
. . . What's Inside . . .
Job Progress Report
Short Project Reviews
Project Highlights
Featured Project
Newsletter of
FORTUNATO CONSTRUCTION GROUP
s Kensington, CT 06037-7294
To:
www.fortunatoconstruction.com
The
ield Report
Vol. 7 No. 6 SPRING '03 ~
page one
The
ieldRepor
t
ield Report
The
FORTUNATO CONSTRUCTION GROUP