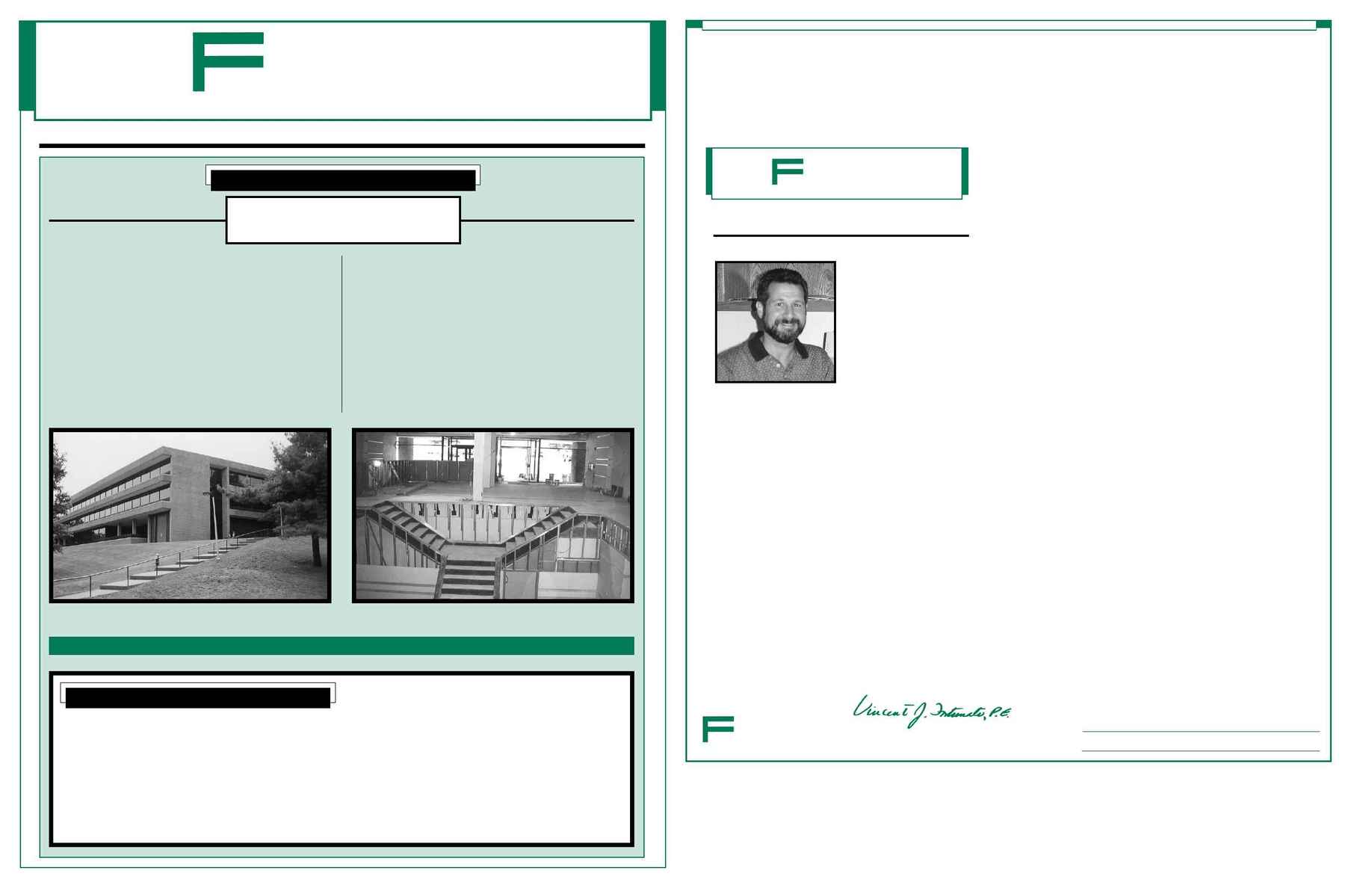 Message From
The President
One of the challenges all organizations face as they grow is the need to maintain
the entrepreneurial spirit that fueled the company's start-up. The entrepreneur-
ial spirit can become stifled as it becomes increasingly important to develop
organizational structure. At the same time, establishing and shaping corporate
values and corporate culture while a company grows demands awareness and
attention. It doesn't happen by itself.
Here are some of the concepts that Fortunato Construction Group embraces in an effort to maintain the
corporate values and culture that our clients have come to trust. These allow us to continue to foster the
entrepreneurial spirit without sacrificing structure.
· Within our organization, we have a clearly articulated, common purpose. This enables us to
encourage employees to act on their ideas relevant to this common purpose.
· Our firm's Mission Statement is carefully defined and we strive to stay focused upon it at all
times.
· We delegate authority and responsibility. This enables us to operate at a level in which all clients
deal with a responsible decision maker. At the same time, we make sure that our clients always have
access to an Owner.
· Efforts are made to recognize and reward entrepreneurial contributions while encouraging di-
verse thinking.
· We manage information efficiently and maximize its potential through the use of an effective
knowledge sharing system integrated into our daily operations.
Our corporate culture has developed as a reflection of the personal values of our people. To this end,
we will always look for individuals who espouse similar values and can contribute to our entrepreneurial
spirit and our organizational growth.
FORTUNATO CONSTRUCTION GROUP
s 99 Old Brickyard Lane
s P.O. Box 7294
s Kensington, CT 06037-7294
FORTUNATO CONSTRUCTION GROUP
s e-mail: info@fortunatoconstruction.com
s web site: www.fortunatoconstruction.com
The
ield Report
Vol. 6 No. 4 FALL '02
page four
s 99 Old Brickyard Lane s P.O. Box 7294 s Kensington, CT 06037-7294 s tel. (860) 560-8400 s fax. (860) 829-1399
F
ield Report
The
FORTUNATO CONSTRUCTION GROUP
Fortunato Construction Group is currently working on
major interior renovations at this 35,000 square foot build-
ing located in Middletown, Connecticut. Formerly a Xerox
facility situated on a 21-acre site, space is now being
renovated to accommodate Class A office space tenants.
The project, which began in July, involves demolition of
portions of the existing interior partitions, lighting, and
ductwork. Installation of new partitions, ceilings, stairway
railings, finishes, doors and frames, electrical power, fire
protection, alarm systems and millwork is being performed
on approximately 6,000 square feet of space.
FEATURED PROJECT
Exterior view of the Landmark Center building
Landmark Center
Middletown, CT
Lobby renovations underway
CLIENT TESTIMONIALS
"As we near our opening on Monday morning, I wanted to express my praise toward your managers. Marc
Pelletier was impressive from day one. He is actually the reason you were awarded the bid. He was very
prepared and familiar with the details of the plans, something your competitors did not do. Everyone was
generally familiar, but Marc was impressive with his preparation. Bob Wheeler was left with the
challenge of handling all the different requests from the various managers here, who are all construction
experts! He has a great attitude and made sure we always felt like the customer. As an owner it's tough
to insure your Managers handle projects just like you would. These two individuals perform to that
standard. I am looking forward to future projects with your company."
NAPA
Middletown, CT
-- Gregg Sargent, NAPA
When completed, the facility will have a new lobby,
atrium and two hallways in the center of the building with
the ability to add separate entryways for new tenants.
Additional tenant fit-up work is anticipated in the future.
The building is owned by the Landmark Development
Group. Project Manager for Fortunato is Nick Matarazzo.
Architectural design coordination is now being handled by
Rosen Associates Architects of Mansfield Depot, Con-
necticut with mechanical engineering services provided by
Donovan Hammick & Erlandson Associates, Inc. of Avon,
Connecticut. An early fall completion date is expected.
Newsletter of
Newsletter of
The Field Report is designed and produced for the Fortunato Construction Group by
Anagnostis Associates, Inc. marketing consultants & graphists, Amston, CT 2002
Vincent J. Fortunato, P.E., President
page one