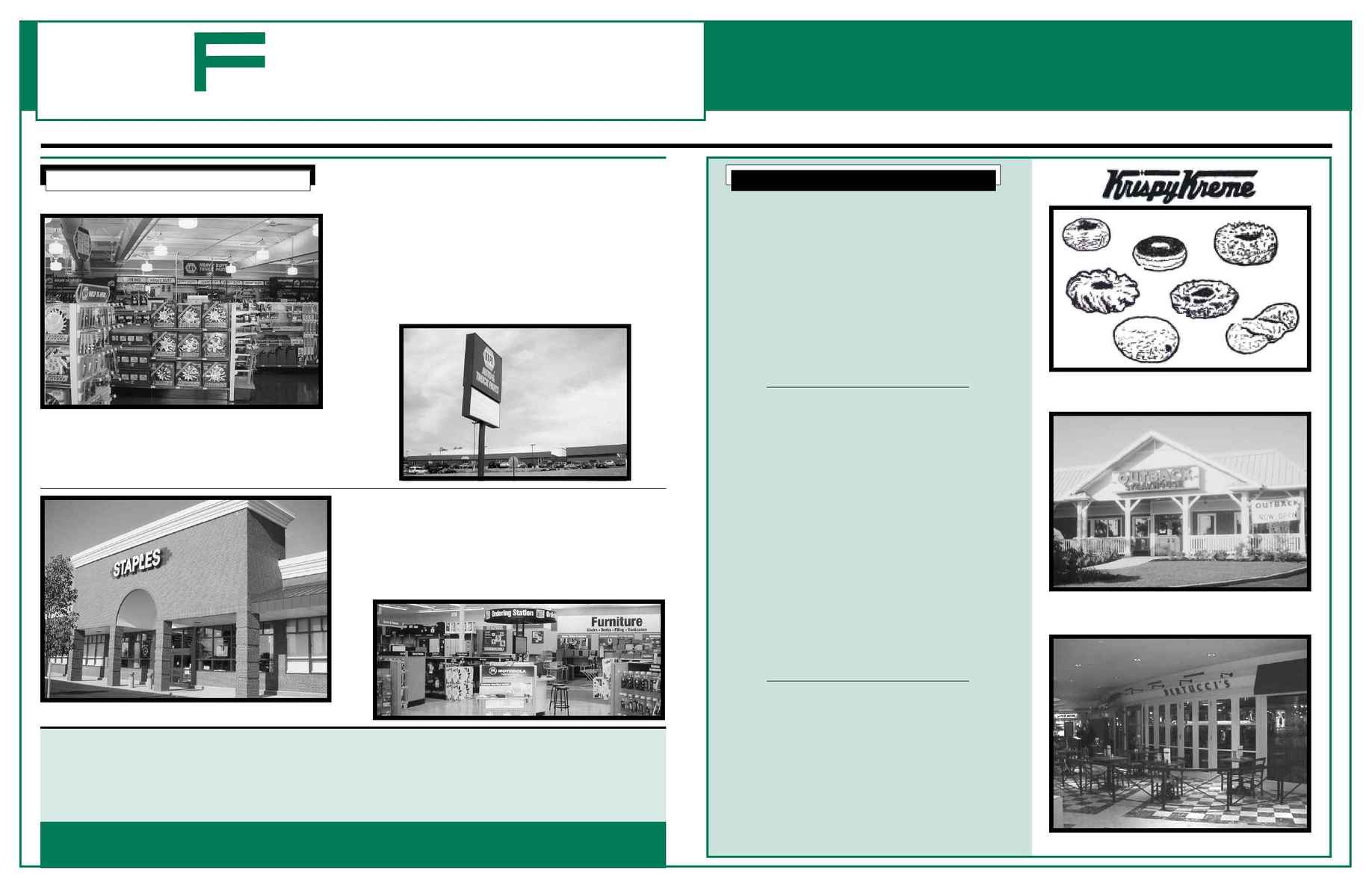 page two
NAPA
Showroom & Corporate Offices
Middletown, CT
Staples
-- Glastonbury, CT
s 99 Old Brickyard Lane s P.O. Box 7294 s Kensington, CT 06037-7294 s tel. (860) 560-8400 s fax. (860) 829-1399
F
ield Report
The
Work has just been completed for the retail showroom and
corporate office building facade at this highly visible NAPA
facility located on Newfield Street at the Middletown and
Cromwell, Connecticut town line. Project Manager for
Fortunato was Marc Pelletier and Job Superintendent was Bob
Wheeler.
JOB PROGRESS REPORT
A Grand Opening was held recently for a new 23,100 square foot
Staples retail store in Glastonbury, Connecticut constructed by
Fortunato. Project Manager was Rich Fortunato with Job Superin-
tendent Mike Steinbrecher. Architectural services were provided
by FLB Architecture & Planning, Inc. and Structural Engineers
were Hallisey Engineering Associates, Inc.
Short Project Reviews . . .
s Westwood Dialysis Facilities - Westwood, MA and Beverly, MA -- 18 bed unit renovation completed in Westwood while the
facility was in full operation; a September opening is planned for a new construction and renovation project comprised of 18 beds in
Beverly s Bertucci's Restaurant - Randolph, MA-- This 7,000 square foot restaurant renovation was completed in August and
marked the 6th project performed for Bertucci's by Fortunato s Community Mental Health Affiliates - New Britain, CT --
Renovations are underway for this residential facility with Fortunato serving as Construction Managers
page three
s General Contractors s Construction Managers s Design/Builders
Newsletter of FORTUNATO CONSTRUCTION GROUP
PROJECT HIGHLIGHTS
Fortunato Construction Group began construction this past June
for the first Krispy Kreme store to be built in Connecticut . The
store will open for business in October. The split-face veneer
building is located at the junction of Main Street and the Berlin
Turnpike in Newington and features a double drive-thru, interior
viewing windows for customers to watch the actual baking area,
and the famous "Hot Now" neon exterior sign which lights up
when products are fresh out of the oven. Fortunato's Job Super-
intendent is Mike Steinbrecher with architectural services com-
pleted by Janco Design of Cranston, Rhode Island.
Great doughnuts are coming to Connecticut!
Krispy Kreme
Newington, CT
Fortunato Construction Group has completed its 17th project for
Outback Steakhouse with the August opening of the new
Dartmouth, New Hampshire restaurant. Formerly a seafood
restaurant, the building was renovated to accommodate this 217
seat popular dining facility across from the Dartmouth Mall. Jack
Sawyer served as Job Superintendent for Fortunato working with
the architectural firm of Jon W. Sammer of Fairfax, Virginia.
Outback Steakhouse
Dartmouth, MA
NAPA Product Showroom in Middletown, CT
Staples new Glastonbury, CT store
Outback Steakhouse - Newington, NH
Fortunato Construction Group has completed its 18th project for
Outback Steakhouse with the recent opening of the new
Newington, New Hampshire restaurant. Former doctor's offices
were converted into this 231 seat facility located at the Fox Run
Mall. Dave Friedrich served as Project Superintendent and
architectural services were provided by Jon W. Sammer of
Fairfax, Virginia.
Outback Steakhouse
Newington, NH
A new 200 foot facade with the familiar yellow and blue NAPA
colors was added to the exterior along with a spacious new retail
showroom. Architect on the project was Blue Moon Design and
NAPA was represented by Gregg Sargent and Jim Whitmore.
#17
#18
and . . .
September marked the opening of a new Bertucci's Restaurant at
Chestnut Hill, Massachusetts completed by Fortunato. Located
on the first floor of the 4-story Atrium Mall, a former pizza
restaurant was renovated to house this latest addition to the
Bertucci chain of restaurants. A 10,000 pound pizza oven had to
be hoisted into the facility as part of the construction work and
provided great entertainment for spectators. Job Superintendent
for Fortunato was Billy Ploof with architectural services per-
formed by Millennium Design Group of Quincy, Massachusetts.
Bertucci's Restaurant
Chestnut Hill, MA
The new Bertucci's Restaurant at Chestnut Hill