Fortunato Construction Group Online fnlv 6n 4 Page 1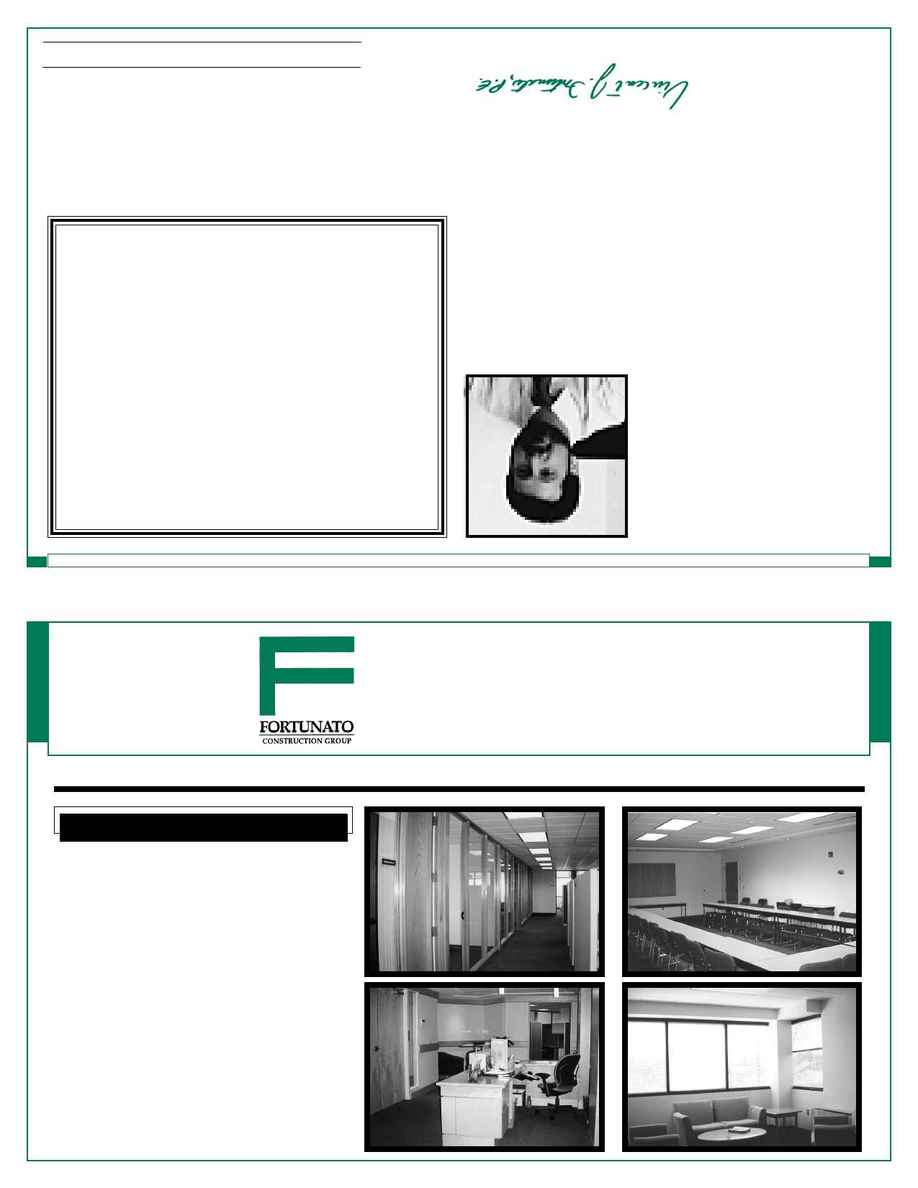 Vol. 6 No. 4 SPRING '02
F
ield Report
The
Newsletter of
FORTUNATO CONSTRUCTION GROUP
FORTUNATO CONSTRUCTION GROUP
s Kensington, CT 06037-7294
The age of instant communication
and information access offers un-
precedented ability to respond to
the needs of our clients, and pro-
vide ever improving levels of ser-
vice. But it is a double edged
sword, supercharging our competitiveness, decreasing our
levels of patience and respect for the time it takes to do
something right, and imposing on our quality of life.
When you hear people exchanging business voice messages
on the weekends, using cell phones in restaurants, theaters and
churches (yes, churches!), checking e-mail via palm pilots
from a golf course, etc. . . . you have to ask the question, "Are
we overdoing it?" Instant communication and widespread
access to information has an effect on the quality of our lives
that is not entirely positive. Many of us have allowed our quality of life to suffer by disrupting the precious time we dedicate
to social interaction, family time, and the ever-disappearing commodities of rest and relaxation.
I have faith in human nature. We'll figure this out. It is simply a matter of time before we come to our senses and limit the extent
to which these devices intrude upon our lives.
Message From
The President
The Field Report is designed and produced for the Fortunato Construction Group by
Anagnostis Associates, Inc. marketing consultants & graphists
s e-mail: info@fortunatoconstruction.com s web site: www.fortunatoconstruction.com
Vincent J. Fortunato, P.E., President
CATIC Offices
Rocky Hill, CT
Connecticut Attorney's Title Insurance Company
of Rocky Hill, CT has a new look thanks to
Fortunato Construction. Nearly 9,000 square feet
of office space was recently reconstructed to pro-
vide a more contemporary look and expanded
support areas. Work included a new reception area
with custom millwork, paneling and cabinetry, a
training and development conference room, staff
kitchen facilities, and extensive open and private
office layouts. The Design Forum provided archi-
tectural design services and the Job Superinten-
dent for Fortunato was Russ Roushon.
top photos: interior offices; conference room
bottom photos: reception area; staff lounge
PROJECT FOCUS