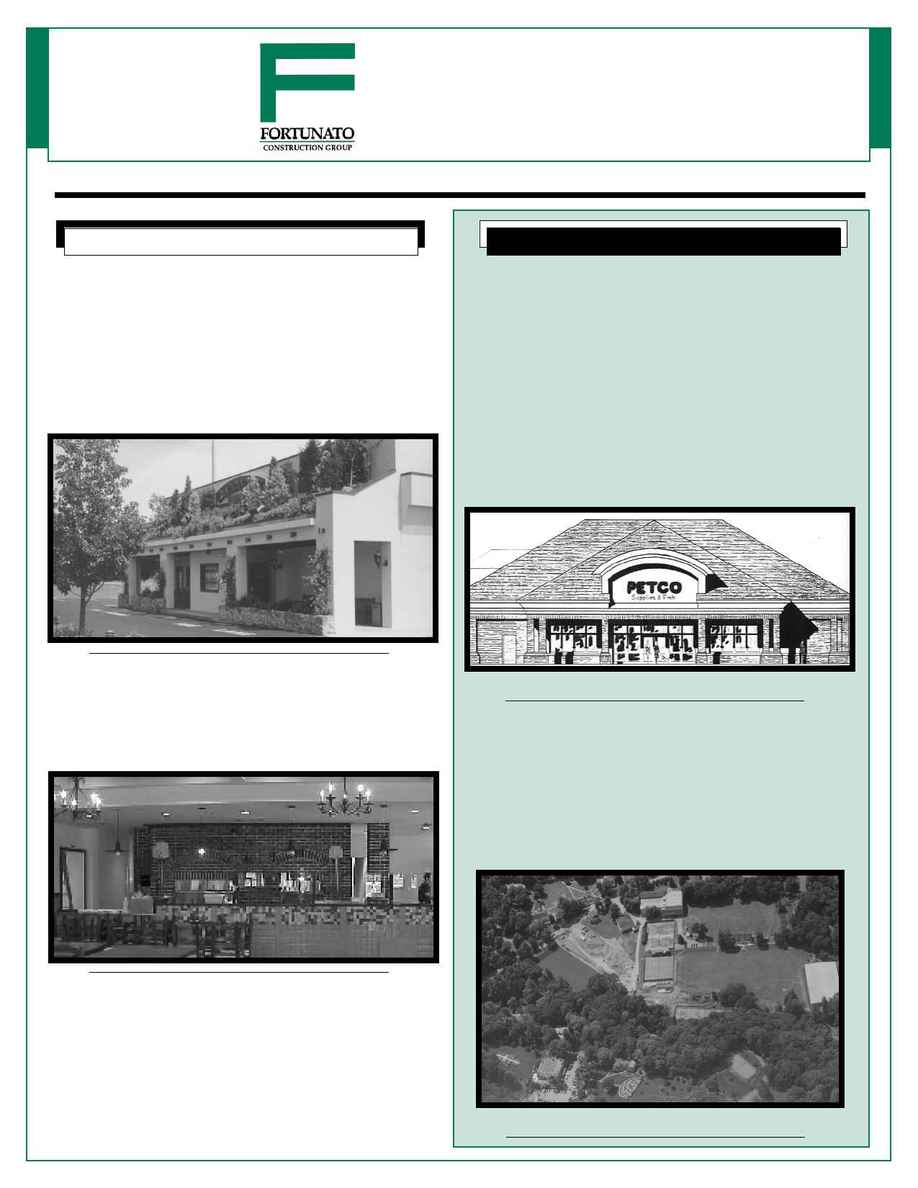 page two
Carrabba's Italian Grill
Peabody, MA
Bertucci's Restaurant
Canton, MA
s 99 Old Brickyard Lane s P.O. Box 7294 s Kensington, CT 06037-7294 s tel. (860) 560-8400 s fax. (860) 829-1399
F
ield Report
The
Newsletter of
FORTUNATO CONSTRUCTION GROUP
Construction has been completed on this new prototype
restaurant operated by Outback Steakhouse. The first of its kind
in the northeast, the 8,000 square foot facility seats approxi-
mately 250 persons and offers exposed brick ovens, bar & grill,
elaborate ceramic tile work, and an impressive "live" rooftop
garden at the entryway.
JOB PROGRESS REPORT
PROJECT HIGHLIGHTS
Fortunato Construction Group is nearing completion on a new
freestanding Petco Store located at Route 167 and Route 44 in
Avon, CT. The project was a turnkey construction assignment for
Simsbury Turnpike Realty Company. The 14,000 square foot
structural steel and masonry building incorporates upscale New
England style features, including hip roofs, custom brickwork
and extensive architectural details on the exterior facade. Design
of the new facility was prepared by Pepin Associates. Project
Architect is Edward M. Pepin, AIA. Project Manager for Fortunato
is Nick Matarazzo and Job Superintendent is Steve Kravitz.
Our fifth Bertucci's Restaurant was completed in early July.
Additional locations included Southington, Danbury, Darien,
CT and Westboro, MA.
Petco -- front elevation
Petco
Avon, CT
The Gunnery -- aerial view, work in progress
In The Works . . .
Dakota Steak & Seafood - Rocky Hill, CT -- This fall will
mark completion of our second facility for Hospitality Well
Done of Vermont.
Hudson Home Health Care - Newington, CT -- This design/
build interior renovation project includes offices, sales space,
and support areas for this prominent health care supplier.
Hyde School - Woodstock, CT -- Work will soon be completed
on this conversion of dormitory space into faculty apartments.
Fortunato Construction Group is serving as Project Manager for
numerous projects at The Gunnery. Work already completed
includes the Development Office and Field House. Additional
projects currently in the works involve the Dining Hall, Mainte-
nance Building, Dormitory Exteriors, Water and Sewage Treat-
ment Systems.
The Gunnery
Washington, CT