Suzuki 100 Gas Card Promo Page 1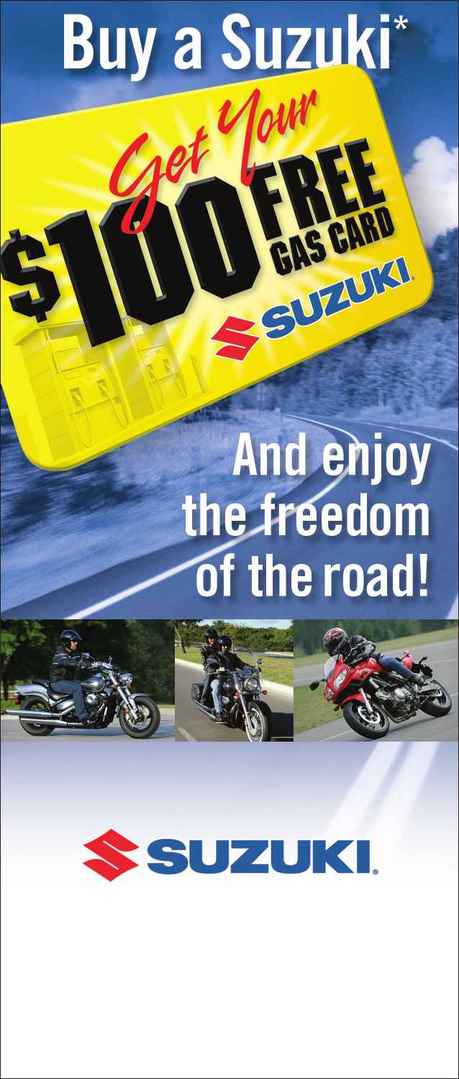 *A $100 Suzuki Gas Debit Card will be issued to qualifying customers age 18 and older who purchase a new Suzuki SV650,
SV650S, C50, C50T, or M50, from April 1, 2006 thru May 31, 2006. Card may not be redeemed for cash. Allow 6-8 weeks
for delivery. Card will expire six months after date of card creation. Customer is responsible for using all funds before card
expires; no refunds will be issued for unused funds except where prohibited by state law. Customer is responsible for read-
ing their Cardholder Agreement, which will accompany the card, for complete details. Offer valid only in the continental United
States. Offer subject to change without notice. See dealer for details. At Suzuki, we want every ride to be safe and enjoy-
able. So always wear a helmet, eye protection and protective clothing. Never ride under the influence of alcohol or other
drugs. Study your owner's manual and always inspect your Suzuki before riding. Take a riding skills course. For the course
nearest you call the Motorcycle Safety Foundation at 1-800-446-9227. Suzuki, the "S" logo, and Suzuki model and product
names are Suzuki trademarks or ®. © American Suzuki Motor Corporation 2006.
Buy a new SV650/SV650S, C50/C50T or M50 and Suzuki will
give you a FREE $100 Gas Card. We want to give you the freedom
to ride and not worry about anything but having a great time!
Get in to your local Suzuki Dealer for details on this great offer
.