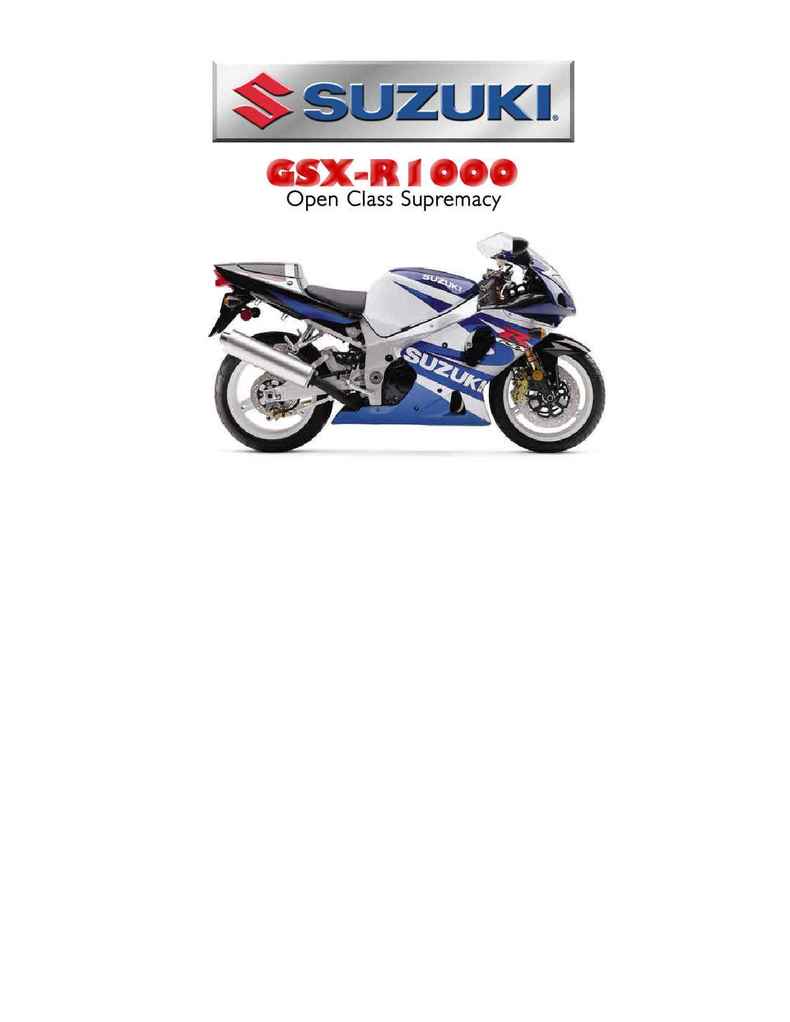 It had to happen. With the phenomenal racing success
of the GSX-R750 and GSX-R600, the only thing missing
was a full-liter version of the most dominating bike in
supersport racing history.
Introducing the all-new GSX-R1000. A bike that will
let you own the racetrack no matter which full-bore class
you ride. Developed by the GSX-R750 design team, the
GSX-R1000 is a masterpiece of Suzuki's integrated
design philosophy. Externally, it isn't much bigger than
the GSX-R750. It weighs only 10 pounds more, with
nearly identical wheelbase, width and length. External
dimensions, though, don't tell the whole story. The GSX-
R1000 has its own measurements, calculated to match its
increased power output. Its new twin-spar aluminum
alloy frame is beefier and it has a more rigid swingarm,
which puts more weight on the front wheel. Rake and
trail mirror the GSX-R750's, as do the seating position
and the relationship between the handlebar, seat and
footpegs. One other thing the GSX-R1000 shares with
the GSX-R750 is the response it gets when you ride it.
Anyone who takes the GSX-R1000 out on the track and
pushes it hard comes back with the same enthusiastic
comments. Crisp. Solid. Unbelievably responsive.
To help provide controlled responsiveness in tight turns
as well as high-speed sweepers, the GSX-R1000 features
fully adjustable inverted cartridge front forks and a fully
adjustable piggyback-reservoir shock in the rear. It also
has lighter six-piston front brake calipers, a lighter and
smaller rear caliper, a larger rear tire, and a larger drive
chain.
Like the chassis, the GSX-R1000's engine is externally
nearly identical to the GSX-R750's. It's the same width,
and just 14mm taller and 6mm longer front-to-rear.
Inside, though, it has a one-millimeter larger bore and
13-millimeter longer stroke, which helps its produce
incredible power across an extremely wide powerband.
The GSX-R1000 also incorporates some all-new
designs. It has an all-new digitally controlled Suzuki
Exhaust Tuning system, which uses a butterfly valve to
change the volume of the exhaust system. It actually
tunes the exhaust pipe to suit running conditions and
improve torque across the powerband. It also features a
refined version of the GSX-R750's Suzuki Dual Throttle
Valve (SDTV) fuel injection system, with a computer-
operated secondary throttle butterfly valve in each
throttle body. Basically, this system allows it to operate
like a digital constant-velocity carburetor, with smooth
throttle response even if you open the throttle quickly at
relatively low engine rpm.
The introduction of the full line of new-generation
GSX-R supersport bikes is now complete. Which means
that with the GSX-R1000, the racetrack is yours.