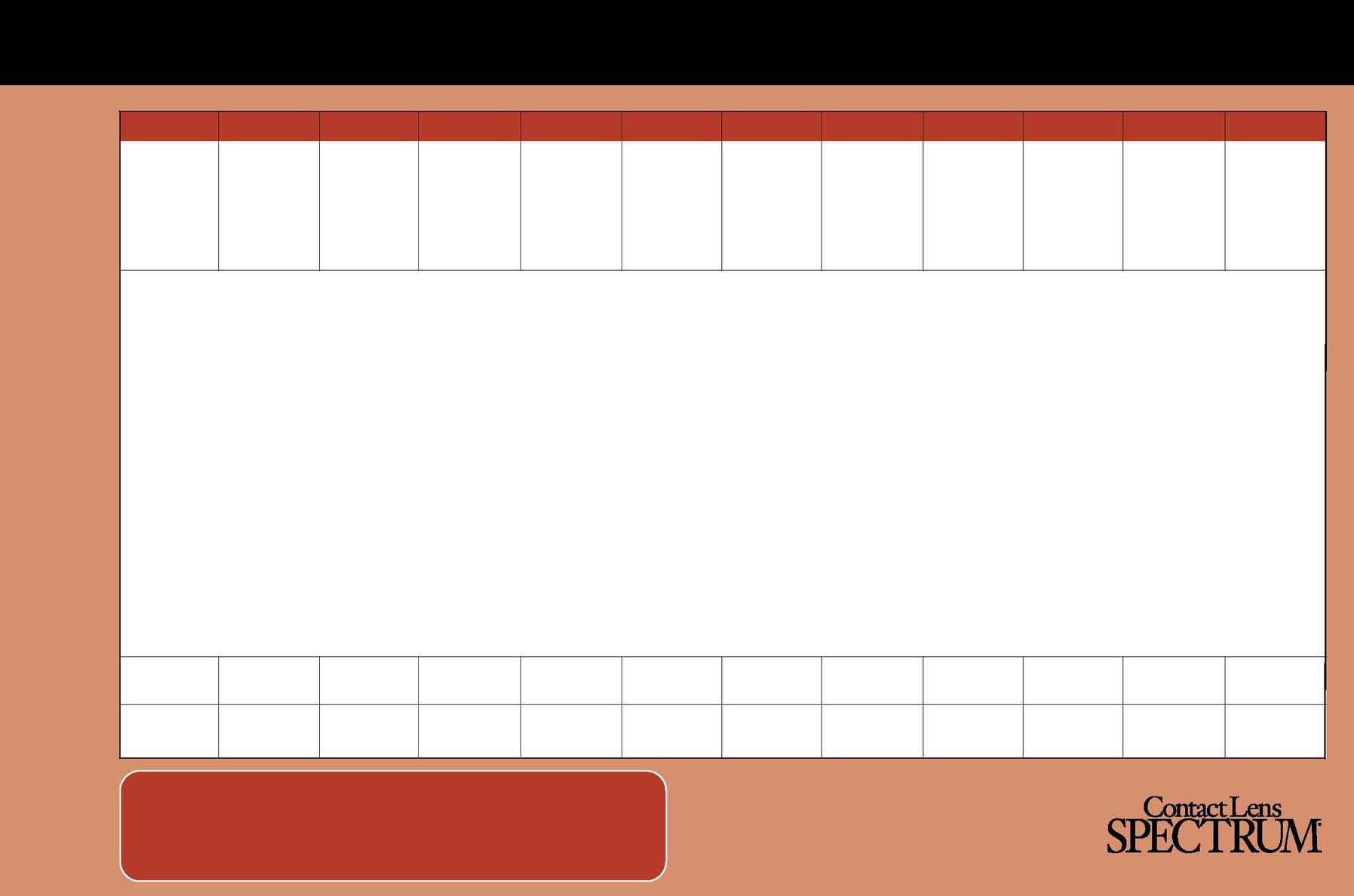 The World of
Contact Lenses
International
Contact Lens
Prescribing
Contact Lens
Treatment
No-Fee CE
Contact Lenses,
Aberrations and
Wavefront
Fitting Astigmatic
Patients
Contact Lens Wear
for the Allergy
Patient
Benefits of Daily
Disposables
Multifocal Lens
Review
No-Fee CE
Dry Eye and
Contact Lens
Patients
Continuous Wear
Report
Marketing
Bonuses
Contact Lens Care
Solutions: What's
New
Colored Contact
Lens Applications
Using Topography
in Your Contact
Lens Practice
No-Fee CE
How Medications
Affect Contact
Lens Wear
Research
Roundup
Annual GP Lens
Issue
Orthokeratology
and Corneal
Reshaping
What's New in
Keratoconus
Irregular Corneas
and Corneal
Thickness
No-Fee CE
Practice
Management and
Contact Lenses
Patient and
Practice Benefits
of Continuous
Wear
Ad Materials:
November 10
N
EWS
S
PECTRUM
One of the most-read departments in Contact Lens Spectrum, News Spectrum includes industry briefs on the events of the contact lens world
as well as the general ophthalmic industry, and stories on mergers, FDA approvals and ophthalmic association news.
E
DITOR
'
S
P
ERSPECTIVE
With on-target insights and a wry sense of humor, Contact Lens Spectrum editor Joseph Barr, O.D., MS, challenges his fellow clinicians as
well as the entire industry to tackle the issues affecting contact lens practice.
P
RESCRIBING FOR
P
RESBYOPIA
N. Rex Ghormley, O.D., M.S., and Craig Norman, FCLSA, offer insights into the rapidly growing population of presbyopes. From fitting
techniques to new design commentary, this column keeps all practitioners up to date on options for presbyopes.
P
RESCRIBING FOR
A
STIGMATISM
With advancing technology and new lens designs, more and more astigmats can achieve crisp vision with contact lenses. Peter Bergenske,
O.D., and Tom Quinn, O.D., M.S., share clinical expertise on prescribing toric lenses for this under-served population.
GP I
NSIGHTS
Edward Bennett, O.D., MSEd and Loretta Szczotka, O.D., M.S., keep gas permeable lenses featured prominently on the practitioner's menu.
In addition to discussing important data revealed in clinical studies, they offer practical tips for patient management, lens modification and
recognizing when a GP lens is the best choice.
O
RTHOKERATOLOGY TODAY
Marjorie Rah, O.D., M.S., Ph.D., and John Mark Jackson, O.D., M.S., review the latest clinical studies and research on orthokeratology
and contact lens corneal reshaping.
D
ISCOVERING
D
RY
E
YE
Dry eye, a common obstacle to contact lens success, remains an enigma to most practitioners. Prominent dry eye researchers and practitioners
Barbara Caffery, O.D., M.S., and Kelly Kinney Nichols, O.D., M.P.H., Ph.D., reveal the latest observations about this condition.
S
TAFFING
S
OLUTIONS
Mary Jameson, BHS, Opt T, R, COA, NCLC, Jane Beeman, COT, FCLSA, help contact lens practitioners and their team provide the best contact
lens care to patients.
C
ONTACT
L
ENS
C
ARE
Jennifer Smythe, O.D., FAAO, and Susan Gromacki, O.D., FAAO, report on the ramifications of contact lens solutions and lens care, including
solution-lens interactions.
T
HERAPEUTIC
T
OPICS
Julie Schornack, O.D., provides a monthly look at various medications that affect patients' ocular and contact lens health.
T
REATMENT
P
LAN
As more and more practitioners move into the primary eye care field, interest in treating disease is increasing. Bill Miller, O.D., and Leo Semes,
O.D., provide clear, concise information on the latest therapeutic drugs, often using actual case histories to illustrate their topics.
C
ONTACT
L
ENS
E
CONOMICS
Gary Gerber, O.D., and Walter West, O.D., provide tips on keeping contact lenses a profit base within the practice. With refractive surgery and
lower profit margins on materials slowly eroding the contact lens financial base, Drs. Gerber and West will help practitioners keep their contact
lens business on track.
P
RODUCT
S
PECTRUM
Readers rely on this department to find out what's new in contact lenses and lens care systems, instruments, equipment, product literature and
educational programs.
C
ONTACT
L
ENS
C
ASE
R
EPORTS
Patrick Caroline, F.A.A.O., and Mark André, F.A.A.O., present a new case every month -- some rare, some commonplace, all intriguing --
complete with patient history, entering signs and symptoms, diagnosis, treatment and outcome.
R
EADERS
' F
ORUM
This department is a voice for the reader. Readers' Forum encourages lively exchanges, pithy discourses and challenges to established philosophies.
Advertising rates are based upon the number of insertions used within the
calendar year, whether units are the same or of varying sizes. Announcement
of any change in rates will be made at least 60 days in advance of the issue
date of the first issue to which such rates will be applicable.
Premium Position Charge -- 10% of earned B/W rate. Premium position
charges for cover pages are as follows: cover 2 is 20% of earned B/W rate,
cover 3 is 15% of earned B/W rate and cover 4 is 50% of earned B/W rate.
Orders specifying positions without including premium charge will be accepted
but position cannot be guaranteed. Cancellation of position by advertiser
requires notice to the Publisher 90 days in advance of effective renewal notice.
Combined Frequency Discount
Advertising in Contact Lens Spectrum may be combined with insertions
in other Boucher Communications Inc. publications to earn greatest
frequency discounts.
Inserts and Business Reply Cards
Supplied inserts for binding will be billed at earned B/W rate times the number of
pages; no bind-in charge. Tip-in, if required: $1,470 (non-commissionable).
Publisher reserves the right to limit the number of inserts per issue. Maximum
weight of insert stock: 80 lb. coated text. Contact the Production Manager on
all inserts prior to issuing insertion orders for manufacturing requirements,
quantity and shipping instructions.
The insertion cost for a business reply card is $1,475. Business reply cards
must be furnished by advertiser and must be accompanied by at least one
full-page ad. Tip-in, if required: $1,470 (non-commissionable). Contact the
Production Manager for manufacturing specifications and quantity. The
U.S. Post Office is requiring 9 pt. stock for all business reply cards larger than
4 1/4" x 6".
Resource Center/Classified Advertising
Now available in black & white AND four color!
Contact Audrey Krenzel at 215-643-8123 (phone), krenzela@boucher1.com
or 443-346-0561 (fax) for details. Orders must be accompanied by a check or
credit card information, by the 10th of the month preceding publication.
Advertiser may provide artwork or work with our designers to create an
entirely custom ad.
The VisionPack postcard deck is specifically designed for fast, direct reader
response. It mails four times a year (February, May, August and November)
to 42,000 optometrists, opticians, and other eyecare professionals selected
from the most up-to-date list in the industry ­ the unduplicated subscribers to
Eyecare Business, Optometric Management and Contact Lens Spectrum.
Standard Red, Process Blue, Reflex Blue,
Process Yellow, Standard Green
Rates quoted at net. Special positions and inserts are available. Call for
mechanical requirements and shipping information.
Trim Size: 8" wide X 10 7/8" deep: Keep live matter 3/8" from trim.
Binding Method: Perfect bound
Printing Process: Web offset on publication-grade coated stock
1X
6X
12X
24X
36X
48X
72X
5,160 5,070 4,930 4,715 4,610 4,525 4,500
10,140 9,860 9,430 9,220 9,050 9,000
3,140 3,055 2,985 2,835 2,770 2,720 2,695
2,005 1,930 1,865 1,795 1,740 1,715 1,695
1X
6X
12X
24X
36X
48X
72X
7,390 7,300 7,160 6,945 6,840 6,755 6,730
14,225 14,045 13,765 13,335 13,125 12,955 12,905
5,370 5,285 5,215 5,065 5,000 4,950 4,925
4,235 4,160 4,095 4,025 3,970 3,945 3,925
Page
Spread
Contact Lens Spectrum editorial
calendar contains only a partial list of articles appearing
in each issue. Monthly editorial alerts are faxed to
advertisers at least one week prior to each space
reservation deadline, providing details on all articles
appearing in that issue. The editor reserves the right to
change feature article topics.
· Refractive Surgery and Contact Lens Practice
· Contact Lens Prescription and Cosmetic Lens
Regulatory Update
· Who Owns Contact Lens Patents and How
They are Changing Your Contact Lens Practice
· Leading Edge Contact Lens Instrumentation,
and a Look at the Future