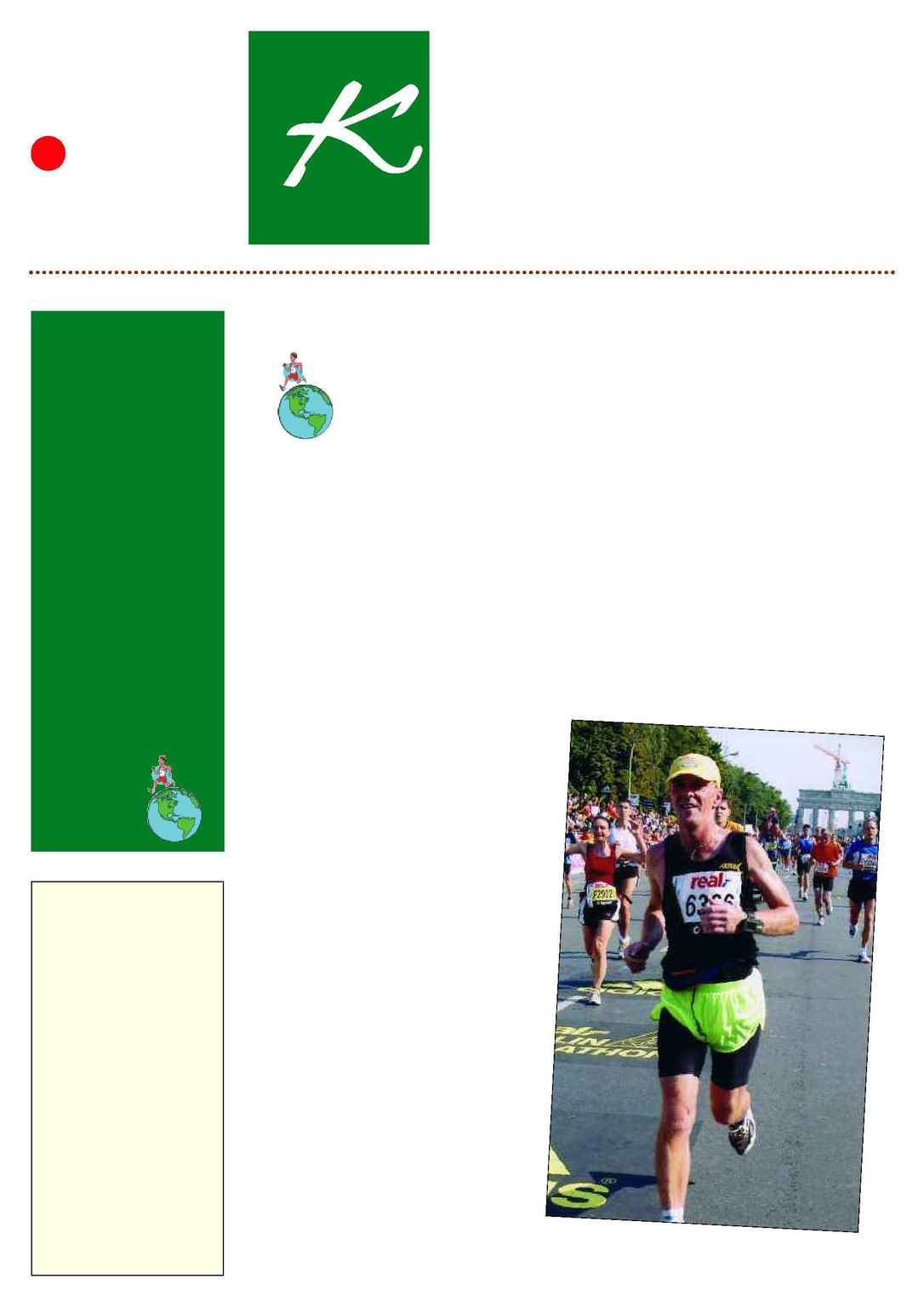 Inclusive Action from the Kepplewray Project, Cumbria
THE KEPPLEWRAY PROJECT
Registered Charity No. 1015762
Patrons: Jonathan Edwards CBE
Rt. Revd Graham Dow
Stephen Hawking CBE
David Holding MBE
Roger Uttley OBE
Peter Sanders, Project Director
The Kepplewray Centre
Broughton-in-Furness
Cumbria
England LA20 6HE
Tel: 01229 716936
Fax: 01229 716938
e-mail:
knews@kepplewray.org.uk
www.kepplewray.org.uk
Our roving reporter for this issue has been Frances Couch.
In this Issue...
Berlin . . . It Takes Your
Breath Away!
K Opens its Doors!
Sale of Local School
Benefits Local Youth
"Awesome!"
I Wandered Lonely
as a Cloud . . .
H
2
0 Survival!
Keppelwray Open Day
I Love London Town
New York, New York . . . !!
Berlin . . .
It Takes Your Breath Away!
Having run the Great North Run several times for
K I was in need of a different challenge. Never having
been to Berlin, one of the Grand Slam of marathon races, and the prospect of finishing by running under the
Brandenburg Gate, the Berlin Marathon was a package that inspired me (having previously done a
marathon, I required all the inspiration I could muster!). Getting in was a breeze! Simply logged on to the
Berlin Marathon website and was accepted!
My observation on arriving and seeing the other runners was of a fitter, leaner and more focused lot than
in my previous marathon, namely New York. This daunted me a little. Had I done sufficient training?
Would I achieve my goal (sub-3hours 30 minutes)? Should I nip off to the beer area for a quick one to settle
Too late to worry now!
Finding myself in the front group of the second start, I had a clear road ahead when the gun went off.
Rashly, I hared off doing the first 5k in 23 minutes 40 seconds, buoyed by the occasion and Newcastle
United's win the day before! The sun was shining, blue sky overhead, so the 9.00am start was a comfort.
It was going to get hot out there! Crowds
everywhere, cranking rattles, clinking cow bells
and the occasional heavy metal band. Never a
Did the first half in 1 hour 42 minutes: not bad, a
little slower than the GNR (ie 10 minutes!), and
on schedule. Gritting the teeth, thinking of my
sponsors (and their pledges) and not wanting to
let myself or anyone else down, I ground out the
miles. Cheered on by the masses (fantastic
support); testing out my schoolboy German on
some unsuspecting runners and inspired by
numerous lithe female bodies (only wish I could
have caught one!) I was strong all round.
Eventually, there it was - the Brandenburg Gate!
But annoyingly, the initial glimpse is some way
before the approach to it! However, the surge of
adrenalin lasted for the next 3 miles; until it was
there before me, growing larger with every
step. Then it was behind me, with the finish
Time to put on the style (so the photo would
kid everyone I had strutted like Seb Coe all the
way around!) and sprint to the finish.
3 hours 28 minutes 39 seconds. Brilliant!
Only left getting the medal, finding the
baggage bus and off to have some beer to
rehydrate. Overall a great event for a great
cause and a good result all round.
And for the next challenge - Chicago next
Around the
World in a
Pair of
Trainers
K has been the beneficiary of
recently. The sterling efforts of
some of our more energetic
(or is it slightly deranged?)
supporters have resulted in
worn out footwear (not to
mention knees) returning from
all 4 corners of the globe!
Calling all runners &
sponsors . . .
An enormous "Thank You" not
only to everyone who has run,
K's
behalf this year, but also to
those who have generously
Keith Mitchell - 500 metres to go