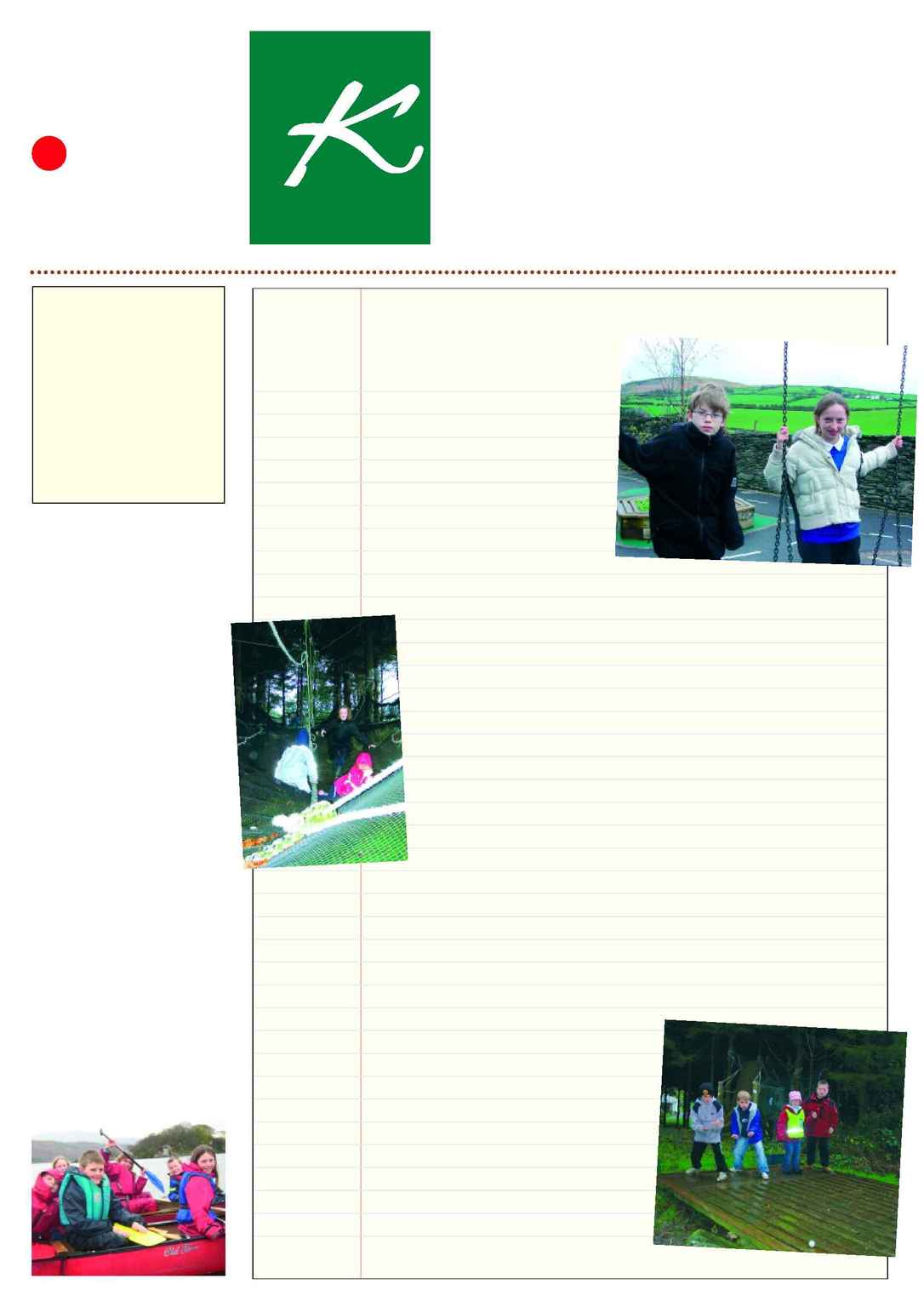 Inclusive Action from the Kepplewray Project, Cumbria
THE KEPPLEWRAY PROJECT
Registered Charity No. 1015762
Patrons: Jonathan Edwards CBE
Rt. Revd Graham Dow
Stephen Hawking CBE
David Holding MBE
Roger Uttley OBE
Peter Sanders, Project Director
The Kepplewray Centre
Broughton-in-Furness
Cumbria
England LA20 6HE
Tel: 01229 716936
Fax: 01229 716938
e-mail:
knews@kepplewray.org.uk
www.kepplewray.org.uk
Our roving reporter for this issue has been Frances Couch.
In this Issue...
Best Christmas Party Ever!!
A Fishy Tale
The Libby Factor
Gateway to Independence
Where have all the
5p pieces gone?
Rising from the ashes . . .
Spotlight on New Staff
A Fishy Tale?
When is a fish not a fish?
When it's a sardine, of course!!
Confused?? So was Simon,
one of our volunteers who
recently enjoyed a few hours on
Coniston, messing about in
canoes ­ oops, what I meant
to say was "undergoing some
serious activity training"!!
But to get back to the subject
of fish, or rather sardines.
The problem started when we
landed on Wild Cat Island
(of Swallows and Amazons fame)
and Andy, "The Boss", sent us to
explore, explaining that this was a
great place for ­ yes, you've
guessed it ­ sardines!
Simon's expression was one
of complete and utter
bewilderment, mixed with
disbelief. You could see his brain
ticking over, as he looked around
him.
Was he imagining Coniston
teeming with shoals of those
small fish that he
knew
much warmer waters than
Cumbria has to offer?
"Yes," came the reply. "You know,
that game where as many people
as possible, squeeze into the
smallest space they can."
On Tuesday 14th of December we,
Burlington School, took a trip to
Kepplewray for activities and a
Christmas dinner. Kepplewray is a
world of entertainment and
amusement as we discovered when
we arrived there.
We were split up into about eight
different groups and then we set
off for the hardest challenges we
may have ever met in our lives.
Some of the activities were set up for us (e.g. The Whale Rider) but
others were not (e.g. Through the Hoop). There was also a huge net which
you had to clamber up to the top of with a ping pong ball (optional with or
without a spoon). It was our favourite activity. The muddiest activity we
did was the Wellington Wanging. We had to take a wellington and throw
it (using your left hand if you are right handed and vice-versa) in the
most awkward position. Another one of my favourite activities was the
Whale Rider. To play, you must place a ball on the wobbleboard maze, at
the beginning, and climb onto both sides of it, with an equal number of
people on each side. To make the ball move you must shift all your
weight onto one side. If it falls off then you must start again. The
hardest one I did was Through the Hoop. You had to get all of your
team through a hoop in the fastest time possible. After a few
attempts, our team got 8.72 seconds. The starting event was a game where we
had to pull each other's socks off while crawling around on the floor. There was
also Night line in which we had to put on a blindfold and follow a line to find
toys that were near the line. The team with the most toys wins the game. We
played all these games and more.
Once we had done all those there came the food. It was fabulous. A large and
filling meal after some great activities.
Nothing could beat the food, as it was the
best I have ever tasted. There was turkey
and stuffing with sausages wrapped in
bacon and gravy with vegetables.
We had squash to drink, either
blackcurrant or orange and to cap it
all there were seconds of everything!
We dreaded the time when we had to
leave because we truly had a wonderful
time at Christmas at Kepplewray!
Best Christmas Party Ever!!
Chris and Becca, Yr 5 and 6 pupils at a local school,
report on their school's Christmas party.
There was a
huge net . . .
The Whale Rider