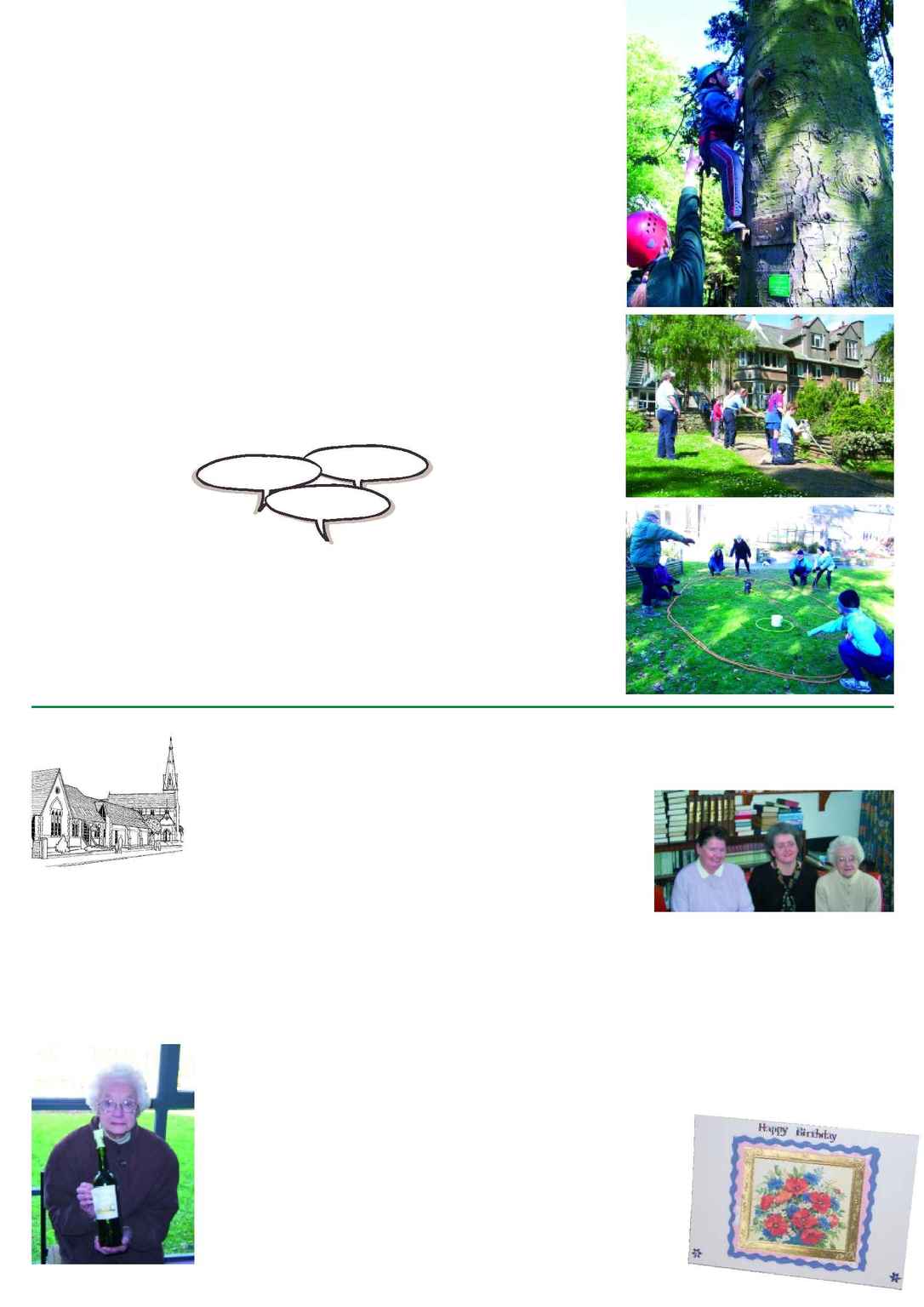 23 years ago a group of
concerned volunteers
realised the desperate need
for local, social venues,
where people of all ages
with learning disabilities
could meet.
Initially set up by Margaret
Barker and Hazel Brookes,
to provide venues for social
evenings, from the minute
the doors opened the
organisers realised they had
an instant success on their
hands:
since they had
attended school
(usually a Special
School some distance
from their actual home),
were re-united.
were not attending
Day Centres found
somewhere where they
could socialise and
relax.
From this highly successful
starting point, the venture
has blossomed. Originally
operating under the
umbrella of Mencap, Bury
Gateway is now totally
independent. They are
currently into the second
phase of a Lottery grant and
are developing an advocacy
scheme, aimed at further
increasing the possibilities
for people with minor
learning disabilities to lead
independent lives.
And the connection with K?
Accepting an invitation to
join a Christian
mountaineering group
headed for a weekend at K,
Hazel Brookes, now a
Director and volunteer,
returned to Bury full of
praise and enthusiasm for
the Centre and its staff:
Encouraged by Hazel's
experience and so enthused
by her positive feedback,
the rest of the staff were
soon eagerly planning the
first of many subsequent
trips for Bury Gateway.
Grant funding was allocated
for "Beneficiary Training", K
gave them the ideal venue
for this purpose. Regular
trips ­ either for training or
holidays - now take place
for both staff and
volunteers. Senior members
are encouraged to work
with junior leaders, offering
support and team
leadership training.
Activities such as the
ever-popular canoeing,
team challenges and
abseiling, as well as craft
sessions and archery, give
everyone involved a chance
to relax and enjoy
themselves. But, more
importantly for many of Bury
Gateway's young adults, the
successes they experience
at K work wonders for their
self-esteem and confidence.
As Margaret Barker, the
Project Co-ordinator
explained:
". . . they have the
opportunity to relax and be
themselves, but to be
challenged at the same
time."
It's rumoured that Carlisle is suffering
from an acute shortage of 5p coins.
"Lucky Carlisle", I hear you saying.
"They're nothing but a nuisance anyway!"
Well the ladies of St James's Church Women's Fellowship Group in
Carlisle would certainly not agree with you and neither would K!
Approximately 4 years ago, Julia Powey, a K Trustee and parish
worker at St James's, announced a scheme inviting the
congregation to fill empty wine bottles with 5p coins. When full the
contents would be donated to K. Peggy Yarker was enthused by
the idea and immediately took a bottle home. A few months later
she asked her friend, Ethel, to help her count the collection. They
were amazed to discover the grand total of £53!!!
Pleased by her success, Peggy
suggested to Julia that the idea be
introduced at a meeting of the
Women's Fellowship Group. The idea
caught on immediately and now
everyone automatically hands over
their offerings as they arrive for the
weekly meeting. In fact Peggy often
receives bags of 5p coins through her
letter-box. Members of the
congregation also contribute regularly
after the Sunday services.
Even the staff at her local Post Office
and Marks and Spencer
are now involved in helping
Peggy with her collection,
the proceeds of which are
delivered to K by Julia
whenever she pays a visit.
To date, those insignificant,
nuisance coins have
amounted to a staggering total of £2367.05!!!!
Frances Wilson came to K with the Women's Fellowship for an
afternoon of activities and was so impressed by what she saw, that
she returned home determined to help in a practical way.
Frances works wonders, recycling anything offered in the way of
craft materials into what I can only describe as works of art! She
has developed a thriving business, making greeting cards, which
she then sells in the Church charity shop and at weekly meetings.
So popular are her cards, that she also takes special orders and
since January 2005, has already
donated over £200 to K.
These are just 2 examples of how
people who support the work of
K help in a positive and practical
way. If you have any more
interesting examples we'd like to
hear from you.
Where have all the 5p pieces gone?
Peggy
Frances
Julia
Peggy